Voices of Change: Keep the Bees!!!
From

CGIAR Initiative on Climate Resilience

Published on

07.07.23

Impact Area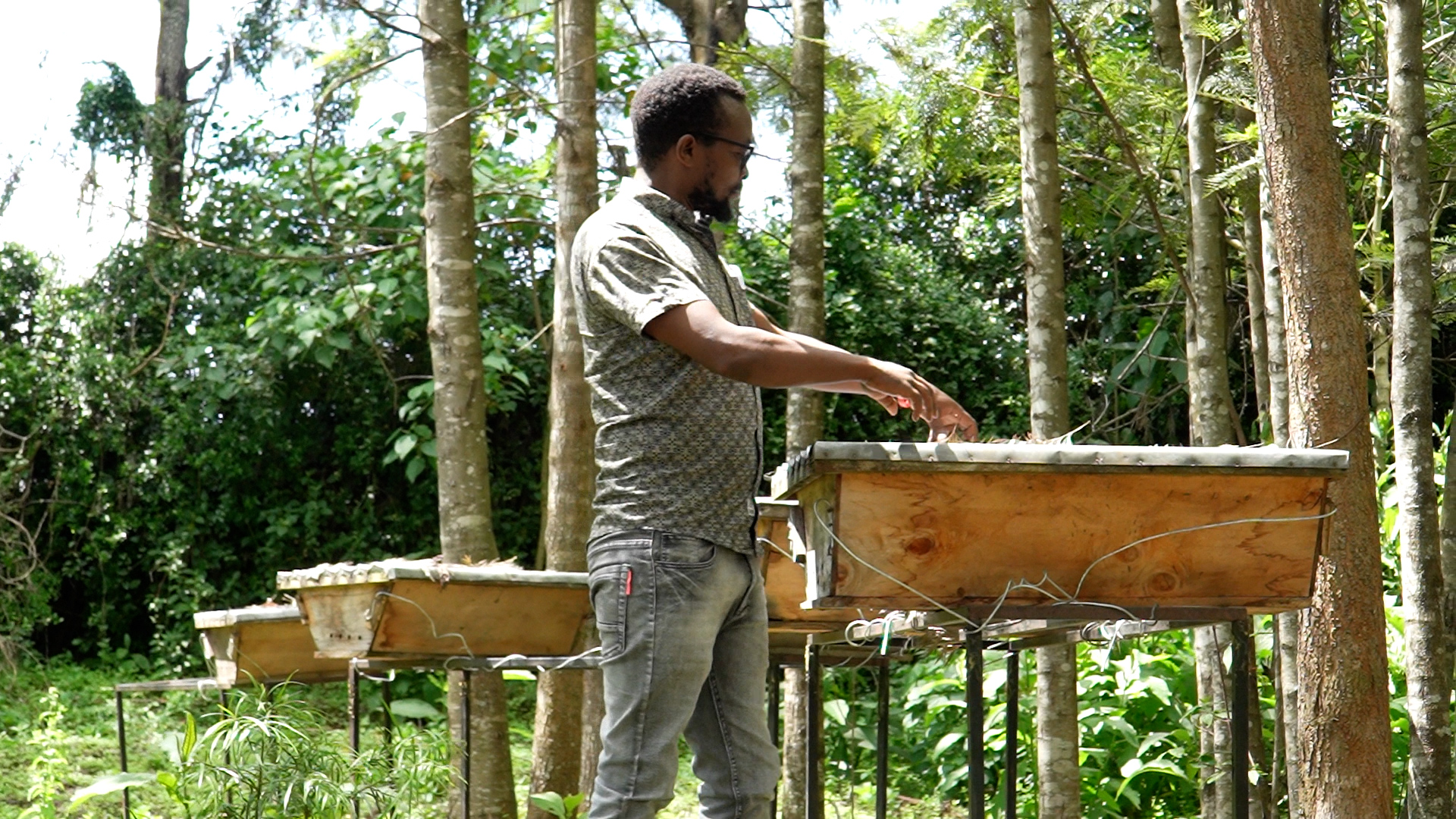 by Mary Ng'endo, CGIAR Initiative on Climate Resilience (ClimBeR)  Social Equity team,  and Nyang'ori Ohenjo, the Centre for Minority Rights Development (CEMIRIDE)
How can people's knowledge inform climate action? More specifically, how can people bring their experience and knowledge of what works in a local context to global decision-makers? Doing so successfully may just lead to a better match between local ideas and global priorities on climate adaptation.
From these stories showcased below, we learn how beekeepers from the Endorois and Ogiek communities educate people about the value of preserving the forest, how to keep bees, and the many ways how beekeeping benefits the environment.
Championing a bee-keeping journey, Jackson Kiplagat, an elderly man from Endorois, reflects upon the benefits of beekeeping for the environment:
"Beekeeping protects the environment. No one can cut trees around where there are bees. This is because, when you try to cut a tree, the bees become annoyed; you will be stung by bees, and you will forget what you're doing. You will never come back. … Nowadays, instead of saying, "Do not cut trees", I say "Keep beehives".
Meanwhile, Kibet Kipsang, a young Ogiek man, also explained how young people want to keep bees and preserve the forest:
"I encourage the youth in the beekeeping cooperative that I belong to, to keep many beehives. I tell them to "Protect the forest around you so that your beehives can be in a cool environment. This also helps to ensure that beehives do not abscond due to climate change when it gets really hot."  So, now, most young people don't see the need to cut trees, but instead, they want to keep beehives for honey."
Related blog posts:
Community stories of climate adaptation in Baringo, Kenya
Save seeds, plant indigenous crops!
Plant indigenous drought-tolerant trees!
Local knowledge for global decision making:#weareindigenous
This is a part of seven stories of indigenous voices captured in the video series "Voices of Change." Read the initial blog post about this collaboration between the CGIAR Initiative on Climate Resilience (ClimBeR) and the Centre for Minority Rights and Development (CEMIRIDE), which explored how climate change affects different groups of men and women, and the homegrown solutions that they use to combat climate shocks and impacts. "Voices of Change," is a video series of seven stories of indigenous voices.  For more information about the contents of this blog post and related videos, please contact Mary Ng'endo Kanui (m.kanui@irri.org) and Nyang'ori Ohenjo (nyangori.ohenjo@cemiride.org). For general information and activities by the partner organizations who co-created these stories of change and agency, check out ClimBeR's initiative overview, ClimBeR's Social Equity in Climate-Resilient Agriculture Briefing Note in collaboration with the Nordic Africa Institute, and CEMIRIDE's climate change program activities.