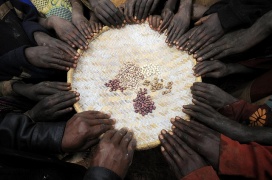 Vibrant partnerships
Dynamic partnerships that bridge gulfs between researchers, extension officers, and farmers make a huge difference when it comes to producing research results that can be put into practice. Our partnerships involve a wide range of people, from molecular biologists and agricultural economists to farmers and rural householders.
Partnerships foster better understanding between researchers and the people who use research. They turn research on its head. Rather than researchers doing research they think will be useful—supply-driven research—scientists ask what problems farmers encounter and tailor research to meet those specific needs—demand-driven research.
Extending our reach
Our partners are crucially important in adapting new crops and farming methods to local conditions and reaching the farmers who need them. Often, research to solve problems in one area can be applied to similar regions elsewhere. The many national research organizations, universities, and civil society organizations who partner with us help spread advances and make them widely available.
Strong relationships
Partnering means making sure we have strong relationships with groups such as:
Farmers and services to farmers such as extension services, small and medium enterprises;
National governments, national agricultural research services, and regional research agencies;
Civil society and non-government organizations that work with farmers, rural communities, and on environmental issues;
Private sector enterprises of all sizes, from entrepreneurs and local businesses to international corporations;
Academic and technical institutions in the North and South; and
Donors.
Stretching our thinking
The Global Conference on Agricultural Research for Development, launched in 2010 and held every two years, is particularly important for our partners. At this gathering the full spectrum of stakeholders and partners—researchers, policymakers, farmers, donors and civil society representatives—debate the crucial issues facing agricultural development and how the CGIAR can best tackle them.
Crossing boundaries
The way the CGIAR is organized provides a great deal of scope for partnering across sectors, cultures, institutions and levels. Our governance and communications are sensitive to diversity. We make good use of information technology and collaborative tools to communicate in real-time as we work together across the globe.
Building capacity
First-rate scientists make strong partners. Many developing countries are forging ahead in agricultural research but many still need help to get up to speed. The Research Centers, CGIAR Research Programs, and networks throughout the system help partners develop the skills and knowledge they need to:
Take part effectively in global agricultural research programs;
Build and support international research networks; and
Develop effective partnerships with civil society organizations and private sector entities.
As our partners do much of the hard work on the ground we help them as much as we can. We spend nearly a fifth of our funds on formal and informal training to help them boost their skills and knowledge.