A world free of poverty, hunger and environmental degradation
We work to advance agricultural science and innovation to enable poor people, especially women, to better nourish their families, and improve productivity and resilience so they can share in economic growth and manage natural resources in the face of climate change and other challenges.
Strengthening the partnership, creating impact
To fully unlock the potential of the 2016 CGIAR governance reforms – which opened the door to a reinvigorated sense of collective ownership – the CGIAR System approved an inaugural CGIAR System 3-Year Business Plan (2019-2021). This plan represents a transformational moment, with CGIAR's stakeholders committing to working in an increasingly aligned and far more strategic manner. 
The new CGIAR Business Plan adds up to an ambitious but achievable set of innovations to create a more efficient, focused and less fragmented System. It represents a period of sustained change to proactively manage a necessary evolution of the CGIAR System as it faces profound shifts in its operating environment.
The need for a global partnership to transform the food system while restoring our environment has never been greater. Through this Business Plan, CGIAR as a System is enhancing its performance and capacity to more fully deliver on its critical mandate.
CGIAR's Strategic Goals
CGIAR's Strategy and Results Framework provides the strategic direction to deliver on our mission and contribute strongly to the United Nation's Sustainable Development Goals (SDGs).
We have three goals, known as System Level Outcomes (SLOs):
Reduce poverty;
Improve food and nutrition security;
Improve natural resources and ecosystem services.
By 2030, the action of CGIAR and its partners will result in 150 million fewer hungry people, 100 million fewer poor people – at least 50% of whom are women, and 190 million HA less degraded land.
CGIAR and the Sustainable Development Goals
CGIAR's research for development and livelihood impact contributes to the SDGs and delivers direct benefit to the most vulnerable people by harnessing five global transformations to address by global challenges.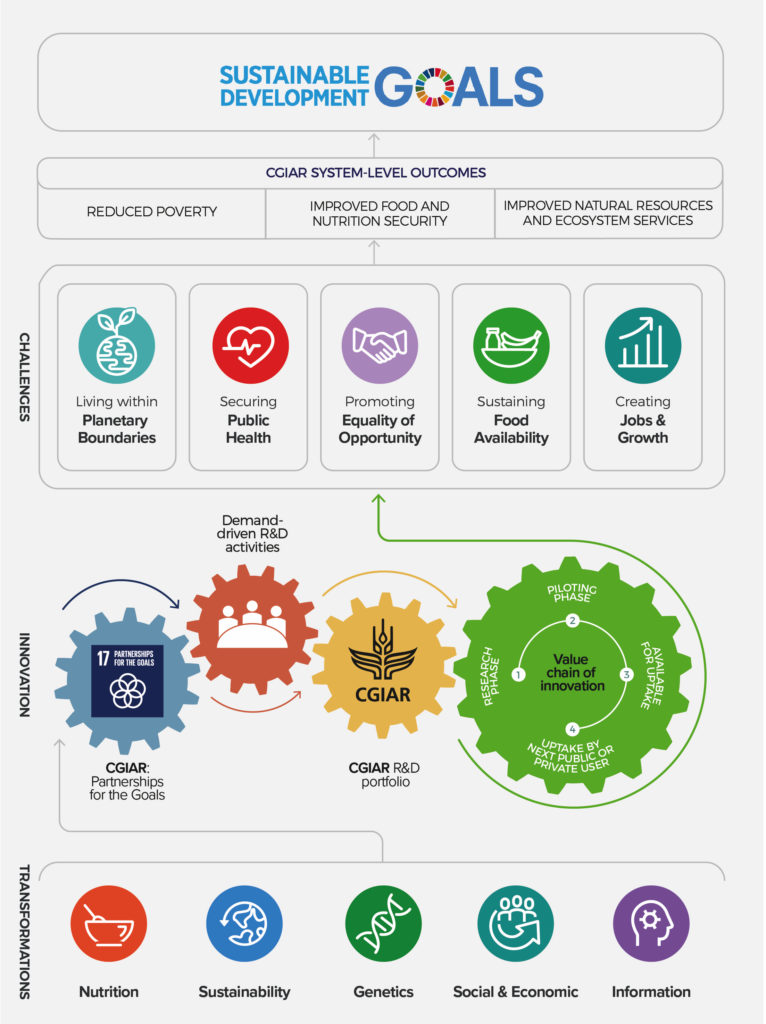 Research Priorities
To achieve our goals, we will focus on eight research priorities where CGIAR has a comparative advantage to tackle humanity's greatest challenges.
Climate-smart agriculture

Focusing on urgently needed adaptation and mitigation options for farmers and other resource users.

Gender and inclusive growth

Creating opportunities for women, young people and marginalized groups.

Genetic improvement

Of crops, livestock, fish and trees, to increase productivity, resilience to stress, nutritional value and efficiency of resource use.

Nutrition and health

Emphasizing dietary diversity, nutritional content and safety of foods, and development of value chains for nutrition of poor consumers.

Nurturing diversity

Ensuring that CGIAR in-trust plant genetic resources collections are safely maintained for food security, productivity, nutrient rich crops and resilient farming systems.

Natural resources and ecosystem services

Focusing on ecosystems and landscapes that offer significant opportunities to reverse environmental degradation and enhance the sustainable intensification of production.

Agricultural systems

Adopt a systems approach to optimize economic, social and environmental co-benefits in areas with high concentrations of poor people.

Enabling policies and institutions

To improve the performance of markets, enhance delivery of critical public goods and services, and increase the agency and resilience of poor people.
CGIAR's Strategic Goals and Targets to 2030
Reduce Poverty
CGIAR recognizes that no single pathway to poverty reduction holds for all settings and will differ across contexts, reflecting the diversity of livelihood strategies pursued by the poor. Key pathways to poverty reduction will also vary depending on the overall shape and capacity of the national economy. Recognizing this complex reality is a starting point for all research by CGIAR and its partners.
350 million more farm households have adopted improved varieties, breeds or trees, and/or improved management practice
100 million people, 50% of them women, assisted in exiting poverty
Improve food and nutrition security
Food security encompasses the availability, access, utilization and stability of a healthy food supply. Much of what CGIAR does for crop and commodity improvement seeks to enhance the availability of food, particularly of staple crops and animal products. CGIAR also recognizes that increased access to nutrient-rich foods is essential, such as bio-fortified crops, and prioritizes women to foster improvements in family nutritional security.
Improve the rate of yield increase for major food staples from current <2.0 to 2.5%/year
150 million more people, 50% of them women, meeting minimum dietary energy requirements
500 million more people, 50% of them women, without deficiencies of one or more of the following essential micronutrients: iron, zinc, iodine, vitamin A, folate and vitamin B12
33% reduction in women of reproductive age who are consuming less than the adequate number of food groups
Improve natural resources and ecosystem services
Natural capital must be enhanced and protected, from climate change as well as from overexploitation and other forms of abuse. We need agricultural systems that are diversified in ways that protect soils and water. CGIAR recognizes the necessity restore degraded agro-ecosystems, and more sustainably manage them for increased resilience of those ecosystems and the communities that depend on them.
20% increase in water and nutrient (inorganic, biological) use efficiency in agro-ecosystems, including through recycling and reuse
Reduce agriculture related greenhouse gas emissions by
8 Gt CO2-e yr–1 (15%), compared with a business-as-usual scenario in 2030
190 million hectares (ha) degraded land area restored
5 million ha of forest saved from deforestation