Voices of Change: Community stories of climate adaptation in Baringo, Kenya
From

CGIAR Initiative on Climate Resilience

Published on

28.06.23

Impact Area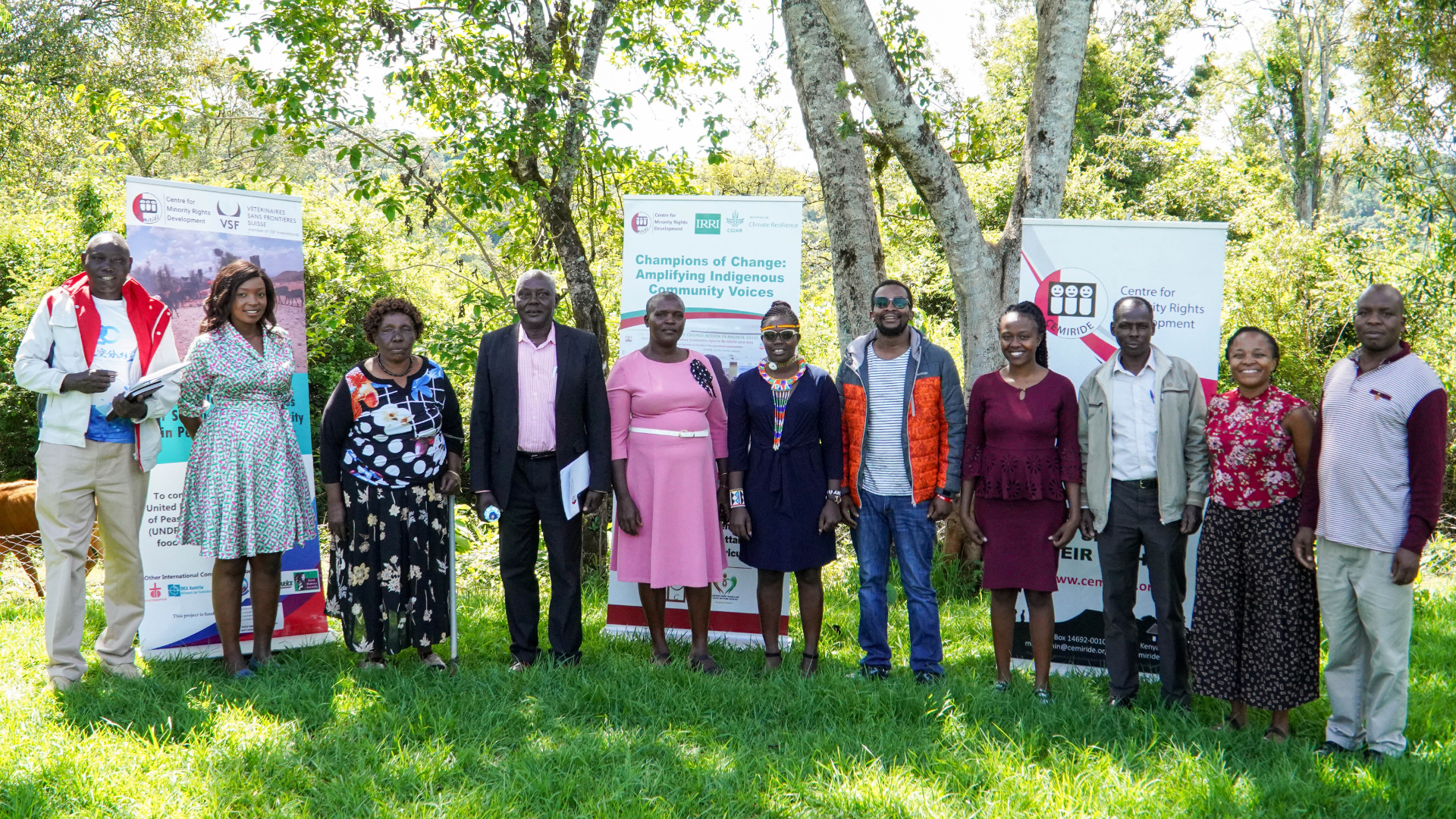 by Mary Ng'endo, CGIAR Initiative on Climate Resilience (ClimBeR)  Social Equity team,  and Nyang'ori Ohenjo, the Centre for Minority Rights Development (CEMIRIDE)
How can people's knowledge inform climate action? More specifically, how can people bring their experience and knowledge of what works in a local context to global decision-makers? Doing so successfully may just lead to a better match between local ideas and global priorities on climate adaptation.
Incorporating community voices from diverse geographies is considered a key step in fostering food system sustainability in high-level decision-making forums. The policy space which informs climate decision-making includes researchers who can strengthen and support the voice of indigenous and local communities, and non-governmental organizations working towards targeted climate action interventions informed by socio-cultural-economic factors.
Championing indigenous peoples and local community voices of change, the CGIAR Initiative on Climate Resilience (ClimBeR) partnered with the Centre for Minority Rights Development (CEMIRIDE), a not-for-profit organization that leads indigenous peoples' climate-resilient advocacy in Kenya. Working together, we explored how climate change affects different groups of men and women, and the homegrown solutions that they use to combat climate shocks and impacts. This was done by enabling community champions to tell their own stories, using the 'story of self, story of us and story of now' public narrative framework. We filmed these stories and created short videos for several purposes. Not only can the community groups use these videos to amplify their stories but they can also be used as an advocacy tool, by organizations such as CEMIRIDE on behalf of these groups.
Community champions joined us from two indigenous communities in Baringo County, in Kenya's Rift Valley: the Ogiek – who are predominantly forest dwellers, and the Endorois – who are pastoralists. Their stories are a powerful tool that showcases how they overcame the challenges brought on by climate change through resilience-building initiatives linked to tree planting, seed saving, beekeeping, water conservation in a drought-prone environment, and intercropping of pasture with sorghum, an indigenous drought-tolerant crop.
Together, this series of video stories, aptly entitled 'Voices of Change," demonstrate how indigenous communities are exercising their agency to address climate change and share their valuable insights with global decision-makers who have the power to bring about real change on the ground that will enhance their resilience and adaptive capacity as the threat of climate shocks and impacts further exacerbates their lives and livelihoods.
The Voices of Change video series includes a series of individual posts to be released in the next week, with the following key themes:
Reflections from the ClimBeR and CEMIRIDE teams as they collaborated on this series of videos to document the stories of local champions and how they work to build resilience for their communities:
Related event: Mary Ng'endo Kanui, ClimBeR's Gender Focal Point will also be attending the  International Association of Feminist Economics (IAFFE) 2023 conference , which will take place from July 5-8 in Cape Town, South Africa.
The CGIAR Gender Impact Platform is a part of this year's IAFFE conference and has organized a symposium, titled on Saturday, July 8th, to answer the question of how we can enable gender and social transformative change in agrifood systems so that they become more just, sustainable, and climate-resilient. ClimBeR's Gender Focal Point – Mary Ng'endo Kanui from the International Rice Research Institute (IRRI), will participate in the symposium and present on the topic of building climate resilience through intersectionality in practice, where she will also share insights from the "Voices of Change," video series. View the symposium agenda here.
"Voices of Change," is a video series of seven stories of indigenous voices. This blog post highlights this collaboration between the CGIAR Initiative on Climate Resilience (ClimBeR) and the Centre for Minority Rights and Development (CEMIRIDE), which explored how climate change affects different groups of men and women, and the homegrown solutions that they use to combat climate shocks and impacts. For more information about the contents of this blog post, please contact Mary Ng'endo Kanui (m.kanui@irri.org) and Nyang'ori Ohenjo (nyangori.ohenjo@cemiride.org). For general information and activities by the partner organizations who co-created these stories of change and agency, check out ClimBeR's initiative overview, ClimBeR's Social Equity in Climate-Resilient Agriculture Briefing Note in collaboration with the Nordic Africa Institute, and CEMIRIDE's climate change program activities.