Infographic shows how CGIAR Genetic Innovation partnerships tackle global challenges
From

Adam Hunt

Published on

31.05.23

Impact Area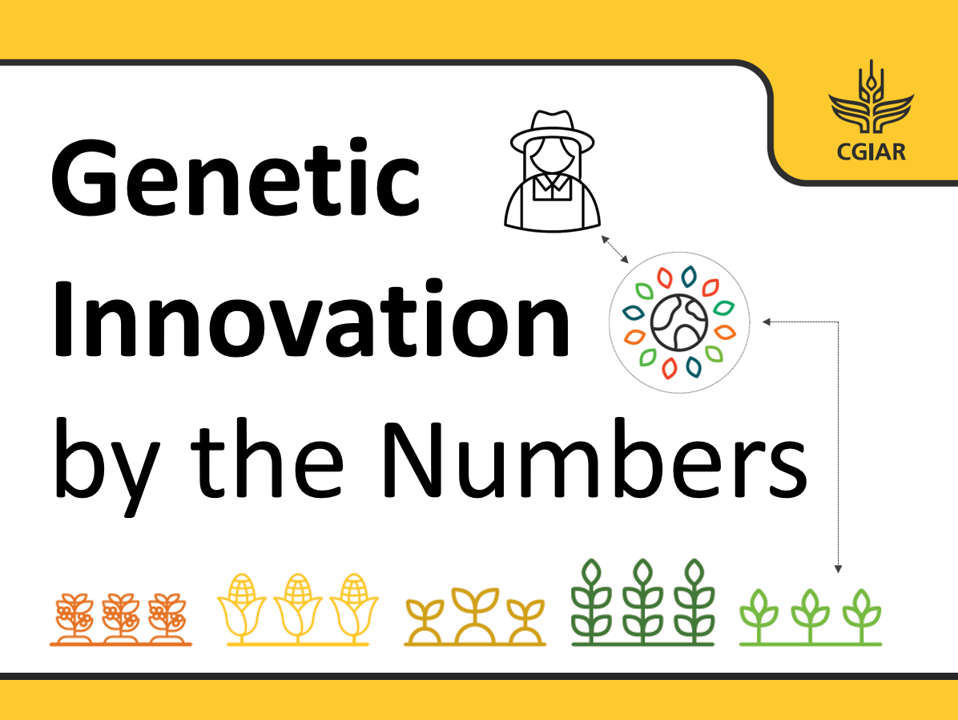 The world faces unprecedented food security, social and environmental challenges. Smallholder farmers in Africa, Asia and Latin America are core to ensuring the world's most vulnerable people do not face the brunt of these impacts.  
For smallholders to overcome climate impacts, build livelihoods, and feed their communities, they need access to a steady stream of rapidly improving crop varieties. With seed varieties that are more productive, nutritious, and climate-resilient, farmers can meet changing market conditions, nutritional demands, and environmental constraints. 
CGIAR's Genetic Innovation (GI) Action Area leads innovation to enable rapid improvement of crop varieties, and helps steward the world's genetic resources of crops and their wild relatives. This builds on and sharpens CGIAR's unparalleled 50-year legacy of impact. 
Now, through coming together as One CGIAR, our genetic innovation work is streamlining and modernizing to help solve today's – and tomorrow's – interconnected food, land, water and climate crises. 
GI is about much more than numbers. But as an increasingly data-driven science, numbers are vital to help us understand our resources, set goals, make better decisions, and measure progress. They also demonstrate stories about how we're delivering impact. 
This new infographic shows who is partnering with GI to change the future of food and who will benefit. The graphic also shows how CGIAR GI works as a single, cross-crop genetics operation, with a global footprint serving the most vulnerable markets. We deliver at speed and scale across CGIAR's five Impact Areas targeting poverty, the environment, gender equality, climate and food security. 
Check out the infographic (PDF for download) to see how Genetic Innovation is poised to make big impacts, through vital transformations, partnerships and investments.