With the right tools, tech and shared services, crop breeding will be key to solving global challenges
From
Published on

10.06.22

Impact Area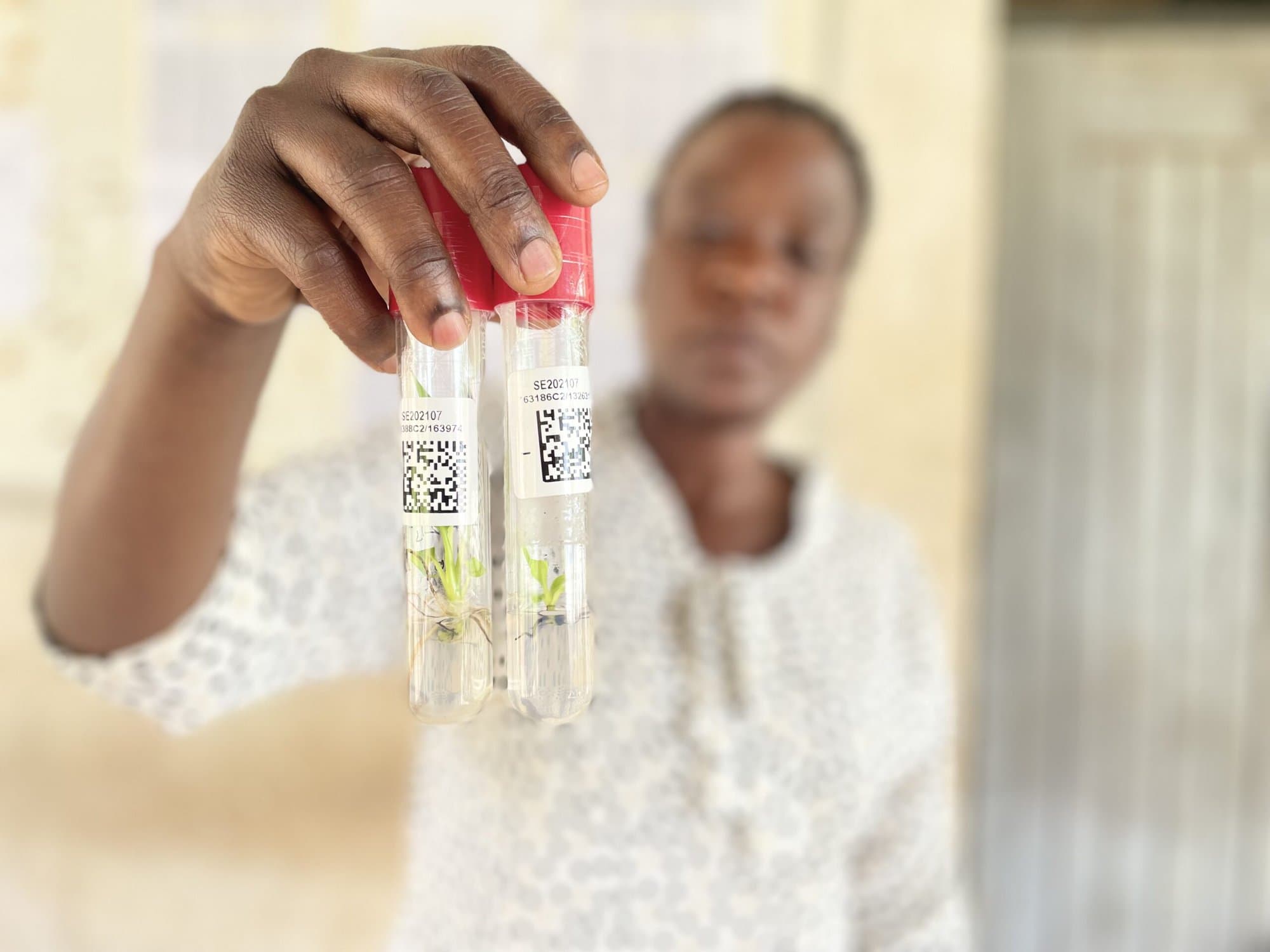 Not many organizations can claim to have saved a billion lives. But CGIAR's crop breeding work has been credited with doing just that. Its research catalyzed the Green Revolution by developing high-yielding wheat and rice varieties, mostly for Asia, where starvation loomed.
But today's challenges cannot be overcome using the same approaches that delivered those life-saving varieties. Poverty, food and nutrition needs, environmental degradation, and climate change are pressing our food systems like never before — especially in lower- and middle-income countries. Major climate change impacts are hitting agriculture faster than we expected and will only worsen. And agricultural choices will play a key role in either exacerbating — or alleviating — poverty. In fact, economic growth in the sector is more than twice as effective at reducing poverty than growth in other sectors. The world needs high performing, climate resilient, nutritious crops, quickly.
Yet within the public breeding domain, adoption of the best technologies and practices has moved too slowly to produce the varieties needed. This has deprived farmers in Africa, Asia and Latin America — as well as the consumers who rely on their harvests.
However, across the CGIAR and its national agricultural research and extension services (NARES) partners, a quiet revolution is taking place. In recent years, the CGIAR Excellence in Breeding Platform and partners have worked across the breeding system to facilitate a dramatic shift in strategy and practice. Delivering on six funders' requests, breeding programs are implementing optimized approaches, adopting new practices and technologies, and prioritizing the high-level aim of replacing currently grown varieties.
Delivering modernization
Now that the One CGIAR reform effort has launched, this work will continue and expand through a new CGIAR Research Initiative called Breeding Resources (formerly N4ETTSS). Breeding Resources is helping programs breed the necessary new varieties, faster, with increased genetic gain. This means supporting modern breeding techniques and operations, and scaling progress across CGIAR-NARES networks.
So what do programs need to do in order to deliver? And how will Breeding Resources ensure they succeed? Working alongside the Accelerated Breeding and Market Intelligence Initiatives, Breeding Resources will support breeding programs with:
Strategic Modernization: Public breeding programs are ensuring their breeding schemes are designed using the most up-to-date methods, namely: quantitative genetics and computer simulation. CGIAR's dedicated optimization team is working with breeders to map their programs and identify for improvement. Simulations predict the impact of these decisions on breeding program performance over time. This forecasting will guide decisions on modernization investments across the CGIAR crop breeding system. This includes optimizing the size of breeding programs to attain the highest performance over time, finding the best strategies to select varieties that have the most potential for farmers, or deciding whether to invest in genomic selection or hybrid breeding.
As well, modernization strategies rely on the best budget forecasting for management of the breeding product portfolio. And to ensure tool and service adoption are rolled out smoothly, modeling of that adoption will help programs plan smoothly, efficiently and in harmony with other CGIAR programs.
Cost Effective Shared Services: CGIAR is made up of dozens of breeding programs, and dozens more are operating within national NARES partners. Historically, services such as genotyping or data management have not been well coordinated, leading to duplication and inefficiencies. And equipment has been purchased at the program level. This is starting to change through the efforts of the Excellence in Breeding Platform and CGIAR. Breeding Resources will continue this progress, enabling breeding modernization with shared services across the global CGIAR-NARES network.
This will provide CGIAR with much greater bargaining power in purchasing or contracting equipment, genotypic services, software and other tools and services. This enables the generation of cost-efficient but high-quality data, consistent across the breeding network. Shared services are being established for genotyping and sequencing, high throughput phenotyping, quality and biochemical testing (nutritional traits, soil analyses), biometrics, equipment purchases and more.
Performance Management of Consistent, Connected Operations: CGIAR has prioritized motivating and guiding the continuous improvement of breeding programs.
A new dedicated process management team will support programs in harmonizing and adopting standard operating protocols, workflow charts, and quality controls across the breeding networks. This applies a corporate approach to monitoring all aspects of performance, across the product lifecycle – from breeding to end use. These activities will result in common systems and coordinated operations, enabling consistent data generation, and adoption of quality management systems and lean management principles within facilities. We can already see this kind of work happening under the International Rice Research Institute (IRRI)'s Continuous Improvement Program.
Alongside this, the initiative is establishing a system to track key indicators and outcomes for operational and breeding performance. This will be supported through report cards, modeling and simulations, and metrics that can be compared across programs.
Smarter Use of More Data: Collecting and analyzing data is the core of crop breeding. Traditionally, programs struggled to harmonize their data processes. But CGIAR is progressing toward systems that share data to create larger, more powerful datasets that can be readily analyzed and interpreted for decision making. This means supporting programs as they adopt the most appropriate data system. And boosting those systems' connectivity (e.g. across Enterprise Breeding System, Breeding Management System and Breedbase). As well, Breeding Resources will prioritize using data visualization to feed decision-making, and supporting strong data networks and governance across programs.
Innovation Development and Research Exchange: Finally, we need to recognize that adoption of the best breeding tools, technologies, and services is a resource intensive process and support it accordingly. Breeding Resources will help partners develop change management plans, promote regionalized capacity building efforts, and provide project management support for integration of capacity building into local operations.
The next steps toward transformation
CGIAR — through the efforts of Excellence in Breeding, Crops to End Hunger, and breeding partners — has established a baseline for breeding modernization across the CGIAR-NARES network. After undergoing rigorous assessments, programs have developed plans on how to reach the goals of increased genetic gain and faster variety turnover in farmers' fields. They've been improving their structures, adopting technologies, and changing their cultures.
Now it's time to take the next step in breeding modernization. By institutionalizing support, shared services and tools at the system level, the capacity of breeders and programs will move to the next level. With better skills, smart coordination, the most appropriate technologies, and pooled services, the next step in public breeding transformation is on the horizon. This means smallholder farmers — and the consumers they serve — will get the seeds they need in these challenging times.
Learn more: Breeding Resources 
Authored by: Young Wha Lee, Breeding Informatics Module Lead, CGIAR Excellence in Breeding Platform; and Sharifah Shahrul Rabiah Syed Alwee, Platform Leader – Integrative Research Support, IRRI
Header image: CGIAR-supported crop breeding facilities near Kampala, Uganda. Photo by Adam Hunt, CGIAR/Excellence in Breeding.