The intelligent approach to make genetic innovations count for sustainable development
From
Published on

25.11.21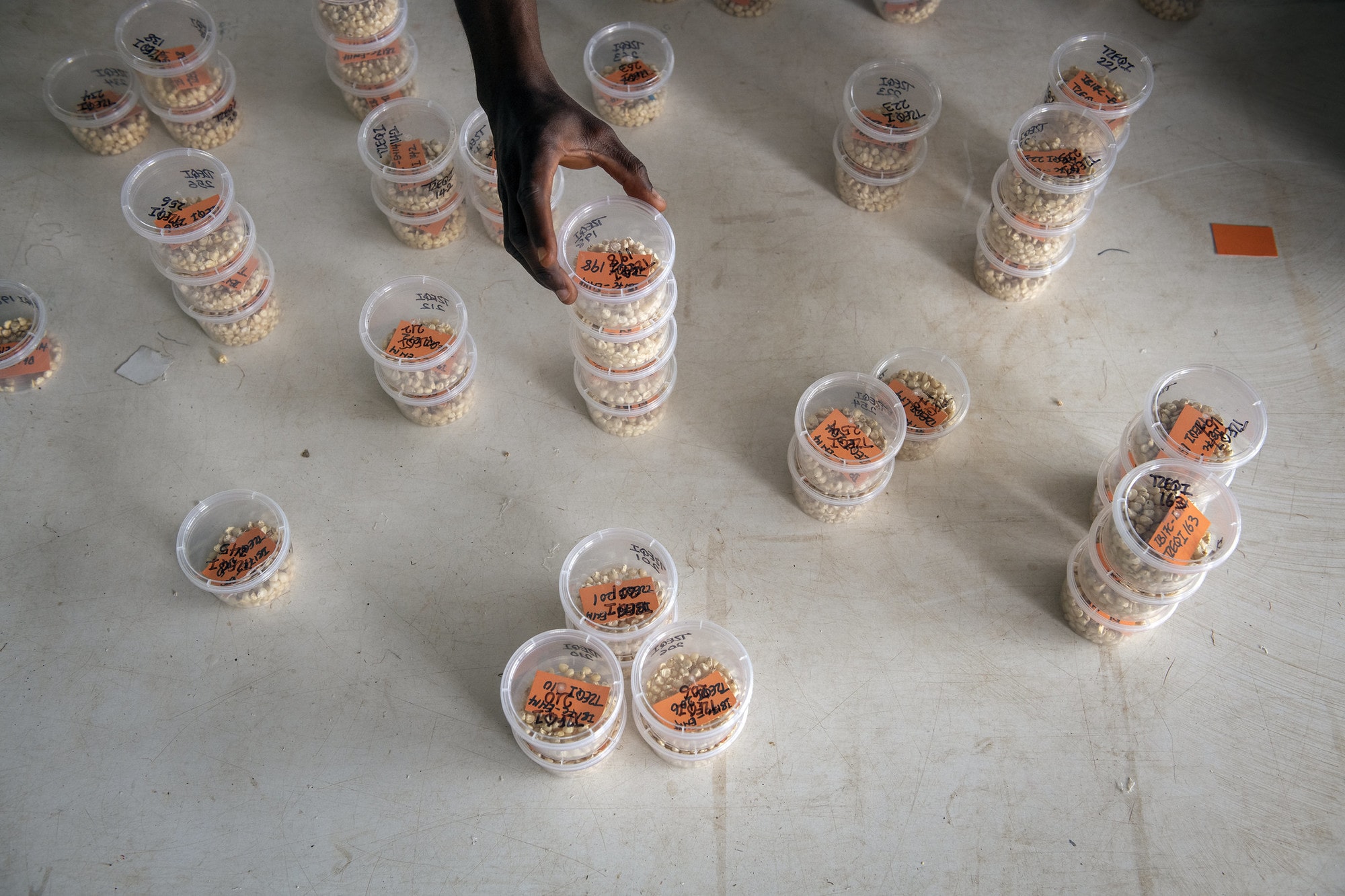 While for many of us, climate change remains largely an abstract notion, farmers are seeing the evidence firsthand in their fields and on their harvests. Extreme weather patterns, extended droughts, and a rise in crop pest and disease outbreaks are just some of the changes that are placing the food security and livelihoods of millions of smallholder farmers under threat, especially in low- and middle- income countries, which are predicted to be hardest hit.
The Intergovernmental Panel on Climate Change (IPCC) estimates that climate change will reduce agricultural production by 2% every decade until 2050. Meanwhile, average global yields of crops like maize and soybeans have already declined by 4% over the last three decades. Africa and Asia will be particularly hard hit with an average decline of 8% in production. At the same time, demand for food is anticipated to rise by 14% every decade. It is imperative that we get more improved crop varieties into the hands of farmers so they can adapt to changing growing conditions.
Breeding has brought enormous gains to farmers over the last 50 years. Up to 60% of yield increases in farmers' fields can be traced back to the work of breeders. In the past, crop breeding focused almost solely on increasing yields. But today, this work is geared toward much broader sustainable development outcomes such as climate change adaptation and mitigation, nutrition, gender equality, youth and social inclusion, as well boosting environmental health and biodiversity.
Genetic innovation success stories from CGIAR and its partners include the development of drought- and other stress-tolerant maize varieties, increasing grain yields by USD 160-200 million a year for more than 40 million smallholder farmers in drought-affected areas across 13 countries in sub-Saharan Africa. At the same time, in India and Bangladesh, where up to 4 million tons of rice per year is lost due to flooding, flood-tolerant rice varieties are showing an average yield advantage of up to 3 metric tons over unimproved varieties.
Yet genetic gains on their own are not enough to achieve sustainable development. Seeds need to be planted in farmers' fields, and the resulting produce must be sold at the market and served on consumers' plates. Unfortunately, many improved varieties are not adopted by farmers because they do not meet their needs. In 2010, only 35% of varieties grown by farmers in Africa were improved varieties, a low rate that translates into millions in lost income and sub-optimal nutrition for vulnerable families across the continent.
Market intelligence: a new ingredient in CGIAR breeding programs
Understanding why varieties are adopted (or not) ensures that breeding programs can deliver what the end-user needs. This is why CGIAR is putting a new ingredient into its breeding programs – market intelligence. This research includes forward-looking analyses of market opportunities and the feasibility of producing and scaling crop varieties in given contexts, as well as drilling down into what influences farmer adoption. The date produced helps shortens adoption lag times and increases adoption levels as new varieties are better suited to satisfy specific market segments, which leads to faster, more complete and accelerated varietal turnover.
Let's consider gender as one example. A high-yielding crop variety may be popular with men farmers as it brings higher returns at the market. However, women farmers, who are often tasked with gathering firewood may reject a variety if it has a long cooking time, or if their children refuse to eat it.
As more than half the world's population now lives in cities, with attendant needs for processed goods and food that is quick and easy to prepare, new varieties also need to respond to the preferences of urban consumers. This reality influences the supply chain where ease of processing and long shelf-lives become important qualities to serve the urban end-user. Identifying these characteristics and breeding for them as efficiently as possible is essential for widespread impact.
Risk aversion is another driver. If a farmer replaces a tried and tested variety with one that produces low yields or that no one wishes to buy at the market, that farmer will lose much-needed income. A small-scale seed business may be reluctant to invest in promoting a new product rather than relying on proven products. Risks like these need to be mitigated if new and improved varieties are to be successful.
Strength in numbers: the right partners and the right investments
To get the right kind of market intelligence, you need the insights and expertise of people from a wide range of disciplines who are willing to cross the boundaries of their expertise, including gender, marketing, economics, geospatial science, nutrition, food technology, and representatives from national breeding programs. This transdisciplinary perspective helps ensure that innovations are equitable and impactful, and meet the needs and priorities of disadvantaged groups.
A new collaboration hub will bring CGIAR's Genetic Innovation Initiatives, national agricultural research and extension systems (NARES), relevant international organizations, and the private sector together to design and implement approaches to develop product profiles and develop indicators that can measure the impact of genetic innovations in terms of sustainable development objectives. This data will help shorten the time needed to develop more resilient and nutritious varieties and facilitate work to shape policies that incentivize the turnover of older varieties; promote public-private sector partnerships that facilitate access to quality seeds; and strengthen national and regional seed systems through capacity development and sustainable business models.
Finally, investment dashboards will deliver transparent, reliable, comparable, and timely intelligence on returns to investment and help investors and research managers prioritize genetic innovation efforts across crops and varieties to maximize sustainable development outcomes.
With a proposed investment of USD 39 million over the next three years, scientists believe that significant outcomes from effectively deploying market intelligence in breeding programs could include higher incomes and improved food security for up to 125 million farmers, small businesses, and consumers across Africa and South Asia alone by 2030.
Find out more: Market Intelligence and Product Profiling Initiative.
Authored by: Matty Demont, International Rice Research Institute (IRRI), and Vivian Polar, International Potato Center (CIP).
Header image: Varieties of maize at CGIAR's International Institute of Tropical Agriculture (IITA) in Ibadan, Nigeria. Photo by Chris de Bode/CGIAR.