Updates from Breeding Resources: 2023
From

CGIAR Initiative on Breeding Resources

Published on

20.02.23

Impact Area
Funders

Bill and Melinda Gates Foundation, United States of America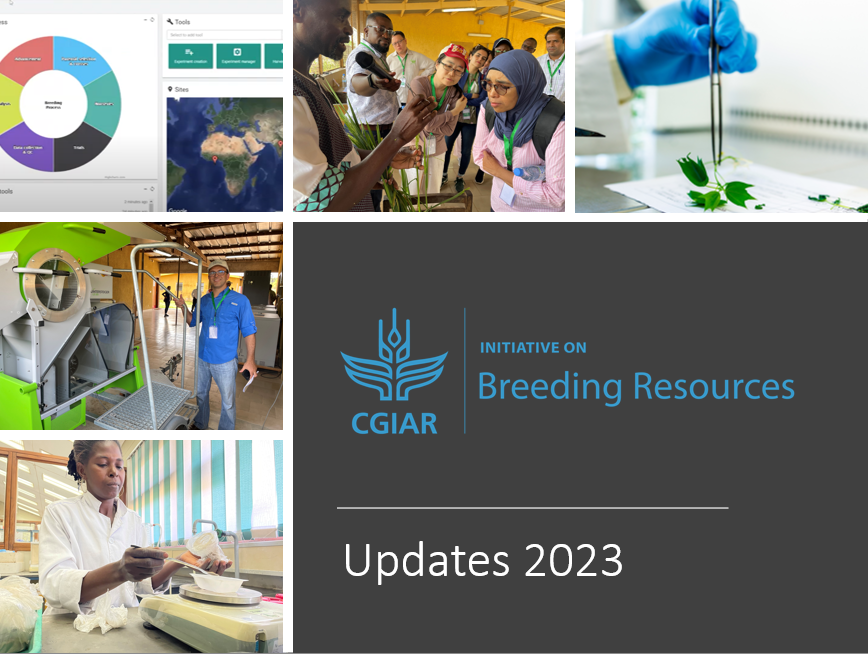 CGIAR Breeding Resource Initiative (led and managed by Genetic Innovation's Breeding Research Services unit) sends out periodic updates to inform partners about plans, progress, events and resources. These updates are collated on this page. For more information, please contact: a.hunt@cgiar.org
UPDATE: July, 2023: Mid-year update on Process Teams, station upgrades, EBS and more
At the mid-point of 2023, Breeding Resources Initiative (BRI) has made significant progress on supporting CGIAR/NARES partners in accessing the best services, practices and technologies. We've captured some key updates here – please take a scan on how we are building on our 2022 results. Thank you for all your collaboration and hard work and please reach out if you have feedback.
Key updates from the first half of 2023:
Initiative level: 
CGIAR Breeding Research Services:

Continues to be the Genetic Innovation operational unit that oversees and manages Breeding Resources Initiative. The work and teams overlap almost wholly, and both are led by Sharifah Syed Alwee.

Staff news:

Young Wha Lee left us July 7 to work with the Bill and Melinda Gates Foundation. We thank her for all her work in building this Initiative and before that, Excellence in Breeding (EiB)'s Breeding Informatics module. We will continue to engage with Young Wha in her new role. A new Initiative co-lead will be announced soon.

Technical Report 2022:

Our annual technical report is

online here

(or

PDF

). In addition to profiling our shared progress, a

Key Results Story

describes the adoption of the Enterprise Breeding System (EBS) across three crops in four CGIAR Centers. See all

Initiative

reports here.

New breeding data strategy:

endorsed by Genetic Innovation (GI) means the Enterprise Breeding System (EBS) will, after a transition period, become the only platform supported by GI. The strategy also endorses creation of the Breeding Information Management and Technology unit (BIMT), which will be the ecosystem that manages EBS and other data related processes under CGIAR Breeding Research Services. Read more about

the strategy

and how it will help secure long-term support of breeding data management for CGIAR-NARES breeding networks. 

Crops to End Hunger modernization grants:

are beginning to roll out and webinars will describe the project plans. Join the first

Project Update: Facilities Upgrade & Mechanization Improvement

on June 26.

3rd African Plant Breeders Association (APBA) Conference:

Breeding Resources is hoping partners will have a big presence at the

October event in Morocco

. Submit your abstract or poster to have the chance to present.

Genetic Innovation Infographic:

This new graphic

shows how Breeding Resources and other Initiatives and projects are tackling global issues.

Fundraising:

Breeding Resources is continuing to engage prospective funding partners to ensure we meet our goals for CGIAR/NARES breeding programs. See our

Investment Brief

here.
Work Package 1-Strategic Business Solutions: Costing and forecasting to inform investment decisions (Adriana Gonzalez)
WP adjustments:

this WP has been reformulated slightly, with a new name and a permanent lead: finance expert Adriana Gonzalez. This work ensures CGIAR's shared services are efficient and effective, and supports the establishment and management of CGIAR's Shared Service Center (SSC). It will establish cost centers, cost models, and cost recovery strategies for SSC services. It also supports leveraging already established CGIAR/NARES units that could potentially become service suppliers.
Work Package 2-Cost-effective Shared Services: Routine use of tools, technologies and services (Ng Eng Hwa)
Lab service improvements:

have been rolled out, including: low density SNP genotyping; mid-density targeted sequencing; reference genome service providing "one-stop" fully assembled platinum reference genomes with competitive pricing and turnaround time; and a whole genome resequencing service. Also biochemical- quality and nutritional services have been launched and include non-destructive NIR (Near Infrared) and XRF (X-Ray Fluorescence) services, and ICP (Inductively Coupled Plasma) services. See

launch story

.

Service request portal:

has launched as the primary entry point for all shared services request and submission. It is expected to streamline sample forecasting, logistic management and reduce administrative burden for all users. See:

tutorial video

.
Work Package 3-Performance Management of Consistent, Connected Operations: Continuous improvement of operations (Sharifah Syed Alwee)
Process Teams launched:

to build harmonized processes and services, the Breeding Research Services department (BRS) which oversees BRI, has already launched four Process Teams: Product Development, Trialing & Nursery, Lab Services, and Breeding Analytics. The Process Teams are the core platform for crops and centers to engage in shaping the global Shared Services in between Service users and Service providers. As laid out in a

recent GI webinar

, these Process Teams are coming t

ogether across crops and Centers to identify, validate and set the course for continuous improvement. Read:

Blog on Process Teams

.

Process Management Team

(PMT, the team of Process Owners) is finalizing the

peer-review of the four Process Teams'

SIPOC

s (

Six Sigma

term for "Supplier, Input, Process, Output, Customer"). The SIPOCs are a high-level description of the processes owned by each Process Team. Besides a consistency check, the review is a scope negotiation exercise between the teams to clarify boundaries and hand-over points between processes and people or teams operating it. It is also an important step to be taken before mapping the processes in more detail which is coming next.

Operations Enhancement Team

, the function in BRS which coordinates the Process Teams and provides them with industry-standard Process Management expertise and best-practices:

Defined and launched a SharePoint

which serves as a central Document Management hub. Going forward, this hub will be a key instrument to institutionalize the organization's know-how so that it is safe-guarded, transparent and accessible to all Genetic Innovation staff.

Developed a range of templates

that will  facilitate and drive embedding a culture of Continuous Improvement. These templates are built on LEAN- as well as project- and program management best practice and guide team operation, meeting discipline, decision-making, scope definition and process (document) management. They are now

available on SharePoint

.

Began coordinating a team to develop a framework

to ensure relevance, quality and coherence of metrics and KPIs that are now being developed throughout Genetic Innovation. The first output, a database format in which key features and elements of metrics and KPIs can be captured, is now being used by the first two Process Teams.
Work Package 4-Smarter use of more data: Larger, powerful shared datasets for analysis and decision-making (Andre Moretto Embersics)
EBS rollout:

As mentioned above, the new

GI data strategy

will prioritize EBS as the data platform going forward. EBS continues to roll out, including in the

fields and offices of AfricaRice

. The transformation has also arrived at ICARDA and their bread wheat programs will soon be on the EBS. 

New release

: In 2023 the EBS team continues full steam ahead – in February they delivered a major release, M6, and M7 is coming on July 27!

Global User Support Team:

is taking shape in preparation for the shift of the EBS team under the Breeding IMT team in 2024 and expansion of their user support capabilities to include the BMS users that have been funded through EiB.

Breeding analytics and lab services teams:

aligned priorities in a productive workshop in May. The teams agreed on several steps forward, including to offer basic molecular QA/QC  services – F1 confirmation, seed lot purity, RPP%, and pedigree-based verification and identification.
Work Package 5-Innovation Development and Research Exchange (IDare): Adoption across the CGIAR-NARES breeding network (Gustavo Teixeira)
Trialing and Nursery improvement

: The team ran a

4-day workshop

in June in Kenya with the T&N Process Team to assess progress against the roadmap, increase collaboration, and plan next steps. The purpose of T&N Process Team is to have all operational processes related to trialing and nurseries (field management, planting, seed processing, etc..) standardized within the CGIAR-NARES network. 

CtEH kick off meeting in Kenya:

Ensuring alignment across CtEH projects that will benefit breeding networks in Kenya, BR team organized a Face-to-face kick off meeting in Kenya, when representatives from KARLO, CIAT, IITA, CIP, CIMMYT and Kephis met together to opportunities, challenges and define areas for collaboration.

Kenya station upgrade projects:

planning sessions organized at Kenya Agricultural and Livestock Research Organization (KALRO)'s Kakamega station to ensure the harmonizing and effective implementation of new

Crops to End Hunger

grants (via GIZ), and mapping out how it can best benefit the station. Equipment financed by the program is now in use, with protocols.

Breeding station visits, assessments and upgrades

recently include:

Potato breeding network:

assessment of Rwanda Agriculture and Animal Resources Development Board (RAB)'s station in Musanze. In collaboration with CIP and Accelerated Breeding, opportunities to improve breeding operations were identified.

Senegal stations upgrade projects:

assessment of AfricaRice's station in St. Louis and Institut Sénégalais de Recherches Agricoles (ISRA)'s station in Bambey, Senegal. Those assessments are not only an important step to understand operational areas that require more support from BRI, but to provide guidance to operational teams to continuously improve in areas such as irrigation and seed processing infrastructures.

Latin America breeding programs:

visit to  CIAT's station in Palmira, Colombia. Together with Trialing and Nursery Process Stewards, research coordinators started reviewing and providing support to improve CIAT operational processes. Areas identified as opportunities to improve include soil management plans and water management.
Cassava planting solutions:

BRI teamed together with IITA staff to initiate tests to mechanize planting processes of some RTB crops. Even though the tests are still in the early stages, it is an important step to reduce operational costs, and improve data quality.

Genebanks collaboration:

BRI engineering capacity supported CIMMYT genebank germplasm bank curators,and Trialing & Nursery Process Stewards to develop a plan to improve seed processing in CIMMYT. An infrastructure plan encompassing process flows and facility layouts was developed to implement a centralized area to serve genebank and breeding programs. Also, the BRI team and genebank coordinator visited Instituto de Investigación y Capacitación Agropecuaria, Acuícola y Forestal (ICAMEX)'s station in Toluca, Mexico. ICAMEX is building a new seed processing area and requested BRI support. 
Also see: Recent news, events, resources:
Video: Leading with vision: Meet the Breeding Resources Initiative leads (including outgoing co-lead Young Wha Lee)
     ———-
UPDATE: April, 2023 – New lab services and systems set to launch in early 2023
To produce better crop varieties and faster, breeding programs need to adopt the best services and technologies. In the past, CGIAR has sometimes lacked access or faced duplication or inefficiencies in providing or accessing these services. But, all these challenges are changing as the One CGIAR system and Breeding Resources Initiative move into their second year. Breeding programs can now expect a range of new and improved offerings across the global CGIAR-NARES (National Agricultural Research and Extension Systems) network.
Shared services provide CGIAR with much greater bargaining power in purchasing or contracting equipment, services, and tools. This enables the generation of cost-efficient and high-quality data, consistent across the breeding network. Shared services are already established for genotyping and sequencing and select biochemical (nutritional trait) testing. New adds will include high throughput phenotyping, soil analysis, biometrics, expansion of existing biochemical testing services, equipment purchases and more. For more Breeding Resources Initiative updates, including past events and announcements, please visit: Website
As part of this effort, genotyping lab services will see a range of improvements in early 2023:
Improved genotyping services:  Shared services for genotyping and sequencing are being expanded and updated. These include new service offerings to support partners with: Low density SNP genotyping (KASP platform, suitable for applications requiring less than 50 markers); mid-density targeted sequencing (1-4K markers, suitable for genomic selection and fingerprinting); reference genome service providing "one-stop" fully assembled platinum reference genomes with competitive pricing and turnaround time; and a whole genome resequencing service (operational by quarter one of 2023).
Biochemical- quality and nutritional services: Partners will soon be able to access expanded biochemical testing for nutritional traits and quality, such as Fe and Zn testing for breeding selection objectives. Initially the team aims to collaborate with organizations such as Harvest Plus and external vendors to establish a network of service labs with competitive pricing and standardized services to cater to CGIAR and NARES breeding needs. Services will include non-destructive NIR (Near Infrared) and XRF (X-Ray Fluorescence) services, and ICP (Inductively Coupled Plasma) services.
Service request portal: Following the pre-launch in February 2023, towards end of 2023, the team will officially launch a service request portal. The portal will be the primary entry point for all shared services request and submission. It is expected to streamline sample forecasting, logistic management and reduce administrative burden for all users. (See: tutorial video)
For further questions on lab services, offering and practical matters on service request portal, please contact Breeding Resources Lab Service Team (mail)
We will update you regularly and we appreciate your support and feedback. Please do not hesitate to contact us with questions.
     ———-
UPDATE: February, 2023 – Process Teams and more
Breeding Resources Initiative is moving forward on our support for CGIAR/NARES breeding programs. In November, we held our first townhall. Now that we're into 2023, we wanted to provide a quick update on the plans mentioned at that event and on the ongoing work in Process Teams.
Process Teams: And as you may know, we've been working across partners to start up our Process Teams. CGIAR will design and deliver its breeding support services through these Teams, so we really appreciate your support. Here's a brief overview on the Process Teams' work.
WHY: The goal of each Team is to create the CGIAR service functions in that area. Drawing from across Centers and crops, breeding support/processes will become a fully collaborative, multi-institution partnership. For quality data, germplasm, and products, we need interconnected operations between partners that follow harmonized SOPs. Effectiveness, efficiency and quality – this is the goal of One CGIAR!
WHAT: Process Teams are cross-center and cross-crop teams that design and eventually deliver CGIAR (and later NARES) services in several areas, starting with: Trialing & Nursery, Data Governance, Breeding Analytics, Lab Services. They are pulling together teams to define the processes to drive improvement, and develop best practices through harmonization of SOPs, workflows and quality controls. Each Team will drive standards linked to the Breeding Process Model (BPM) and the Process Performance Measurement Framework (PPMF). Teams will define their own processes and create sub-teams on specific areas. The Process Stewards will ensure key ways of working are harmonized – methods, metrics, opportunities to collaborate across Centers. They will also identify capacity development needs – to make sure your teams get the training and resources they need. Stay tuned for opportunities for you to engage!
WHEN: Now! The process teams are selected and already on their first phase of development. They are now defining plans to drive standards, and working on delivery models.
WHO: Process Team members are drawn from expert staff across CGIAR and the work is supported by specialized process consultants. Each Center/crop typically have a representative on each Team – called a Process Steward – who identifies improvement opportunities and leads implementation for that Center/crop. And they will be recruiting Subject Matter Experts to serve on sub-teams. Centers and programs have agreed for members to dedicate a percent of their time to this work. Here you can see the Process Teams and who are involved (work in progress, some positions/names are still to be decided). Initially, we are starting with CGIAR to create the right structures. Then the aim is to roll out an adapted model to NARES.
See also: Recent updates & tools:
     ———-
We would like to thank all funders who support breeding research through their contributions to the CGIAR Trust Fund. And thank you to the supporters  and partners of CGIAR Excellence in Breeding, particularly the funding from Bill and Melinda Gates Foundation and USAID.