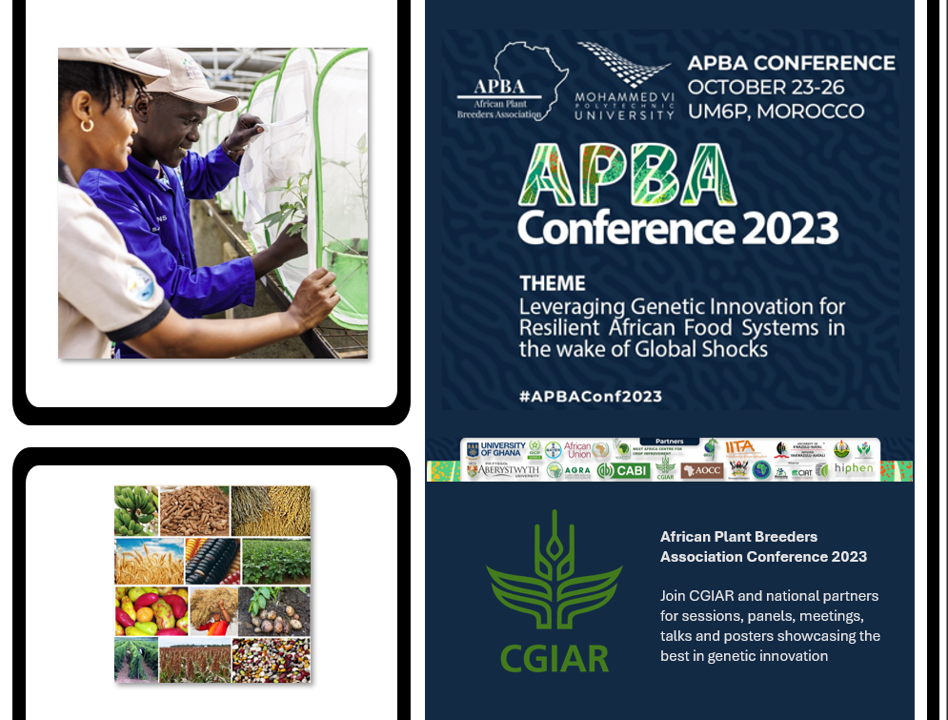 3rd African Plant Breeders Association (APBA) Conference
Date

23.10.23 > 27.10.23

Time

12:00 am > 12:00 am

UTC-11:00

Registration

https://apbaconf2023.um6p.ma/register
Leveraging Genetic Innovation for Resilient African Food Systems in the wake of Global Shocks
WHERE:

 Mohammed VI Polytechnic University (UM6P) | Benguerir, Morocco
WHEN: October 23rd – 26th, 2023
ABSTRACT DEADLINE: Closed (September 15, 2023)
OVERVIEW:
The African Plant Breeders Association (APBA) Conference was initiated in 2019 to disseminate the latest knowledge and achievements in the field of agriculture, to enhance research and development (R&D) for sustainable agriculture production systems in Africa. APBA conference brings together around 400 international scientists and experts representing different national and international institutions (CGIAR research centers), universities, research institutions, private companies, donors, etc.).
It is a good opportunity for plant breeders, researchers, students, private companies as well as national agriculture policy makers to share their knowledge and discuss their research findings and recent achievements. Such interactions will help in preparing strategies and partnerships to tackle future challenges in R&D for the African continent and open opportunities for potential collaborative actions. Two previous APBA conferences have been successfully organized in Accra, Ghana (2019) and Kigali, Rwanda (2021). Both events significantly contributed to the promotion of international collaborations in basic, fundamental, applied and strategic research areas particularly in the field of crop improvement.
ABOUT APBA:
The African Plant Breeders Association (APBA) is an initiative of full-fledged scientists, students, and professionals in Africa from higher education institutions (HEIs), research organizations and private companies who felt the need to change the narrative of crop improvement and the seed sector in Africa. It is a forum dedicated to building capacities, problem-solving, resource mobilization, and long-term strategic development of the agricultural sector in Africa through effective plant breeding programs and provision of tangible solutions to governments, seed companies, nongovernmental organizations and farmers.
GET INVOLVED:
CGIAR will have a strong showing at the event. CGIAR encouraged its scientists and its NARES partners to submit abstracts and posters to bring our innovations and achievements to these important audiences. Abstract submissions have closed. Themes for submission included: Advances in Genetic Innovation and Technology, Agri-food systems research towards Food sovereignty and Nutrition security,Dealing with Global Shocks from a Crop Improvement Perspective, Capacity Building and Education in Crop Improvement, Advances in Forgotten and Underutilized Crop Research, Seed Systems and Germplasm conservation, Precision Phenotyping for Crop Improvement
CGIAR PARTICIPATION:
(TBC as of Sept. 26 – Schedules and details are likely to change. Check APBA website for final details)
Main CGIAR sessions: 
Parallel session I (Room 1): Tue, Oct 24. 10:45-12:15 
CGIAR Genetic Innovation Science Group information session
Chairs: Dr. John Derera, Senior Director, Plant Breeding and Pre-Breeding

Introduction to CGIAR's Genetic Innovation Science Group and the Breeding Resources Initiative, Dr. Sonja Vermeulen, Science Managing Director of Genetic Innovation, CGIAR

Accelerating Breeding at CGIAR, Dr. Michael Quinn, Director, Breeding Modernization and Innovation. Lead, Accelerated Breeding Initiative, CGIAR and Dorcus Gemenet, Breeding program optimization and continuous improvement specialist, CGIAR

Getting CGIAR seed varieties to farmers – the Seed Equal Initiative, Dr Chris Ojiewo, Seed Equal Initiative Co lead, CGIAR

Delivering seed that meets end users' needs – Market Intelligence Initiative, Dr. Julius Okello, Impact Assessment Specialist, Market Intelligence Initiative, CGIAR

Using our genetic material in perpetuity – Genebanks Initiative, Dr. Marie Noelle Ndjiondjop, Head of Genetic Resources Unit, Genebank Initiative, CGIAR
Full day meeting: Thurs, Oct 26. 09:00-18:00 NARES–CGIAR Genetic Innovation: Strengthening Engagement 2023
Follow up to 2022 event. Implementing the spirit of the Aide Memoire

Led by Dr. Bish Das, NARES coordinator, Accelerated Breeding Initiative, CGIAR

Participants (invitation only): NARES officials, Genetic Innovation leads, CGIAR Center breeding leads, regional organizations
Other CGIAR participation:
High- Level Panel Discussion: Oct 23, 11:45-13:00
Leveraging Genetic Innovation for Resilient African Food Systems in the Wake of Global Shocks
Panelist: Dr. Sonja Vermeulen, Managing Director of Genetic Innovation, CGIAR

Moderator: Dr. Clare Mukankusi, CIAT-CGIAR
Plenary Talk: Oct 23, 15:20-15:40
Accelerated Breeding Modernization: Transforming NARES for Driving Sub-Saharan Africa's Food Security. 
Dr. Sanjay K. Katiyar, Breeding Modernization Lead, Rice Breeding & Innovation Platform, CGIAR-IRRI
Keynote: Tue, Oct 24. 14:05-14:25
Driving Greater Impact Through Greater Focus, Excellence In Science and Through Stronger Partnerships
Dr. Michael Quinn, Director, Breeding Modernization and Innovation. Lead, Accelerated Breeding Initiative, CGIAR
Plenary Talk: Oct 23, 14:25-14:40
Can genomic prediction accuracy be increased in modern plant breeding? 
Dr. Jose Crossa, Genetic Resources Programme, CIMMYT
Plenary Session: Tue, Oct 24. 14:30-15:00
Re-designing crop varieties to win the race between climate change and food security
Led by Dr. Kevin Pixley, DDG, Research, CIMMYT

Featuring Spotlight talks from African experts from NARO, CSIR, CIMMYT, e.g. on anticipated changes and desirable or essential traits for key crops to succeed in future environments
High-Level Panel: Tues, Oct 24: 15:45-16:45
Re-Designing Crop Varieties to Win the Race Between Climate Change and Food Security
Moderator: Dr. Chris Ojiewo, Lead, CGIAR Seed Equal Initiative

Panelists: NARES and other CGIAR partners
Panel: Wed, Oct 25. 09:45-10:25
High-Level Panel: Leveraging opportunities for the training of modern plant breeders in Africa for Africa
Featuring Dr. John Derera, Senior Director, Plant Breeding and Pre Breeding, CGIAR. Along with several key CGIAR NARES partners
Keynote Address VI: 10:45-11:25
Advances in Forgotten and Underutilized Crop Research & Research in Millets Crops
Session Chair: Miguel Sanshez Garcia (ICARDA)

Speaker: Dr. Damaris A. Odeny, Genomics Scientist International Crops research Institute for the Semi-Arid Tropics (ICRISAT)
Parallel Session III: 11:25-12:45
Room 5: Seed Systems and germplasm conservation
 Chair: Dr. Ahmed Amri (ICARDA)
Additional sessions: Sessions accepted from CGIAR abstract submissions. Details and more sessions to be added:
Inclusive approach to early generation seed production and delivery systems: experiences from sub-Saharan Africa:  Dr. Christopher Ochieng Ojiewo (CIMMYT), Lead, CGIAR Seed Equal Initiative

The Enterprise Breeding System: Empowering Genetic Innovation: Dr. Simon Imoro (IITA), Enterprise Breeding System

Costing of Breeding Program: CGIAR-NARES-Breeding Crop Network: Dr. Lennin Musundire (CIMMYT), CGIAR Accelerated Breeding Initiative

CGIAR genebanks: More data, better information: Dr. Zakaria Kehel, CGIAR Genebank initiative / ICARDA, Morocco
UPDATES: