Blueprints for new varieties: CGIAR prepares new lab service with release of key crop reference genomes
From

CGIAR Initiative on Breeding Resources

Published on

24.05.23

Impact Area
Funders

Bill and Melinda Gates Foundation, United States of America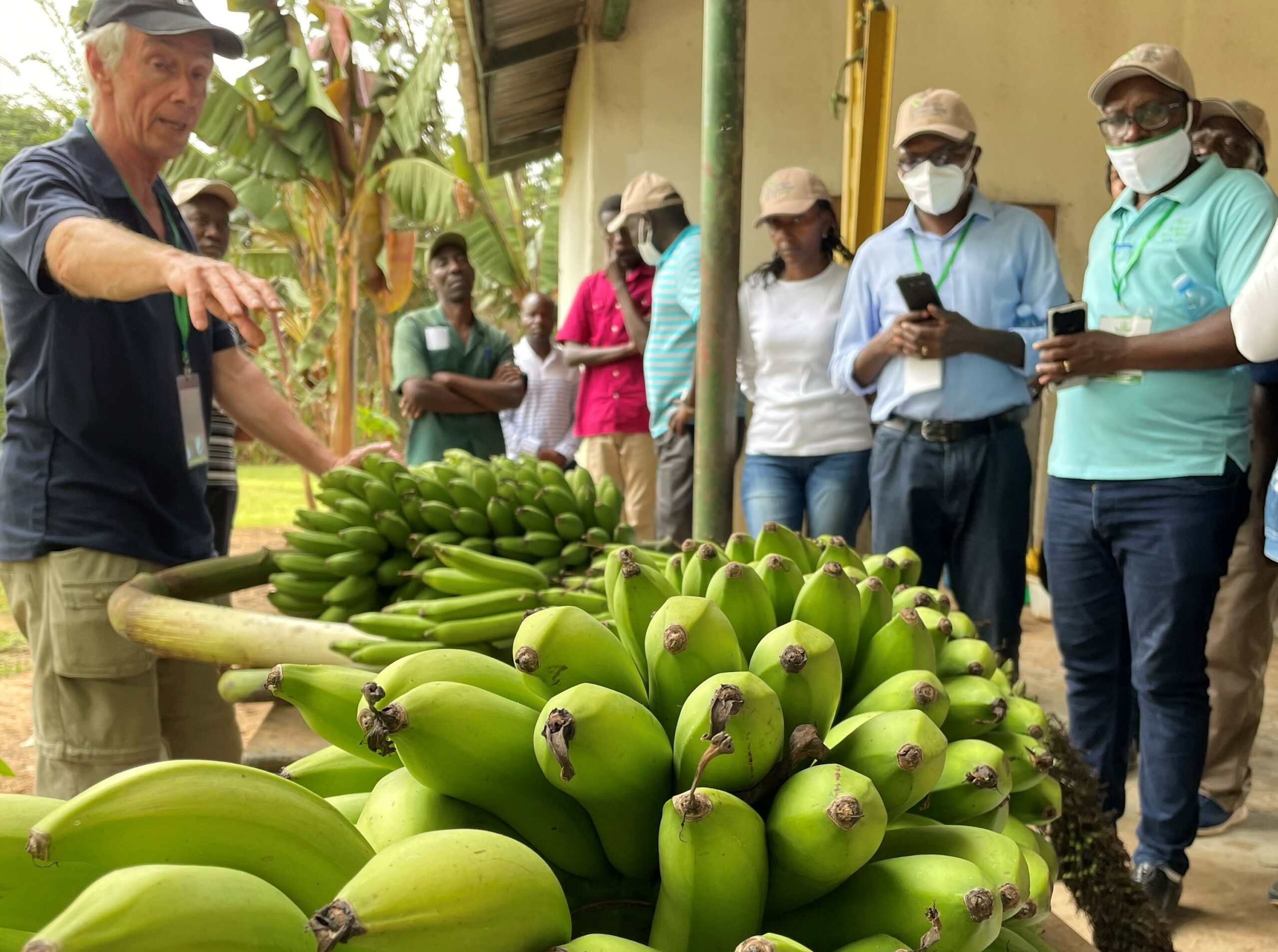 Scientists at CGIAR are releasing 11 high quality reference genomes representing African crops targeted by the agricultural research organization. Eight banana, one cowpea and two common bean reference genomes have been sequenced and released. The release provides genomic resources for breeding and crop improvement through the design of molecular markers. 
This work is set to become one of the new genomic shared services under One CGIAR. The new services will expand CGIAR Initiative on Breeding Resources' public-private partnerships, ensuring breeders access the latest technologies, with lower costs and fast turnaround. The reference genomes were sequenced by Corteva Agriscience using combined Pacbio HiFi, Bionano and Hi-C sequencing technologies and funded by Crops to End Hunger (CtEH).
A reference genome in crop breeding is like a blueprint that shows the genetic makeup of a particular crop. Breeders use them to compare the genetic makeup of different crop varieties and to identify which genes are responsible for certain traits, such as disease resistance or drought tolerance. They can then use this information to breed for crops that are better suited to particular environments or that have desirable characteristics, such as higher yields or improved nutritional content.
This set of releases includes banana and plantain, developed by IITA, including three wild banana diploid varieties, one edible diploid banana variety, three improved diploid banana parents, and one plantain variety. As well, it features an early maturing, photo-insensitive, disease resistant variety of cowpea, developed by CGIAR's International Institute of Tropical Agriculture (IITA). And two potentially heat, drought and pathogen resistant common bean varieties from CGIAR's Alliance of Bioversity International and CIAT. 

These high-quality genomes are now publicly available through the International Maize and Wheat Improvement Center (CIMMYT) dataverse. CGIAR is committed to making public as much of its breeding material as possible, and breeders can now access this material to use in their own crop improvement programs.
This is the first set of genomes released, with more than ten others in the pipeline to be released in the coming months. 
The new reference genomes are the initial output of CGIAR's developing shared service and it addresses some key bottlenecks in crop improvement. The services will leverage best-in-class genomic technologies from private partners, produce time and cost savings, address the issue of not having a good reference genomes (blueprint) to develop molecular tools for crop improvement, and ensure CGIAR can support crops that often have less investment but are necessary for for food diversity and nutritional needs in Africa and other key regions.
Having these reference genomes will help breeders work more efficiently and effectively by speeding up the breeding process. They can use the genetic information to select which plants to breed together to achieve specific goals. This can lead to the development of crops that are more resilient, productive, and sustainable – ultimately benefiting farmers and consumers.
—–
Links for the public to access the data (see: terms):
—–
Main photo: Breeders demonstrate banana varieties at CGIAR's International Institute of Tropical Agriculture (IITA) facility in Uganda. Photo: Adam Hunt/CGIAR
We would like to thank all funders who support breeding research through their contributions to the CGIAR Trust Fund and all funders and partners who have supported the work of Excellence in Breeding, particularly support from Bill and Melinda Gates Foundation and USAID.