How we are professionalizing breeding research management processes
From

CGIAR Initiative on Breeding Resources

Published on

30.06.23

Impact Area
Funders

Australia, Bill and Melinda Gates Foundation, Germany, United Kingdom, United States of America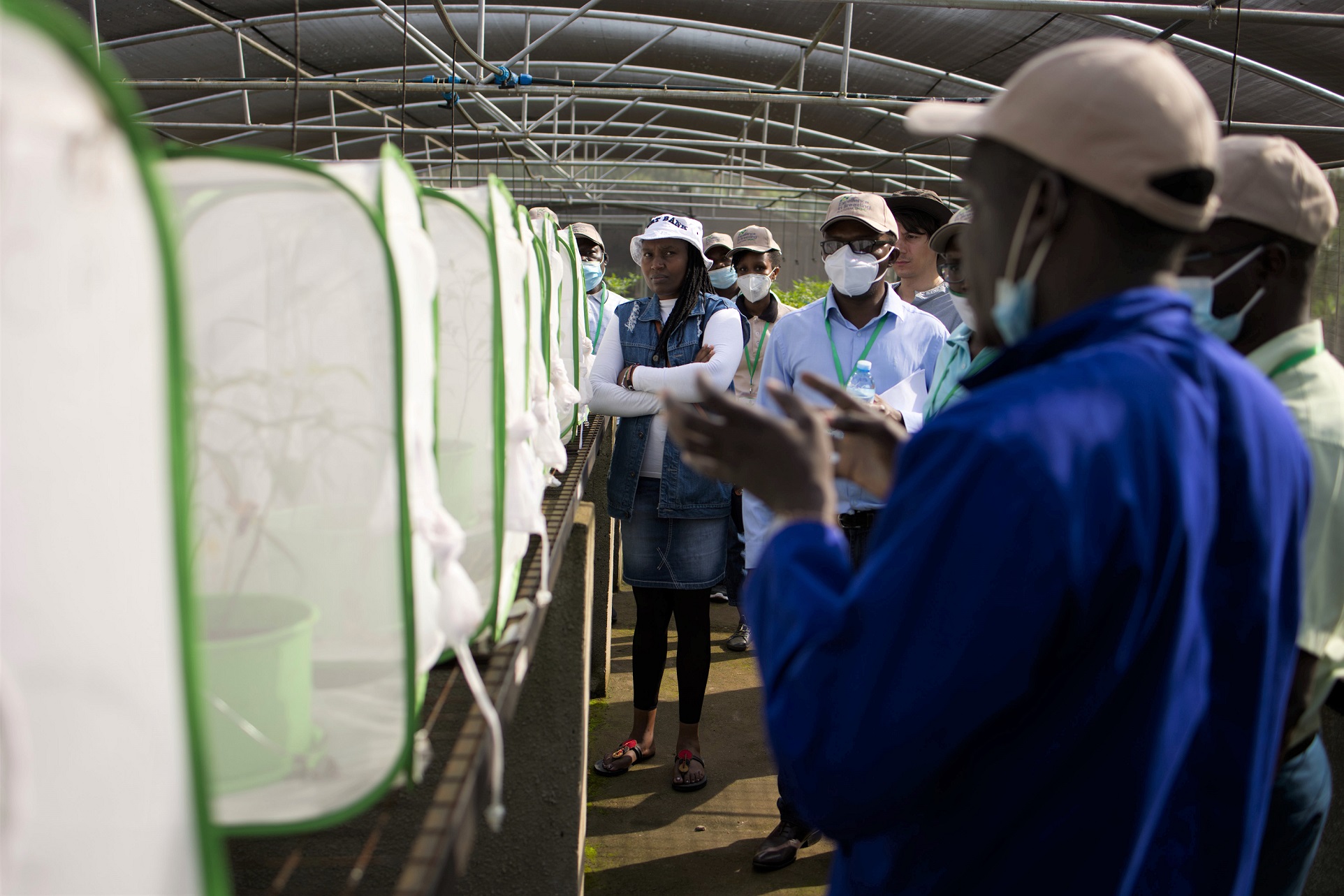 CGIAR breeding programs and Centers have been coming together as One CGIAR, to ensure smallholders get the continually improving crop varieties they need. But this work relies on big changes and improvements, which in turn depend on effective and harmonized processes. Genetic Innovation (GI) is formalizing its systems to deliver these improvements across CGIAR-NARES breeding networks through Process Teams. But you may be wondering: how does effective process management work, and why is it necessary to formalize it?
As laid out in a recent GI webinar by CGIAR Breeding Research Services (BRS), it is not an option to remain siloed in Center- and crop-focused ways of working. And although transforming ourselves into one cohesive organization risks an adjustment period with some chaos or bureaucracy, the growing pains are necessary. To build harmonized processes and services, BRS (which oversees the Breeding Resources Initiative – BRI) has already launched four Process Teams: Product Development, Trialing & Nursery, Lab Services, and Breeding Analytics.
What are Process Teams and what do they do?
Assigned staff from across CGIAR serve on these results-oriented, cross-functional, cross-crop platforms. The aim is to deliver sustained management, Continuous Improvement, and digital enablement in their team's area of work. These platforms connect GI departments and teams to ensure they deliver through industry-standard management methodology.
Each team ensures key ways of working are harmonized – methods, metrics, opportunities to collaborate across Centers. They discover, develop and share best practices. They document this know-how, so that it does not sit with individuals who might take that knowledge away if they leave the organization. They also identify capacity development needs – ensuring teams get the necessary training and resources to deliver change and impact. In some cases, for example Lab Services, Project Teams may develop or run CGIAR-NARES services themselves.
Why harmonize processes through Process Teams?
We see the word "harmonize" a lot – and it's because harmonized processes are a vital enabler for networks. CGIAR-NARES networks must be inclusive, high-functioning, multi-institution collaborations. We need compatible ways of working. This partnership manufactures two key outputs: data and germplasm. For these to be of high quality, operations must connect through harmonized processes, which capture and refine CGIAR's know-how.
These harmonized processes mean leveraged best practices, efficiently used resources, and reduced friction, duplication and confusion.
This means better productivity and relationships that produce better data that lead to better germplasm. And in turn: better varieties for farmers, delivered faster!
For example, breeding programs can now access high-quality data through competitively priced Lab Services that are run using consistent protocols, clear workflows, and an online submission tool.
What are the roles?
We are not re-inventing the wheel with the approach; across the globe, organizations organize and formalize management of their delivery processes. Through the Process Teams, GI now adopts industry-standard practices summarized under the term "Business Process Management."
Strategy is set by the high-level Process Steering Team, which oversees the more functional Process Management Team.

Image: Operational team structure, as of July 2023
This structure guides all Process Teams, who work on particular areas (e.g. Breeding Analytics). Key team roles include (for a more detailed view, watch this section of the webinar, or consult with your relevant Process Steward):
Process Owners: lead a complete Process Team. Their focus is on the global level, driving the harmonization of processes in the team's scope across crops and/or Centers. They are also accountable to make the teams operational – ensuring objectives, KPIs, resources and performance will bring about the intended changes.
Process Consultants: support the Process Owner and their team, providing expertise and services on process management and on project They evaluate existing processes, make recommendations, and consult on process documentation, metrics, and risks. This is vital because Continuous Improvement requires understanding how to map and then optimize processes. They also train and coach Process Stewards on both process and project management.
Process Consultants reside in the function (essentially, Continuous Improvement through team management methods, templates, LEAN principles, meeting discipline, process mapping etc.) of Breeding Research Services, which ensures all Process Teams connect by operating under standardized principles and templates.
Process Stewards: are responsible for the delivery of a particular instance of a given process (Trialing & Nursery Processes at IITA, Breeding Pipeline Processes in Wheat). Harmonized Processes are defined globally, but the execution happens via specific breeding teams or breeding stations. They lead the team running the instance and represent the efforts at the global level. Thus, they are the key link between global harmonization and local (center or crop) execution.
Subject Matter Experts: make up the Process Steward's "home team," and may lead a smaller team which performs a sub-process or activity. They identify and escalate improvement targets, issues and risks to Process Stewards and serve as experts and/or super users for process mapping, training and solution design.
All these players and teams work together to ensure that strategy, scope boundaries, connectivity and hand-over points between the organization's processes are clear and addressed adequately in the process definition and -documentation. This ensures improvements or new technology introduced in one place do not have adverse effects on other processes. This "Team of Teams" is the "people part" of a Quality Management System that BRS, through its Breeding Resources Initiative, is building for Genetic Innovation.
Video: Process Teams webinar 
What's been achieved so far?
The four existing Process teams are already improving connectivity, learning, and application of Continuous Improvement principles. So far in 2023, teams:
Delivered and adopted Team Management tools: These have improved communication with management and within and across teams and allowed for team progress to be shared and measured across functions. For example, all Process Teams now have their core strategy documented through a "PO3" (Purpose, Objectives, Outputs and Outcomes) statement. And these align with the overall PO3 for the overarching process management system.
Delivered and adopted Process Management tools: These have improved ability to document performance baseline for the teams, allowing for clear interfaces and better comparability among processes. For example, all four active Process Teams have now delivered a SIPOC (a Continuous Improvement tool, "Supplier, Input, Process, Output, Customer") These were peer reviewed by the Process Management Team for clarity on scope, boundaries and connection points. The teams have now started to map the Processes within their
Launched Process Management Team: The Team of Process Owners is the "spider in the net" that coordinates all Process Teams. This team is operational since early 2023 and has commenced its tactical leadership role. It has enabled strategy implementation, taken on issues and risks that have been escalated from Process Teams, and worked to align process design work between Teams. For example, just as for the SIPOCs, the Team peer-reviewed the PO3 statements of all Process Teams ensuring they align with Genetic Innovation's strategy and complement other Process Teams. This clarifies mandate and delivery boundaries.
A single genetics operation
CGIAR envisions Genetic Innovation as a single genetics operation, working with NARES to ensure a global footprint. With Process Teams, we can expect to build sustainable processes and services to reach these heights. These are proven approaches, tested and improved by industry. It's not simple work, but delivering new varieties at the speed and scale needed mean we must continuously improve our processes.
—–
Blog by Sharifah Syed Alwee, Senior Director, Breeding Research Services; with Adam Hunt, Communications Lead for Breeding Resources Initiative. Main image: Breeding operations at CGIAR partner station, Jjumba Martin, EiB/CGIAR. We would like to thank all funders who support CGIAR research through their contributions to the CGIAR Trust Fund. And thank you to the supporters  and partners of CGIAR Excellence in Breeding, particularly the funding from Bill and Melinda Gates Foundation and USAID.