Leading with vision: Meet the Breeding Resources Initiative leads
From

CGIAR Initiative on Breeding Resources

Published on

15.02.23

Funders

Bill and Melinda Gates Foundation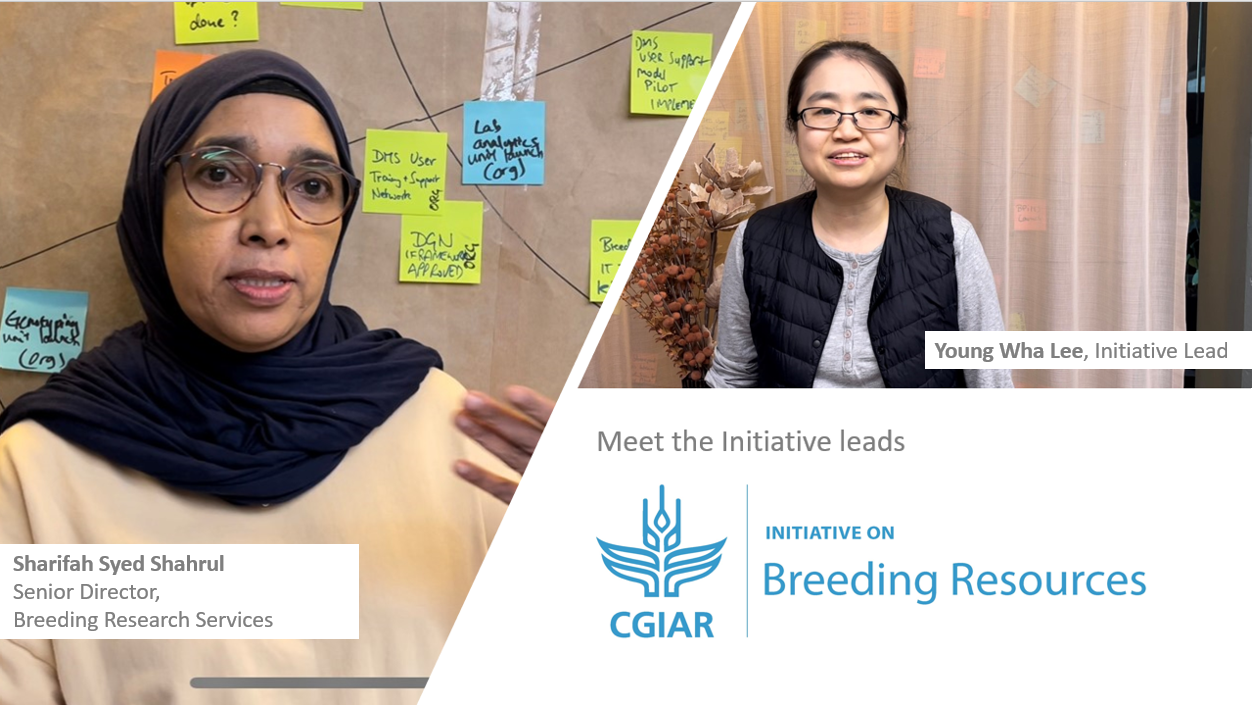 How can we ensure crop breeding programs best varieties, faster, and more efficiently? CGIAR's Breeding Resources Initiative (BRI) is working to bring tools, technologies and services to programs in the CGIAR-NARES (national agricultural research and extension systems) networks.
Through two short video interviews, Initiative lead Young Wha Lee, and co-Lead Sharifah Shahrul Syed Alwee (Senior Director, CGIAR Breeding Research Services) discuss their vision of the Initiative, and what inspires them to get up in the morning to work toward better crop breeding results.
A few key points touched on by Young Wha and Sharifah include:
Purpose:

 

Breeding Resources supports breeding programs to create

 

nutritious and climate-resilient crop varieties

 

for smallholder farmers by providing tools, technologies and services. This brings a technological edge in the efforts to support farmers and their families.It also represents a culture change – CGIAR has been known for fantastic scientific excellence and Breeding Resources is driving operational excellence to focus on real results in farmers fields.
Method:

 

The Initiative works among and within all the breeding centers in CGIAR, across all the crops. This links up services and activities so that processes can be standardized, harmonized and centralized. The focus is on supporting strategic modernization, shared services (e.g. genotyping, data management, station operations), continuous improvement processes, and change management.
Process:

 

To deliver progress, Breeding Resources has launched Process Teams that design and eventually deliver CGIAR (and later NARES) services in several areas, starting with: Trialing & Nursery, Data Governance, Breeding Analytics, Lab Services. Drawing from across Centers and crops, breeding support/processes will become a fully collaborative, multi-institution partnership. Process Team members are drawn from expert staff across CGIAR and the work is supported by specialized process consultants. Effectiveness, efficiency and quality – this is the goal of One CGIAR!
Inspiration:

 

Watch

 

the video

 

to learn what gets Young Wha and Sharifah up in the morning, working hard to advance breeding results.
See also: 
—–
Story and videos by Adam Hunt, EiB/BRI/ABI Communications Lead. We would like to thank all funders who support breeding research through their contributions to the CGIAR Trust Fund. And thank you to the supporters and partners of CGIAR Excellence in Breeding, particularly the funding from Bill and Melinda Gates Foundation and USAID.