KALRO research station at Kiboko revamped to accelerate crop breeding
From
Published on

03.03.23

Impact Area
Funders

Bill and Melinda Gates Foundation, Germany, United Kingdom, United States of America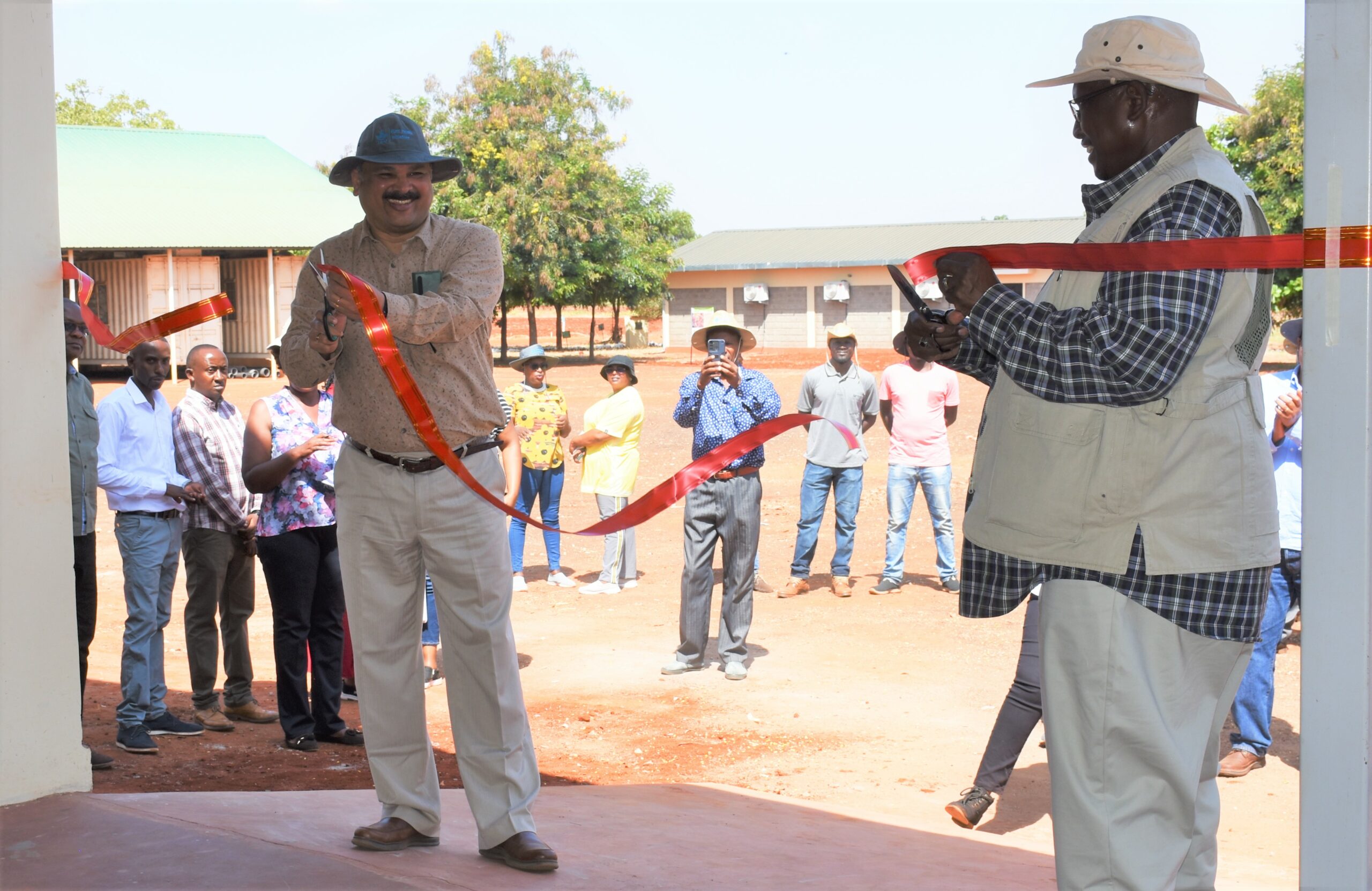 Kenya Agricultural and Livestock Research Organization (KALRO)'s research station at Kiboko, Kenya, where several partner institutions including the International Maize and Wheat Improvement Center (CIMMYT), conduct significant research activities on crop breeding and seed systems, is now equipped with five new seed drying machines along with a dedicated shed to house these units, a cold room for storing breeding materials, and an additional irrigation dam/reservoir. These infrastructural upgrades are worth approximately US $0.5 million.
During the commissioning of the new facilities on February 7, 2023, CIMMYT Global Maize Program Director, BM Prasanna thanked the donors, Crops to End Hunger (CtEH) Initiative and Accelerated Genetic Gains (AGG) project, that supported the upgrade of the research station, and recognized the strong partnership with KALRO.
"Today is a major milestone for CIMMYT, together with KALRO, hosting this center of excellence for crop breeding. This facility is one of the largest public sector crop breeding facilities in the world, with hundreds of hectares dedicated to crop breeding. These new facilities will enable CIMMYT and KALRO crop breeders to optimize their breeding and seed systems' work and provide better varieties to the farming communities," said Prasanna.
Kenya suffered one of its worst droughts ever in 2022, and the newly commissioned facilities will support expedited development of climate-resilient and nutritious crop varieties, including resistance to major diseases and pests.

Improvements and enhancements
The efficiency of the seed driers capabilities to quickly reduce moisture content in seed from above 30% to 12% in two to three days, reducing the time taken for seed drying and allowing for more than two crop seasons per year in a crop like maize.
The additional water reservoir with a capacity of 16,500 cubic meters will eliminate irrigation emergencies and will also enhance the field research capacity at Kiboko. Reliable irrigation is essential for accelerating breeding cycles.
At the same time, the new cold room can preserve the seeds up to two years, preventing the loss of valuable genetic materials and saving costs associated with frequent regeneration of seeds.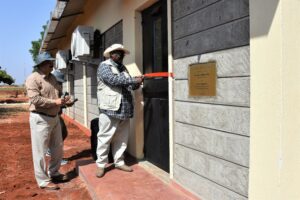 World-class research center
"The Kiboko Research Center is indeed growing into an elite research facility that can serve communities in entire sub-Saharan Africa through a pipeline of improved varieties, not only for maize but in other important crops. This will not only improve climate resilience and nutrition, but will contribute to enhanced food and income security for several million smallholder farmers," said Prasanna.
KALRO Director General Eliud Kireger appreciated the establishment of the new facilities and thanked CIMMYT and its partners for their support.
"Today is a very important day for us because we are launching new and improved facilities for research to support breeding work and quality seed production. This research station is in Makueni County, a very dry area yet important place for research because there is adequate space, especially for breeding," said Kireger. "We are significantly improving the infrastructure at Kiboko to produce and deliver better seed to our farmers."
For more than three decades, CIMMYT has conducted research trials at the Kiboko Research Station, focusing on drought tolerance, nitrogen use efficiency, and resistance to pests and diseases, such as fall armyworm and stem borer. The maize Double Haploid (DH) facility established in 2013 at Kiboko, with the support of the Bill & Melinda Gates Foundation, offers DH line production service for organizations throughout Africa, and is key to increasing genetic gains in maize breeding.
Cover photo: CIMMYT Global Maize Program Director and CGIAR Plant Health Initiative Lead, BM Prasanna cutting a ribbon at the entrance of a new shed housing, marking the commissioning of five new seed drying machines courtesy of the of the Accelerating Genetic Gains (AGG) Project. (Photo: Susan Otieno/CIMMYT)