Harnessing crop breeding data: AfricaRice transitions to Enterprise Breeding System
From

CGIAR Initiative on Breeding Resources

Published on

20.04.23

Impact Area
Funders

Bill and Melinda Gates Foundation, United States of America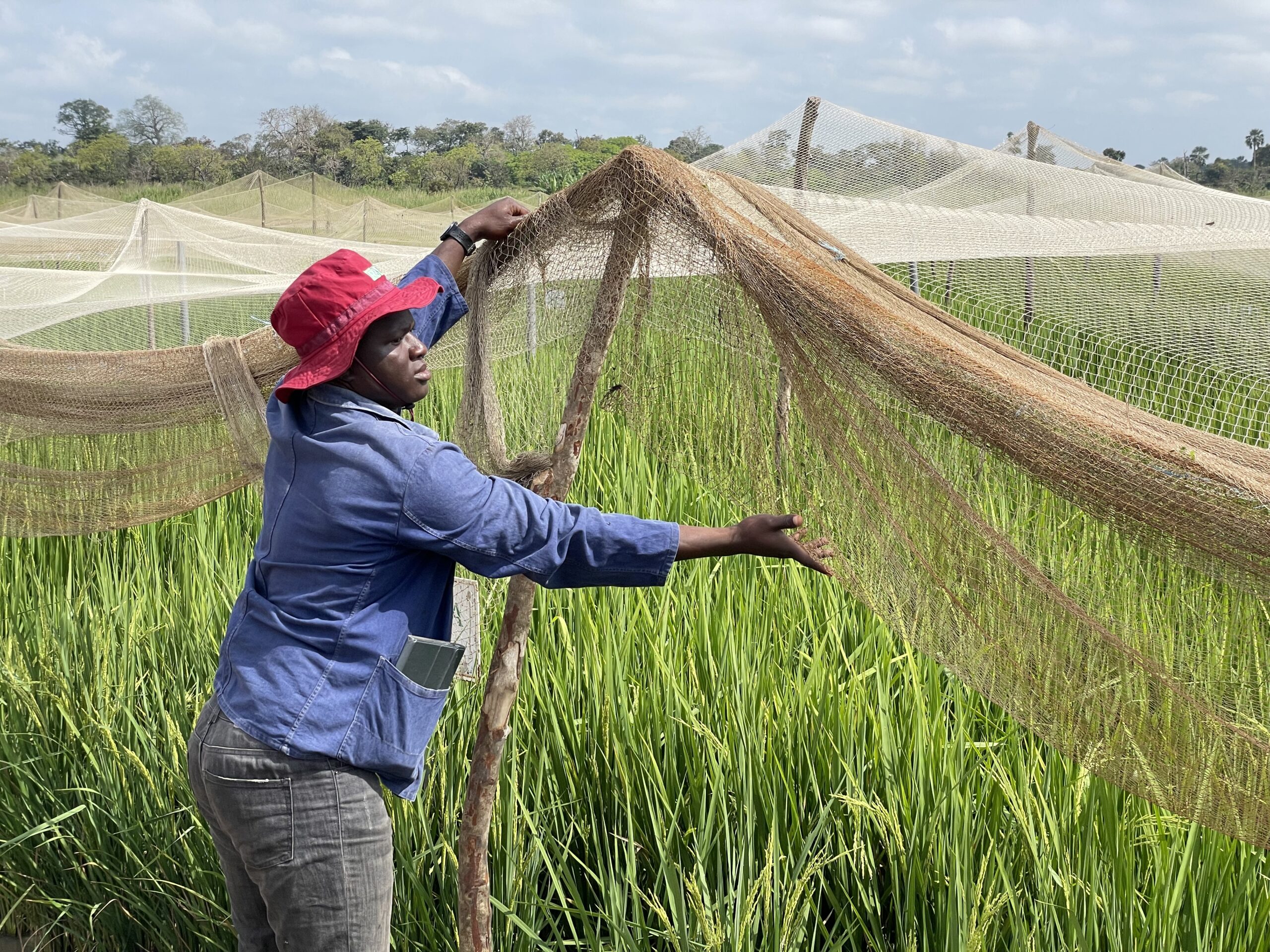 If you visit AfricaRice breeding stations in Côte d'Ivoire, Madagascar, Nigeria and Senegal, you might notice barcodes speckled across the fields, identifying each plant. These are part of the Enterprise Breeding System (EBS) barcoding system, that speeds up the upload of breeding data thus increasing the capacity and accuracy of the breeding program to develop new varieties.
AfricaRice has joined the growing group of CGIAR breeding programs that have completed adoption of CGIAR's universal data platform EBS.
Previously, AfricaRice has been using the Breeding Management System (BMS), which is being replaced by the EBS as the standard breeding software across CGIAR. All AfricaRice breeding activities and three years of historical data were migrated to the new EBS system, while a solution is being developed to integrate past data held in the legacy system.
Linking crop trials with digital data, AfricaRice makes comprehensive use of QR codes, with specialized scanners and printers provided through the CGIAR Breeding Resources Initiative (formerly via CGIAR Excellence in Breeding Platform).
"We've been very eager to move forward on EBS adoption," says AfricaRice's newly appointed Director General Baboucarr Manneh. "As a comprehensive platform, it can manage breeding activities ranging from seed preparation for trial establishment to data analysis for advancing breeding decisions – all making our breeding programs much more productive and efficient in developing climate-resilient and market-preferred varieties."


The migration process from AfricaRice's previous BMS to EBS included substantial tasks such as data curation, data migration, training, and translation of support documents into French. The adoption process, which was done in collaboration with the Integrated Breeding Platform (IBP) staff, concluded with the first in-person training for EBS users at AfricaRice which took place in October 2022. This was part of wide-scale capacity building efforts led by the EBS team.
"We saw they are very disciplined at using the EBS," said Andre Embersics, EBS project manager. "This visit was in conjunction with a mechanization support team. Gustavo Teixeira and Ana Oliveira [under the Excellence in Breeding Platform] have done great work to increase mechanization and automation of breeding processes including digitization of data collection, which will have an impact on how EBS can help."
The efforts to modernize breeding programs and adopt data management are now further integrated under Breeding Resources Initiative (BRI), where Embersics also leads Breeding IT. "The goal of BRI is to establish services that we will provide at a cost to the centers, because the model has to be self-sustaining," added Embersics.
AfricaRice joins the International Institute for Tropical Agriculture (IITA), the International Rice Research Institute (IRRI) and the International Maize and Wheat Improvement Center (CIMMYT) in adopting the system. These Centers have adopted the newest milestone versions, and Breeding Resources Initiative continues to drive adoption among other CGIAR Centers, with a plan to bring along national partners to enable them improve their data quality for more efficient and rapid varietal development.
—–
We would like to thank all funders who support breeding research through their contributions to the CGIAR Trust Fund. And thank you to the supporters and partners of CGIAR Excellence in Breeding, particularly the funding from Bill and Melinda Gates Foundation and USAID. Main photo: AfricaRice staff monitors trials at breeding station in Côte d'Ivoire. Credit: Adam Hunt/CGIAR-BRI