New nexus tool supports holistic management of the Incomati Basin
From

CGIAR Initiative on NEXUS Gains

Published on

07.06.23

Impact Area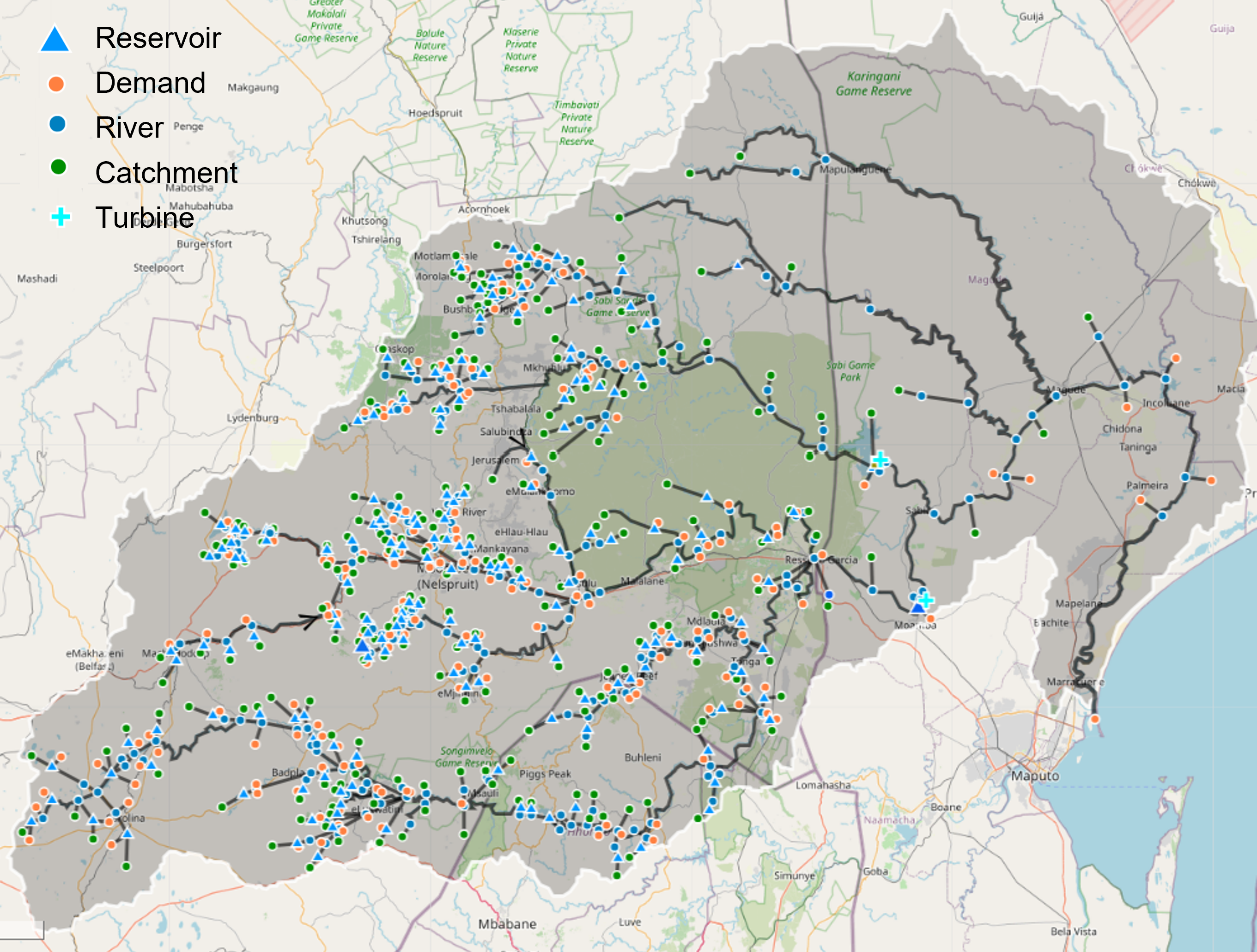 From its sources in the western mountains and plateau of Mpumalanga in South Africa to its mouth just north of Maputo's bustling docks in Mozambique, the Incomati River basin supports lives, livelihoods, and irreplaceable ecosystems across eastern Southern Africa. However, growing irrigation and energy needs and accelerating climate change have placed increasing water stress on the transboundary river basin. Without responsive, data-driven, and coordinated management from the basin's three countries – South Africa, Eswatini, and Mozambique – the lifeblood of the region is at risk of drying up.
A promising solution to this problem was explored in the CGIAR Initiative on NEXUS Gains' latest webinar, "Integrating Water Resources Management in a Shared River Basin: Applying a Nexus Tool to Support Water Allocation Reform in the Incomati." The event, held on May 24, took an in-depth look at a new basin-wide water resource system model for the Incomati co-developed by NEXUS Gains, the University of Manchester, and all three basin countries. The webinar was facilitated by Jonathan Lautze, a research group leader at the International Water Management Institute (IWMI) and NEXUS Gains coordinator for Southern Africa.
Holistic basin management
The problems facing the Incomati River Basin were described by Dr Naga Velpuri, a senior researcher at IWMI. "The basin covers 49,000 square kilometers and is home to 2.3 million people," he said. "Water use and competition are very intense in the basin, with about 50 percent of its water withdrawn for human consumption. This is much higher than other basins in Southern Africa." Partly as a result of this demand, dry season flows have been dropping since the 1960s: "at times the discharge coming out of the basin is almost nil."
Despite these challenges, Naga described the Incomati basin as "an excellent example of cooperation," citing the region's four decades of coordination between South Africa, Eswatini, and Mozambique. This led to the establishment of a 2002 interim agreement stipulating precise volumes of water that must flow from one country to another. The desire for more integrated and holistic basin management then led the three countries to establish the Incomati and Maputo Watercourse Commission (INMACOM) in 2021.
To support INMACOM's aim of ensuring equitable development and the sustainable use of the basin's water resources, NEXUS Gains partnered with INMACOM and the University of Manchester to build a comprehensive river basin system model for the Incomati. The model uses an open-source river basin simulator called Pywr that accounts for water demands from agriculture, domestic, industry, and energy sectors. "We worked with 18 participants from 3 countries to develop a process for model development," explained Naga. "Our aim was to develop a model that can be used by INMACOM to support basin-wide decision making."
Accessible, easy-to-use tool
Attendees were then given a tour of the model by Mikiyas Etichia, a researcher at the University of Manchester. "The model can be run and shared online via the Water Strategy webpage," he explained. "Multiple users from different organizations can work on the same model." Mikiyas also noted that the model had been calibrated and validated with data from 14 locations throughout the Incomati Basin.
Professor Julien Harou, Professor of water management at the University of Manchester, then discussed the advantages of using the model. "You can see which dam operating rules maximize benefits for all three countries," he said. "Regular re-evaluation of basin management is helpful, and that's why it's useful to have an online collaborative tool. This will help basin management respond to climate change in the region."
From resource allocation to benefits sharing
This presentation was followed by a panel discussion. Edward Mswane, interim executive secretary of INMACOM, expressed his belief that the model will be helpful for basin management. "We are currently dealing with issues like groundwater management, water pollution, and illegal activities such as sand mining, which can delay and divert water flows. So we hope that the model will help us address these issues."
Dr Loreen Katiyo, a transboundary water governance specialist at the Global Water Partnership (GWP) Southern Africa, noted that the tool could be seen as part of a broader shift in basin management away from resource allocation and toward the concept of benefits sharing. "This is the direction we are beginning to take at GWP. As the available water in basins reduces, these kinds of discussions around the water–energy–food–environment nexus become more important. And I think tools such as this form a really good basis for such discussions."
"Allocation is a hot topic," agreed Rémy Kinna, an environmental lawyer at the UN Water Convention and Protocol on Water and Health. "However, what we usually hear is that there's a lack of data and a lack of agreement for basin management. But the Incomati has both, and that makes this model a great case study to share with people around the world – in workshops and in our Handbook on Water Allocation in a Transboundary Context."
Unable to attend the webinar? You can watch it here.
You can also catch up on all nine previous webinars in the series in this YouTube playlist.
View Naga's slides here and view Mikiyas' slides here.
You can also discover more about the development of the Incomati Basin system model in this NEXUS Gains blog, co-written by Naga, Mikiyas, Jonathan, and Edward.
Header image: Incomati river system modelling. Image from presentation by Mikiyas Etichia/University of Manchester.