Modeling the Incomati river basin to enhance transboundary benefit sharing
From

CGIAR Initiative on NEXUS Gains

Published on

09.01.23

Impact Area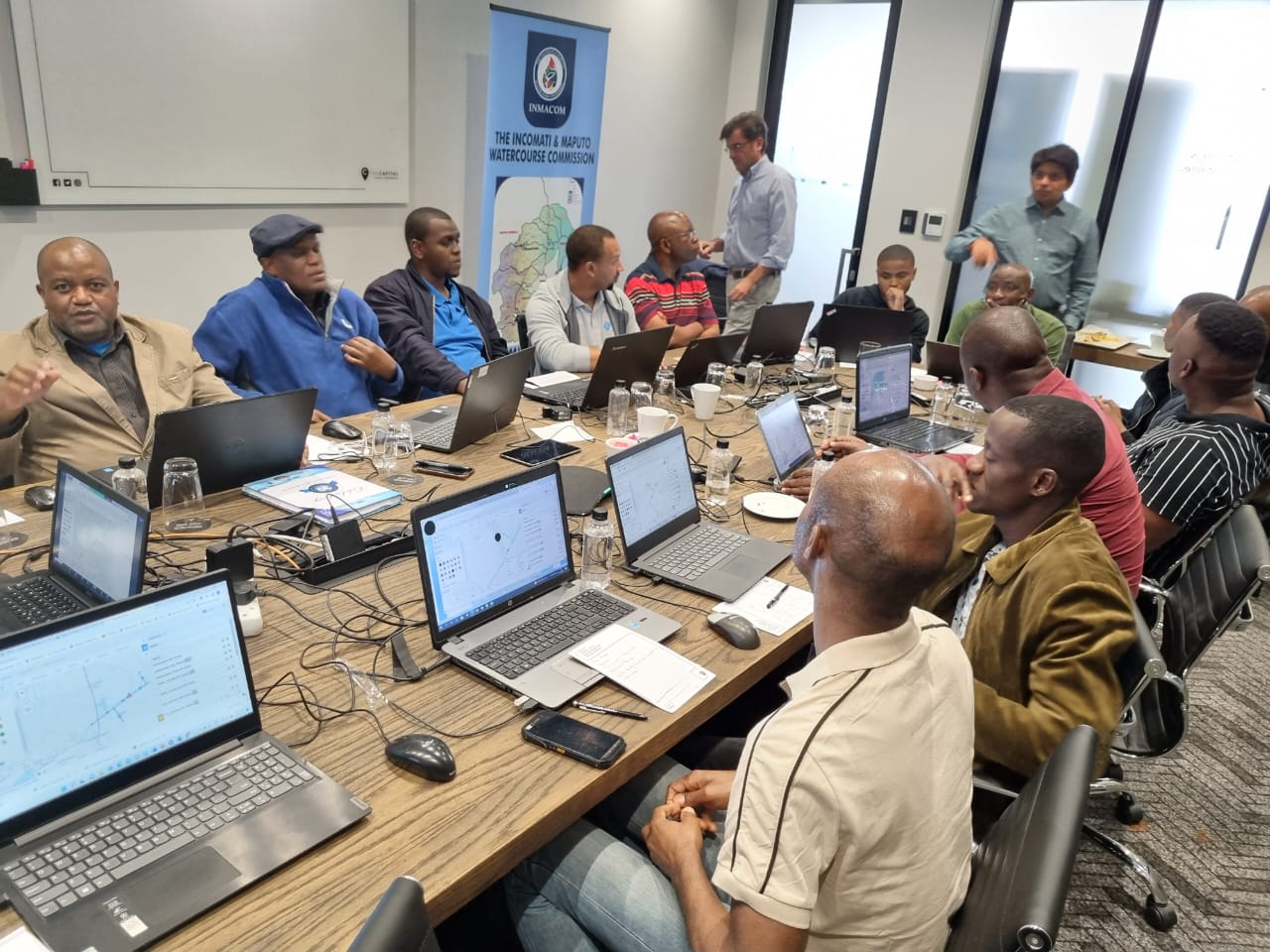 By Naga Velpuri, Mikiyas Etichia, Jonathan Lautze and Edward Mswane
Shared by Eswatini, Mozambique and South Africa, the Incomati is a basin of about 47,000 square kilometers. Like many river basins, its water is subject to the demands of agriculture, energy and the environment. Irrigation developed for cash crops such as sugarcane has catalyzed economic growth in the region, with a sugarcane processing industry growing in tandem and providing livelihood opportunities. Two hydropower dams have been constructed on the river system to meet growing energy needs. In addition, the basin contains southern portions of the environmentally important Kruger National Park – one of Africa's largest game reserves and home to several endangered species. Water is central to all of these activities, but its productive use is in some ways a curse. Due to development as well as climate variability and change, the basin faces growing water scarcity that undermines its ability to support the activities on which people and ecosystems rely.

Basin-wide management of the Incomati: a work in progress
Integrated basin management – both cross-country and cross-sector – is a necessary way to optimize the benefits and reduce the risks in response to the evolving realities of the shared Incomati basin. At the center of this management are questions of transboundary water allocation, but unfortunately, the current transboundary framework is less than optimal. An interim agreement adopted in 2002 for the protection and sustainable use of the Incomati and neighboring Maputo watercourses reflected important progress, transparently outlining flow volumes that must pass between countries. However, this agreement was based on increasingly outdated ideas of dividing water rather than sharing benefits, and anecdotal evidence is growing that the flow volumes are obsolete too: water availability has already changed with climate trends. To work toward more holistic basin management, in late 2021 the Kingdom of Eswatini, the Republic of Mozambique and the Republic of South Africa established the Incomati and Maputo Watercourse Commission (INMACOM). Its primary responsibility is to promote cooperation between the member states to ensure the equitable development, protection and sustainable utilization of the basin's water resources.
NEXUS Gains' simulation model
Amid dynamic changes, transboundary management of the Incomati requires a simulation model of the entire basin. In the context of the CGIAR NEXUS Gains Initiative, a key activity centers on developing such a basin-wide water resource simulation network model called Python Water Resources (Pywr). Pywr is a water resource systems analysis tool that supports multi-scenario simulation to understand the hydrological impact of future interventions in the basin. In addition, users can access water resource models via Nexus-Strategy, which enables model development, visualization, sharing and running. Pywr produces simple, evidence-based, decision-relevant information on the status of water use and potential future climate scenarios. For example, the Pywr model can answer questions such as: a) how much water is being used by each member state? b) how much water is diverted for each sectoral use (irrigation vs. domestic vs. industrial)? c) how much water is remaining for potential future activities such as the development of new irrigation projects? or d) what will be the impact of basin development activities (such as reservoir construction) on downstream water uses? This type of information can potentially make a big contribution to advancing basin-wide management, thereby enhancing gains in the water–energy–food–environment nexus and increasing climate resilience.
The project partnered with INMACOM and member countries to hold a joint Pywr capacity development workshop in August 2022. Each country then nominated one young professional (Kamagelo Mohlala from Incomati-Usuthu Catchment Management Agency, South Africa; Zanele Lulane from Joint River Basin Authorities, Eswatini; Dércio Zandamela from National Directorate of Water Resources Management, Mozambique; and Khethiwe Ngcomob from Komati Basin Water Authority, a transboundary water authority) who has spearheaded data collection activities in their country. A key partner in this activity is the University of Manchester, which has provided technical expertise on Pywr model development.
Looking forward
Between September and November 2022, fresh data were integrated into the project thanks to the hard work of the young professionals from the three member states. Weekly meetings have contributed to a shared understanding of model design. Intense efforts are currently being made to obtain the outstanding data needed to finalize model development.
In the first quarter of 2023, the team will hold a stakeholder workshop to validate the model and determine the most pressing issues that it can address. By late 2023, the expectation is that the model will be used to support a dialogue on shifting from the current "old-school" transboundary water division to a more dynamic approach of cross-country benefit sharing based on opportunities and risks afforded by actual water availability in any given year.
---
Naga Velpuri is a Senior Researcher at the International Water Management Institute (IWMI); Mikiyas Etichia is a Research Scholar at the University of Manchester; Jonathan Lautze is Research Group Leader, Integrated Management of Basins and Aquifers, IWMI; and Edward Mswane is Interim Executive Secretary, Incomati and Maputo Watercourse Commission.
This work was carried out under the CGIAR NEXUS Gains Initiative, which is grateful for the support of CGIAR Trust Fund contributors: www.cgiar.org/funders
Header image: Experts from the member states of the transboundary Incomati river basin (Mozambique, Eswatini and South Africa) attended the Pywr capacity building workshop jointly organized by IWMI, INMACOM and the University of Manchester on August 30–31, 2022 in Mbombela, South Africa. Photo by Edward Mswane.