Impact of foliar application of zinc and magnesium aminochelate on bean physiology and productivity in Ghana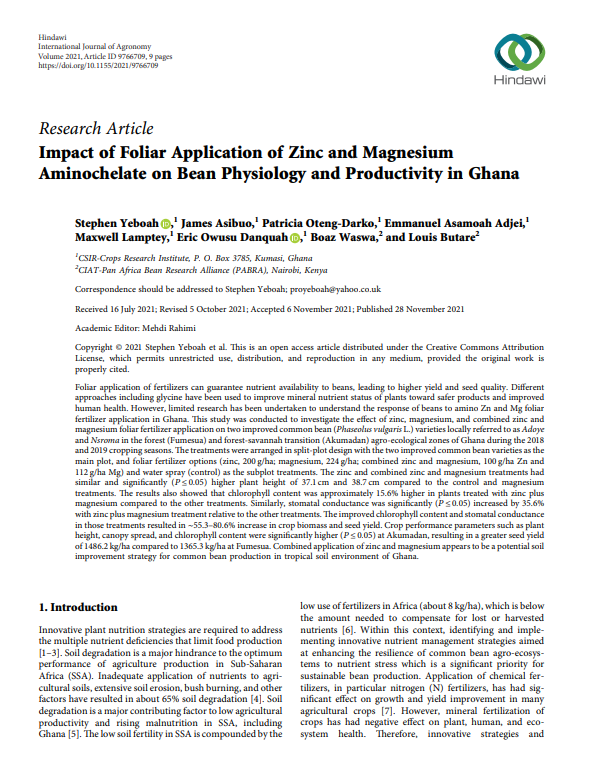 From
Published on

28.11.21

Challenges
Download
Foliar application of fertilizers can guarantee nutrient availability to beans, leading to higher yield and seed quality. Different approaches including glycine have been used to improve mineral nutrient status of plants toward safer products and improved human health. However, limited research has been undertaken to understand the response of beans to amino Zn and Mg foliar
fertilizer application in Ghana. )is study was conducted to investigate the effect of zinc, magnesium, and combined zinc and magnesium foliar fertilizer application on two improved common bean (Phaseolus vulgaris L.) varieties locally referred to as Adoye and Nsroma in the forest (Fumesua) and forest-savannah transition (Akumadan) agro-ecological zones of Ghana during the 2018 and 2019 cropping seasons.)etreatments were arranged in split-plot design with the two improved common bean varieties as the main plot, and foliar fertilizer options (zinc, 200 g/ha; magnesium, 224 g/ha; combined zinc and magnesium, 100 g/ha Zn and 112 g/ha Mg) and water spray (control) as the subplot treatments. )e zinc and combined zinc and magnesium treatments had similar and significantly (P ≤ 0.05) higher plant height of 37.1 cm and 38.7 cm compared to the control and magnesium treatments. )e results also showed that chlorophyll content was approximately 15.6% higher in plants treated with zinc plus magnesium compared to the other treatments. Similarly, stomatal conductance was significantly (P ≤ 0.05) increased by 35.6% with zinc plus magnesium treatment relative to the other treatments. )eimproved chlorophyll content and stomatal conductance in those treatments resulted in ∼55.3–80.6% increase in crop biomass and seed yield. Crop performance parameters such as plant height, canopy spread, and chlorophyll content were significantly higher (P ≤ 0.05) at Akumadan, resulting in a greater seed yield of 1486.2 kg/ha compared to 1365.3 kg/ha at Fumesua. Combined application of zinc and magnesium appears to be a potential soil improvement strategy for common bean production in tropical soil environment of Ghana.
Yeboah, Stephen; Asibuo, James; Oteng-Darko, Patricia; Adjei, Emmanuel Asamoah; Lamptey, Maxwell; Owusu Danquah, Eric; Waswa, Boaz; Butare, Louis.