Mobilizing crop diversity for climate change adaptation and resilience: Field experiences from Africa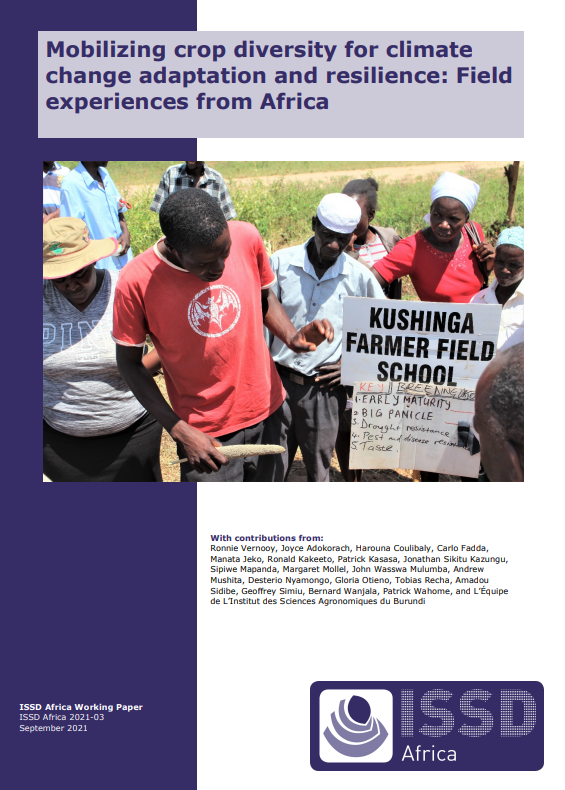 From
Published on

01.09.21

Challenges
Download
In recent years, a number of international initiatives have piloted various forms of support for novel configurations of actors to work together to conserve and use agrobiodiversity in sustainable agricultural production systems and to equitably share benefits derived from those activities. These configurations operate at farm, community, national and international levels. Among these initiatives, Bioversity International (now the Alliance of Bioversity International and CIAT) and partners have researched the effectiveness of using agrobiodiversity, in particular in the form of crop and crop variety diversity, as an adaptive practice.
The hypothesis informing this research is that crop diversification can result in positive livelihood outcomes, such as food and nutritional security, income generation and good health. These outcomes, in turn, could lead to (increased) resilience of rural households and communities to environmental, socio- economic and climatic shocks. In this working paper, we present a number of case studies that to a certain extent have "delivered" on this impact pathway. The case studies were compiled during the year 2020, the year that COVID-19 spread across the globe with devastating consequences for countries, communities and households everywhere.

Vernooy, Ronnie; Adokorach, Joyce; Coulibaly, Harouna; Fadda, Carlo; Jeko, Manata; Kakeeto, Ronald; Kasasa, Patrick; Sikitu Kazungu, Jonathan; Mapanda, Sipiwe; Mollel, Margaret; Wasswa Mulumba, John; Mushita, Andrew; Nyamongo, Desterio; Otieno, Gloria; Recha, Tobias; Sidibe, Amadou; Simiu, Geoffrey; Wanjala, Bernard; Wahome, Patrick; Institut des Sciences Agronomiques du Burundi.