This Portfolio Narrative is CGIAR's 2022 Technical Report capstone.
As described in CGIAR's Technical Reporting Arrangement, the Portfolio Narrative is designed to provide a broad view on Portfolio coherence, including results, partnerships, country and regional engagement, and synergies among the Portfolio's constituent parts.
The Portfolio Narrative draws together 2022 data and narratives from the pooled-funded CGIAR Results Dashboard, the 32 Initiative and Impact Area Platform reports, and the Internal Practice Change report into a select number of themes:
The Portfolio Narrative and its subsidiary content (CGIAR Results Dashboard, Initiative and Impact Area Platform reports, and the Internal Practice Change report) form an integral part of the overall CGIAR Annual Report, which is due for release later in 2023 (Figure 1).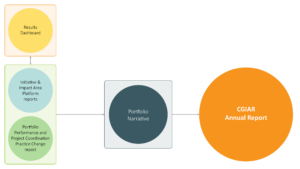 The Portfolio Narrative draws exclusively from CGIAR's 2022 pooled-funded Portfolio results data reported against the CGIAR common Results Framework using CGIAR's Performance and Results Management System. It does not yet contain data sourced from non-pooled projects. As such, the data, evidence and stories in this Portfolio Narrative represent a partial view of the overall CGIAR Portfolio, which comprises over 1,000 active pooled and non-pooled funded projects and an estimated 15-20,000 distinct results indicators. We will progressively include non-pooled results in CGIAR reporting from 2023 onwards.
2022 represents the first year of implementation for the new CGIAR Portfolio in support of the CGIAR Research and Innovation Strategy 2022-2030 (Figure 2). The Initiatives and Platforms build on the strengths of previous CGIAR research, including a number of largely new work areas driven by regional demand and a changing global context.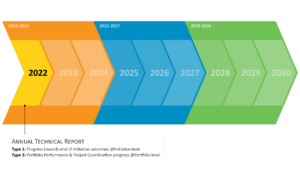 This, combined with other factors such as the time needed to form and activate new Initiative teams, and the introduction of a new Performance and Results Management approach has bearing on the type, number and distribution of results reported in 2022. As the Portfolio matures and progresses further towards end of Initiative outcomes, the type, number and distribution of results will likely change in subsequent reporting years. A full Portfolio report detailing contribution to Action Area outcomes and impacts (Type 2 report) is scheduled for delivery following completion of each 3-year Portfolio cycle (2024, 2027, 2030).
Header photo: Farmer Sita Kumari in Nepal. Photo by C. de Bode/CGIAR