The Resilient Agrifood Systems (RAFS) Action Area uses systems thinking to deliver on research priorities that support the decision-making of different stakeholders – particularly small-scale producers who are most affected by climate change – to increase their capacity to invest in more productive and sustainable innovative production practices, business models, and to reduce the gaps in livestock, fish, crop, and farming system productivity, which is essential to achieve the 2030 targets set in the One CGIAR Research and Innovation Strategy.
Processes further along the value chain are taken into account, and there is also a focus on reducing the contribution of agriculture to global greenhouse gas emissions, land degradation and the depletion of water resources. RAFS prioritizes the co-development of science and innovation – together with stakeholders – that prioritizes the needs of women and youth, and is applicable to crops, fields, farms, farming systems and the landscape level, towards increased sustainability, diversity, and resilience of agrifood systems. RAFS includes research results coming from the Genetic Innovation (GI) Action Area, working with GI management to demonstrate the genetic potential of new varieties, and contributes to, receives and applies Systems Transformation (ST) Action Area innovations related to enabling policies and responses to market trends.
RAFS has four interconnected research areas that house Global Thematic Initiatives (GTIs) (Figure 1), namely 1) crop-based systems, 2) livestock-based systems, 3) aquatic food systems, and 4) biodiverse agroecosystems.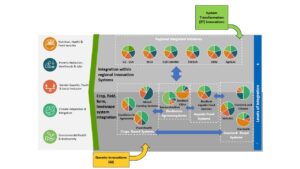 In 2022, these research areas and Initiatives carried out research according to plans in close partnership with national agricultural research and development organizations, universities, and advanced research organizations, connecting the Global South with the Global North, and fostering South-South collaboration (Figure 2). Additionally, GTIs prioritized interactions with the Regional Integrated Initiatives (RII) to respond to global, regional, and country demands.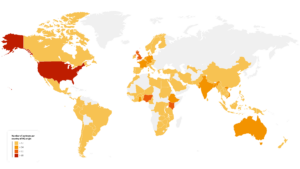 Research highlights by Impact Area
Climate
All RAFS Initiatives contribute to the climate resilience of smallholder farmers – with those in the Global South most affected by climate change (Figure 3). Research highlights include the CGIAR Initiative on Plant Health developing pest and disease temperature-based phenology models (such as ILCYM4.0) to predict the evolution of existing and emergent threats; advising national organizations in setting preparedness strategies; and informing the definition of breeding traits. The work of the CGIAR Initiative on Mixed Farming Systems, in collaboration with several other climate-related Initiatives, led to the development of an Agriculture Adaptation Atlas where data and analytics come together in innovative ways to map climate risks and find targeted solutions. The CGIAR Initiative on Livestock and Climate co-produced over 100 research results with other CGIAR Initiatives (Climate Resilience, Sustainable Animal Productivity and Low-Emission Food Systems). Examples of this work include improving climate risk management for livestock producers, providing access to climate information in Guatemala, Kenya and Senegal. Research identified relevant information for, and characteristics and conditions of an enabling environment for financial services related to climate resilience, and opportunities for scaling index-based livestock insurance as part of a bundle of services through the private sector.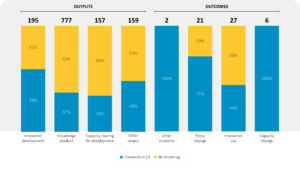 Poverty
Reducing the significant productivity gaps of smallholder farmers is a priority for the RAFS Initiatives since it is directly linked to food, income generation and poverty reduction. The CGIAR Initiative on Excellence in Agronomy made progress in the development and implementation of guidelines for assessing agronomic gain across geographies, farming systems, and research and development stages. In addition, a meta-analysis was performed to quantify genetic gain — yield increase through use of new varieties and calculated by yield differences between new varieties and varieties popularly grown in a target site — and agronomic gain in sub-Saharan Africa across 12 countries, which will inform future research. Productivity gains in livestock and aquatic food systems are also essential for generating income, nutrition, and poverty-related outcomes. In 2022, research highlights come from the CGIAR Initiative on Aquatic Foods, which implemented on-farm trials showing 30% greater growth of improved rohu in Bangladesh, and the delivery of 50,000 genetically improved farmed tilapia with higher productivity to Nigeria from the core breeding program in Malaysia.
Gender
This is an essential, research topic for the RAFS Initiatives since smallholder crop, field, livestock, fish, and farm management is often in the hands of women. The CGIAR Initiative on Plant Health addressed this topic in 2022 in its Work Package dealing with equitable and inclusive scaling of plant health innovations to achieve impacts. It conducted interdisciplinary research and capacity development, involving six CGIAR Centers and three international partners, to address social and gender-related constraints in the adoption of integrated pest management (IPM), surveillance, risk assessment, and extension approaches, and to evaluate short- and medium-term impacts of adopting IPM innovations on environment and household well-being. The CGIAR Initiative on Sustainable Animal Productivity studied the potential pathways by which livestock ownership could affect the health and nutritional status of women and children in low- and middle-income countries, determining an association of livestock production with better nutritional outcomes, but also a higher risk of disease transmission or morbidity among women and children. Additionally, an analysis of gender norms in livestock and how women achieve expanded agency while living within a constraining normative environment was undertaken in Ethiopia, which informs alternative empowerment pathways for transformational interventions (Figure 4).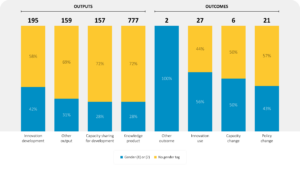 Environment
The CGIAR Initiative on Nature-Positive Solutions is addressing restoration of degraded land, and in 2022, there was progress in selecting tree species to be used in restoration which can have multiple uses and benefits in terms of food and nutrition security. This also addresses the development of value chains for indigenous tree species for community-based entrepreneurial nurseries. Governments are important stakeholders in relation to biodiversity management; in Burkina Faso and Kenya, multi-stakeholder platforms ― involving private and public sectors, NGOs, and governments – were established to ensure policies and incentives are conducive to nature-positive production systems (for example, the Intersectoral Forum on Agrobiodiversity and Agroecology in Kenya and the Neglected Species platform in Burkina Faso). The use of the model of Payment for Agrobiodiversity Conservation Services was assessed in terms of contribution of public and private funds for compensation to farmer groups engaged in conservation efforts. For example, the AGUAPAN model, based on voluntary benefit-sharing mechanisms for so-called custodian farmers developed in Peru, will be scaled in Colombia.
The CGIAR Initiative on Resilient Cities also addresses environmental challenges in urban and peri-urban settings. This Initiative supported municipalities and their public and private sector actors through an analysis of investment options based on the enabling business environment lessons learnt from circular bioeconomy. A Circular Bioeconomy Innovation Hub in Ghana was established to mitigate the negative effects of urbanization on resource use and environmental pollution.
Nutrition
The diversification of food systems is an important way to address malnutrition challenges. In this respect, the CGIAR Initiative on Nature-Positive Solutions started to co-develop trans-disciplinary research in under-investigated research areas, including research on the contribution of minor crops to food and nutrition security, resilience, and country-specific livelihoods. Agreements with national organizations were established to address these topics, including NERA in Burkina Faso, Agrosavia in Colombia, IARC in India, KALRO in Kenya and VAAS in Viet Nam. Nutrition challenges are increasingly important in urban settings. The CGIAR Initiative on Resilient Cities started to address this topic in 2022 with profile assessments of food markets in three cities to help identify priority areas for research towards strengthening informal markets as sources of safe and healthy diets, and through inventories of food environment and diet assessment tools of relevance to urban settings, and development of urban food environment, diet and nutrition profiles for countries in the Initiative. Additionally, investigations on livestock-keeping in urban and peri-urban environments and its influence on nutrition began in 2022.
Priority global, thematic, and system-oriented research areas in RAFS
Crop-based systems
The crop-based systems research area addresses key research questions applicable at the crop, field, farm, and landscape levels, and aims at supporting decision-making by diverse stakeholders to develop, select, integrate, and use solutions to reduce yield gaps and competitiveness constraints, particularly addressing gender and youth challenges. The main topics included are related to plant health, agronomy (including soil and water management and mechanization), and farming systems.
During 2022, the CGIAR Initiative on Plant Health emphasized the organization of a global plant health diagnostics and surveillance network with CGIAR and National/Regional Plant Protection Organizations; enhanced modeling tools for predicting invasive pest dynamics using remote sensing and artificial intelligence; developed eco-friendly and climate-smart innovations for integrated pest/disease management for different pests and diseases prioritized by partners; strengthened partnerships with the private sector to protect farmers' crops from aflatoxin; and prioritized gender approaches for developing and accessing integrated pest and disease management.
The CGIAR Initiative on Excellence in Agronomy developed locally adapted agronomic solutions (i.e. for Ethiopia); increased the capacity of CGIAR and national agricultural research and extension systems on modern agronomy data science for modeling and location-specific, data-driven recommendations with a focus on Africa; and developed guidelines for assessing agronomic gains at the smallholder farming level. The CGIAR Initiative on Mixed Farming Systems developed a cross-Initiative framework for quantitative farming systems analysis to prioritize, tailor, and target socio-technical innovations for mixed farming systems (MFS); and validated a participatory methodological guide for co-designing socio-technical innovation bundles for the sustainable intensification of MFS.
These three Initiatives generated research outputs, knowledge products (peer-reviewed publications) and outcomes, which are available on the CGIAR Results Dashboard.
Livestock-based systems
Within the livestock-based systems research area, three interlinked Initiatives commenced work in 2022: the CGIAR Initiative on Sustainable Animal Productivity; the CGIAR Initiative on Livestock and Climate; and the CGIAR Initiative on One Health. During 2022, these three Initiatives started to address the challenges of low animal productivity by developing, piloting and scaling technologies and innovations (including input supplies and services and output markets) to boost productivity, optimize the role of livestock in supporting livelihoods (income, employment, nutrition, and gender transformation), and develop and improve policy support mechanisms.
At the same time, Initiative activities had a very strong focus on climate change – both mitigation and adaptation – including exploring innovative green finance. Building the resilience of pastoral systems and the communities that depend on them received particular attention, with the development and scaling of digital financial, insurance and market information services, and robust participatory land use planning approaches.
Adopting a One Health approach, the livestock-based systems research area started to tackle the challenges of reducing the impact of zoonotic diseases, improving food safety, and reducing the contribution of the livestock sector to antimicrobial resistance through technical, policy and institutional innovations.
Strong commitments to gender equity and capacity development underpin all three Initiatives. In 2022 the three Initiative teams, together with partners, spent time in consultations with local, national, and global stakeholders in the inception phase. All three made good progress towards development outcomes and scientific generation by building on well-established partnerships from the CGIAR Research Program (CRP) on Livestock, the CRP on Climate Change, Agriculture and Food Security, and large bilateral projects.  In addition, many knowledge products (publications), were developed across all three Initiatives.
Aquatic food systems
The aquatic food systems research area implements research activities through the CGIAR Initiative on Aquatic Foods, which made a significant contribution to global efforts to study, develop and promote sustainable aquatic food systems in 2022. It contributed to the growing body of scientific research on the importance of aquatic food systems through the production of peer-reviewed articles. New innovations were developed and are already in use in four countries, with further innovations under development – from enhanced fish breeds to improved fisheries management. The Initiative focused on the production and use of high-quality data by policymakers, which resulted in positive policy change in ten instances in four countries.
The Initiative also supported knowledge sharing with capacity development events involving over 1,200 participants – around a third of whom were women. The Initiative's work was implemented through partners in nine countries, and involved collaborating researchers from 26 countries.
Concrete examples of the research conducted include the use of nutritious small fish powder in feeding programs in Assam, India; the transfer of 50,000 Genetically Improved Farmed Tilapia (GIFT) to Nigeria as the first step in establishing a GIFT-based aquaculture industry; work on the development of the next generations of GIFT strains in Malaysia and India; and support to the Indian government's strategy to produce over 2 million metric tons of tilapia by 2032.
Additionally, the Initiative team published research showing that the genetically improved fish strain, Rohu Generation 3, grows 30% faster than existing Rohu breeds, representing huge potential for aquaculture in Bangladesh. The Initiative also developed geospatial tools to identify aquaculture suitability in small reservoirs in Ghana; supported capacity development and the scaling of innovations in the Pacific through the reactivation of the Nusatupe innovation hub in the Solomon Islands; supported digital, evidence-based decision making via, for example, the open access database FishBase, and the near-real time catch monitoring system in Timor Leste, PeskAAS; and convened researchers, partners, stakeholders, and investors at the 2022 FishBase and SeaLifeBase Symposium to illustrate the different uses of digital platforms and data on aquatic food systems.
Biodiverse agroecosystems
This research area emphasizes solutions to be applied at the landscape level (rural or urban), with emphasis on biodiversity management. It addresses research questions related to urban and peri-urban agriculture and resilient food systems, and nature-positive innovations.
The CGIAR Initiative on Resilient Cities enables urban food systems to provide healthy diets and decent jobs for the poor, while reducing the environmental footprint. The CGIAR Initiative on Nature-Positive Solutions focuses on agriculture and in situ biodiversity management that promotes net positive outcomes for nature and smallholders. The focus of both Initiatives is new for CGIAR and links urban and rural environments. In 2022, they made significant progress in advancing partnerships in target countries, with key stakeholders involved in co-creating roadmaps and their implementation, especially with the World Bank and other investment partners.
The CGIAR Initiative on Resilient Cities developed several tools, including a climate investment analysis to offer advisory services for start-ups and business scaling; assessed food markets in three cities to strengthen informal markets as sources of safe diets; studied urban and peri-urban food production technologies; enhanced youth capacity in urban food production; and compiled an inventory of food environment and diet assessment tools. The Initiative worked on several innovations for accessing healthy seedlings and the urban food environment toolkits for dietary assessment. The Initiative produced a range of knowledge products, including peer-reviewed publications, and launched a Circular Bioeconomy Innovation Hub in Ghana.
In engaging with farmers' groups, the CGIAR Initiative on Nature-Positive Solutions focused on informal seed systems, particularly those for local crops and landraces; resource recovery from waste; and the selection of tree species for restoration, with multiple uses and benefits, along with the development of value chains for indigenous species and minor crops. Multi-stakeholder platforms were established, including payment schemes for agrobiodiversity conservation and custodian farmers. True cost accounting and analytical frameworks were presented to policymakers. The Initiative worked on tools such as the Integrated Valuation of Ecosystem Services and Tradeoffs and choice experiments to inform investment plans and engage banks and investors in nature-positive solutions.
Header photo: Yatin Kumar, a farmer and solar power water seller, plants seedlings in Bihar, India. Photo by C. de Bode/CGIAR