What CGIAR is doing in Kenya
During 2022, 16 CGIAR Initiatives worked in the 34 counties in Kenya, encompassing the aims of CGIAR's five Impact Areas. A handful of Initiatives have a national focus (Figure 1), and several Initiatives work in multiple counties (up to five).
The Impact Area and geographical intersections underscore the need for coordination and collaboration among Initiatives to ensure productive engagement with partners, as well as enhanced impact: the whole being greater than the sum of its parts.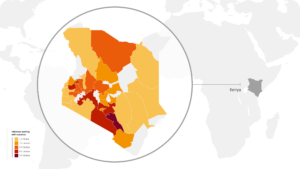 Figure 2 shows the breakdown of 2022 reported results for CGIAR work in Kenya by Impact Area, with over 200 results for each Impact Area.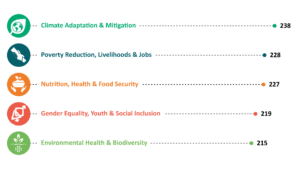 Initiative budgets allocated to Kenya
The top five Initiatives with the most combined budgets for 2022 are the CGIAR Initiatives on One Health, Seed Equal, Low-Emission Food Systems, Accelerated Breeding, and Climate Resilience (Figure 3).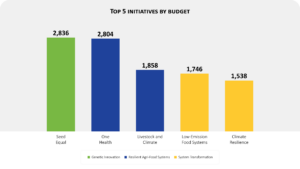 How the pieces are connected and what CGIAR is doing to connect them
The primary coordinating mechanism for the overall CGIAR Portfolio is the CGIAR 2030 Research and Innovation Strategy. CGIAR has invested in country convenors who coordinate among Initiatives and foster engagement with in-county partners.
Country conveners provide information on country priorities, ensuring that Initiatives align with the national agenda. Additionally, they serve as a valuable source of information regarding collaborations within the CGIAR community and among stakeholders. For example, a webinar was held in November 2022 which aimed at enhancing coordination and collaboration across CGIAR Centers in Kenya. The Kenyan Ministry of Agriculture and Livestock Development (MoALD), CGIAR, and the Global Scaling Community of Practice convened the virtual meeting on the topic of coordination/collaboration on scaling of climate change prediction, adaptation and mitigation innovations. The idea for this originated from discussions in May 2022 between the co-convener of the Agricultural and Rural Development working group of the Global Community of Practice on Scaling of Development Outcomes, and the CGIAR country convener for Kenya (see the Global Scaling Community of Practice for more information). A blog on the event was written and published.
Work by the CGIAR Initiative on National Policies and Strategies in 2022 also exemplified the effectiveness of the country convenor. The Initiative, working closely with the CGIAR Initiative on Foresight, collaborated with a team of experts from Kenyan partner institutions to provide a swift analysis of country-relevant implications to the crisis in Ukraine. The findings were then shared through a series of events in Kenya involving key stakeholders.
In addition, a policy note showing results from an economy-wide model assessing the expected impacts of implementing the Bottom-Up Economic Plan in Kenya was developed. The dissemination of results prompted the incoming government to express further interest, leading to a collaborative effort with the Kenyan Institute of Public Policy Research and Analysis (KIPPRA), with an aim to assess the expected implications of the government's Bottom-Up Economic Plan.
Prof. Njuguna Ndung'u, Kenya's Cabinet Secretary (Minister) of the National Treasury and Economic Planning, expressed satisfaction and commitment to utilizing the results of the Bottom-Up Economic Plan saying:
"Rest assured that we are happy with the results you have presented, we will use them, we'll make sure that they work for us so that in some years to come we'll be telling ourselves that it's because we had this conscious plan and conscious targets that we were going to make things work."
Kenya's Portfolio network
Thirty percent of all results associated with Kenya demonstrated the involvement of multiple Initiatives in 2022 (Figure 4). On average, each collaborative result encompassed three Initiatives, indicating the importance of collective efforts in achieving outcomes.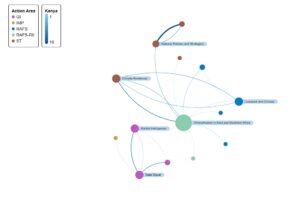 The CGIAR Initiative on Diversification in East and Southern Africa engaged with nine distinct Initiatives, highlighting its collaborative nature and the breadth of partnerships it has formed. In November 2022, the Initiative brought together 34 CGIAR scaling experts and members of the GIZ Taskforce on Scaling in Nairobi, Kenya, for a scaling networking and learning event. The group represented eight CGIAR Centers, as well as the CGIAR System Organization, who were joined by representatives from the World Vegetable Centre, FAO, FCDO, GIZ FIA, Wageningen University, UC Davis, the USAID Horticulture Innovation Lab, and the World Bank.
Several Initiatives that have established partnerships with Kenya's Ministry of Agriculture and Livestock Development reported 11 results in 2022.
Partners collaborating with several Initiatives
Overall, Kenya's Ministry of Agriculture and the Kenya Agriculture and Livestock Research Organization (KALRO) had the highest number of Initiatives partnering with them to produce results in 2022 (Figure 5).
These Initiatives with partnerships with Kenya's Ministry of Agriculture and Livestock Development reported 11 results in 2022.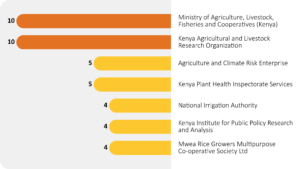 Policy focus
In Kenya, a total of 18 policy, institutional, and organizational innovations were reported for 2022, signifying a dynamic landscape of forward-thinking approaches. These innovations reflect the efforts made to introduce novel ideas, structures, and practices to enhance policy frameworks, institutions, and organizations operating within the country. Furthermore, there were six reported policy change outcomes, indicating tangible results derived from these innovative endeavors.
For example, in 2022, the CGIAR Initiative on Seed Equal leveraged cross-Work Package expertise to support the groundwork for a national policy engagement process to design new regulatory guidelines for vegetatively propagated crops.
Responding to the country's needs and priorities
The Initiatives operating in Kenya were co-created with partners, and therefore demonstrate strong alignment with the country's needs and priorities.
Some examples include:
The CGIAR Initiative on Livestock and Climate and the CGIAR Initiative on Climate Resilience address critical issues outlined in the National Climate Change Action Plan, the National Adaptation Plan, the Climate Smart Agricultural Strategy, and Vision 2030.
The CGIAR Initiative on Climate Resilience's thematic focus on climate finance aligns with Kenya's National Policy on Climate Finance, while their emphasis on gender and social equity supports the Kenya Youth Development Policy and the National Climate Change Action Plan.
The CGIAR Initiative on Seed Equal focuses on generating evidence that informs the design and implementation of programs, projects, and regulations outlined in Kenya's Big Four Priority Agendas, the Agricultural Sector Growth and Transformation Strategy, the National Agriculture Investment Plan, Seeds and Plant Varieties Regulations (2016), and the Crops Act no. 16 of 2013 (revised in 2016).
The CGIAR Initiative on Resilient Cities plays an active role as a member of the Nairobi Food Liaison Advisory Group, which serves as the formal platform for advising county governments on the implementation of their Food System Strategy.
Snapshot of key results
Capacity sharing for development
As part of the CGIAR Initiative on National Policies and Strategies' collaboration with KIPPRA and their young practicing economists program, the Initiative organized three capacity sharing events focused on Impact Evaluation Methods and Gender Considerations, Social Accounting Matrices (SAM) and Computable General Equilibrium (CGE) economywide modelling, and the project-level Women's Empowerment in Agriculture Index (Pro-WEAI) and qualitative research methods.
For example, the Young Professionals (YP) program by KIPPRA is a one-year competitive program where enhancement of technical capacity for research and evidence-based policy processes is provided to about 20 early-career participants under the age of 35, from public and private sectors, each year. The YP program introduces economic analysis tools and engages participants in the practical process of bringing science to policymaking.
Innovation pipeline
Innovations with a high level of readiness predominantly encompass policy, organizational, and institutional advancements, underscoring their strategic importance in driving impactful change. The highest concentration of reported innovations for Kenya in 2022 were directed towards addressing the outcomes related to Sustainable Development Goal 2 – achieving zero hunger. Seven innovations were reported at prototype stage, seven innovations at control testing, seven at the proof-of-concept stage and six at the formulation stage. For instance the living lab for people for low-emission food system development in Kenya was initiated under the Low-Emission Food Systems Initiative. Living Lab is an inclusive platform for citizens, government, civil society, companies, research organizations, for cocreation, rapid prototyping or validation. During one of the Living Lab stakeholder consultations, the scientists gathered useful information to put the innovation into context.
Gender
In the Kenyan context, 2022 results reveal that gender equality was not only an important and deliberate objective but also a fundamental consideration in the design and anticipated outcomes of outputs. For instance, 22 results were reported where gender is the main objective of the activity and is fundamental in its design. An example is the study on Participatory Rangeland Management: Understanding Women's Engagement and Implications for Social Change, which was conducted by scientists working in the CGIAR Initiative on Livestock and Climate, whose findings contribute to empirical research concerning governance of rangelands to understand the potential of existing frameworks to measure women's participation and to provide practical lessons regarding gender-responsive development.
Climate change
The majority of reported results for 2022 fell within the knowledge product result area. Within this category, a significant portion (68%) of the results contributed significantly to any of the three CGIAR climate-related strategy objectives, namely climate mitigation, climate adaptation, and climate policy. It is important to note that these results are reported at the output level. Additionally, when examining results related to policy change and capacity change, it is noteworthy that they were all tagged with climate, signifying their direct relevance and alignment with climate-related Initiatives.
An example is the study conducted by scientists from the CGIAR Initiative on Climate Resilience focusing on credible evidence on the Integrity Management Toolbox on Small Water Supply Systems at two levels, principally at the service delivery and governance levels, and compliance. The subject of evaluation was the water supply system and the management model by which the water system is run (community group or water service provider) in Kajiado County in Kenya, a pastoralist area that is mainly occupied by the Maasai. The evaluation considered differences in how the Integrity Management Toolbox was applied, and compared these with the changes (service delivery, governance and compliance) achieved. From the findings, the Water Integrity Network will draw lessons from the implementation experience and make recommendations to improve the effectiveness of the Integrity Management Toolbox on the quality-of-service delivery, governance improvements, and compliance.
Header photo: Camels at a water point near Wajir, Kenya. Photo by R. Gangale/ILRI