Regional Integrated Initiatives: providing solutions to complex regional challenges
Research and innovation targeted at complex regional agrifood system challenges are central to the CGIAR 2030 Research and Innovation Strategy. Regional Integrated Initiatives (RIIs) address unique national and regional challenges prioritized by stakeholders, and function as a key vehicle for the co-design and co-delivery of innovations, capacity development, and policy change with local and regional partners. Building on experience and lessons from systems research, RIIs in their first year of implementation laid a foundation for on-the-ground research, coordination, and synergies across CGIAR to amplify impact at scale. As they are deeply connected with local and regional partners and stakeholders, RIIs are a mechanism for South-South learning exchange.
In 2022, the RIIs brought together the strengths of 629 partners and CGIAR Centers in innovative and participatory research in the Global South. RIIs generated 690 demand-driven research outputs (Figure 1). In addition, they reported 50 development outcomes (25 innovations used, 14 policies changed, and 11 capacity change outcomes) across CGIAR's five Impact Areas.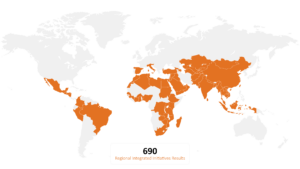 Table 1. RII portfolio
Region
Initiative name
Research emphasis
Key 2022 highlights
South Asia
Transforming Agrifood Systems in South Asia
Catalyze research and engagement to enhance equitable access to sustainable, healthy diets while improving farmer livelihoods and climate resilience, and conserving land, air, and groundwater resources.
Working with more than 160 partners, raised the capacity of 7,078 field-level extension agents to provide real-time, high-resolution climate adaptation farm advisories.

Enabled shift from water-intensive rice to more profitable and less resource consumptive crops in India, resulting in farmers intensifying crop management practices and diversifying production on over 35,930 hectares by more than 700,000 farmers.

East and Southern Africa
Diversification for resilient agribusiness ecosystems in East and Southern Africa
Enable smallholders to intensify, diversify, and reduce the risks in maize-based farming systems through improved extension services, small- and medium-sized enterprise (SME) development, and robust governance frameworks, with a gender equality and social inclusion lens.
Delivered 25 innovations that involved 102 partnerships across 11 countries.

Scaled improved farm practices in 11 countries, impacting 30,000 farmers. Several of these practices are showcased in 198 mother trials, 4,722 baby trials and 21 innovation trials in four countries reaching 5,055 farmers.

Initiated an accelerator program with ten African SMEs, which were 70% women-led, to amplify innovations in mechanization, irrigation, and climate-smart agriculture.

Latin America and the Caribbean
AgriLAC Resiliente
Co-develops scalable socioecological and technical innovations that enhance local to regional climate resilience, increase food-related incomes, promote nutritious diets, and potentialize regional environmental services and critical challenges, including out-migration and poverty.
Scaled the Local Technical Agroclimatic Committees approach and assisted over 20,000 rural individuals in Guatemala, empowering them to build resilience against climate change.

Facilitated the co-production and dissemination of accessible local agroclimatic bulletins, which are now efficiently used by farmers to inform their agricultural decisions, driving progress and fostering resilience.

Southeast Asia and the Pacific
Asian Mega-Deltas
Secures the globally important food baskets of Asian Mega-Deltas against climate change, develops approaches that enhance the nutrition sensitivity of deltaic food systems, and supports the development of climate-resilient livelihood options in deltas.
Influenced local and national policies in Vietnam and Bangladesh. In Vietnam, the National Green Growth Strategy incorporated research outputs, while the Department of Crop Production included data and knowledge generated by the Initiative in its regional directive and seasonal work plans. Alternate wetting and drying technology in rice cultivation was highlighted in the Nationally Determined Contributions for climate mitigation in Bangladesh.
Central and West Asia and North Africa
Fragility to Resilience in Central and West Asia and North Africa
Formulates and implements customized climate adaptation and mitigation strategies to address the unique needs of dryland farming, integrating the management of fragility risks.
Produced 173 impactful results. The AgriTech4Morocco Innovation Challenge trained 32 teams to propel science-based agrifood solutions. This involved capacity building, mentorship, and networking in partnership with the Accelerate for Impact Platform and national partners in Morocco.
West and Central Africa
West and Central African Food Systems

Transformation

Provides coordinated partnership in the transformation of agrifood systems in communities affected by climate change focusing on building the entrepreneurship capacities of women and youth.
Developed a multi-crop household-level survey to assess social constraints to gender and generational equality in agribusiness across West and Central Africa.

Facilitated the establishment of agribusiness hubs by cataloging 15,285 value chain actors.
Amplifying CGIAR impact with higher innovation readiness and use
The RII's innovation systems approach to agrifood systems is not abstract or theoretical. Although they are the smallest Initiatives in terms of budget within CGIAR's Portfolio, the impact of the RIIs was outsized in 2022. They were responsible for stimulating innovation use by more than one million people – a remarkable 25% of all innovation use measured by CGIAR – despite having only 9% of CGIAR's budget. This underscores the keystone role of the RIIs in significantly amplifying CGIAR's impact, pointing to the need for critical and more investment in RIIs during 2023-24 to bring CGIAR's science innovations to scale.
Crucially, RIIs had an average innovation readiness score of 5.92 out of 9 in 2022, while CGIAR's Global Thematic Initiatives (GTIs) averaged 4.7 (Figure 2). In other words, innovations developed by RIIs are at more mature readiness levels and have a high capability of being rapidly applied by stakeholders. For example, the CGIAR Initiative on Diversification in East and Southern Africa led Zambia's first farming reality TV show by the national broadcaster – which teaches climate-smart agriculture and provides climate information services to the 3 million people that watch the show weekly. Similarly, the CGIAR Initiative on AgriLAC Resiliente, through its Local Technical Agroclimatic Committees, enabled systematic co-design and improvement of climate information services, helping over 20,000 rural Guatemalan people to become more climate resilient. Further scaling is a crucial element of the work plan of RIIs in 2023 and 2024.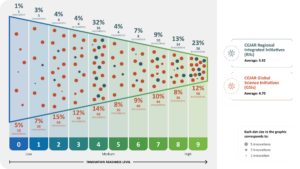 Enhancing opportunities for impact by leveraging GTIs
The challenges addressed by GTIs are not specific to a single region or country and focus on generalized genetic innovations, management of crops, livestock, fish, foresight, and policy. RIIs, on the other hand, conduct research and develop innovation related to unique topics of regional and national importance in response to strong stakeholder demand. RIIs articulate demand for integrative research and offer collaborations, platforms, and leverage opportunities for GTIs for impact, while also conducting their own applied research in line with partner priorities. With a strong foundation laid in 2022, RIIs offer many opportunities for further integration of CGIAR research and innovation at the regional level.
Co-designed with over 2,000 stakeholders and as outlined in their theories of change, RIIs stimulated and aligned bottom-up partnerships as dynamic components of innovation systems generating tangible outputs and actions to catalyze significant development outcomes. RIIs play an indispensable role in articulating demand from country and regional partners for relevant research by GTIs, and across all CGIAR Science Groups and Impact Platforms. They also work to adapt, apply, and amplify the outcomes of CGIAR research through a dense network of impactful partnerships.
Several RII results in 2022 were jointly produced in collaboration with GTIs. For example, the CGIAR Initiative on Fragility to Resilience in Central and West Asia and North Africa created, and in some instances strengthened, National Innovation Platforms and National Alliances of Stakeholders as core cross-cutting components to facilitate the development and scaling of CGIAR innovations. Through this, representatives from 14 countries collaborated with CGIAR to shape crop breeding priorities up to 2030. Twenty-six key genetic innovations were identified through consultations in Egypt, Lebanon, Morocco, Sudan, and Uzbekistan.
In collaboration with the Genetic Innovation Action Area, the CGIAR Initiative on West and Central African Food Systems Transformation worked with the CGIAR Initiatives on Seed Equal and Market Intelligence to test early seed generation and assessed farmers' demand for seeds of improved varieties.
RIIs addressed critical research gaps that are important at the regional level – for example, the CGIAR Initiative on Transforming Agrifood Systems in South Asia, in collaboration with the Systems Transformation Action Area, advanced co-design of an integrated and multidisciplinary agrifood systems assessment, providing evidence on opportunities and barriers to agrifood systems transformation.
In another example, the CGIAR Initiative on Asian Mega-Deltas fostered strong connections and provided a platform for integrating CGIAR Initiatives in Viet Nam through joint workshops and activities.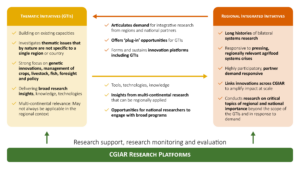 Championing South-South exchange
RIIs embrace an inclusive, end-to-end agrifood system approach to transformation and leverage innovations from other Initiatives, bilateral projects, and in-region public and private partners, while also championing South-South knowledge exchange and bottom-up transformation. RIIs collaborate with various partners – universities, national agricultural research systems (NARS), governments, non-governmental organizations, public and private organizations, financial institutions, and foundations. In 2022, 52% of all results delivered by RIIs had the collaboration of one or more partners, and 25% of CGIAR results (n = 690) produced by RIIs had contributions from at least one NARS institution.
A few examples to highlight are:
These collaborations are in line with the recommendations set out in CGIAR's High Level Advisory Panel Report on partner engagements, and demonstrate the importance of place-based, bottom-up partnership networks and co-creation to tackle regional and national agrifood system challenges.
RII results in 2022 demonstrate the need to give specific attention to the RIIs as a motor for relevant and impactful research, and their frontline role in responding to CGIAR stakeholder demands.
Header photo: A farmer working in a field near Hanoi, Vietnam. Photo by C. de Bode/CGIAR