Purposeful partnerships lie at the core of CGIAR's strategy and play an essential role in its ability to deliver meaningful, demand-responsive outcomes that drive food, land and water system transformation. With almost 2,000 active partners working across 126 countries, CGIAR strives to maximize the value of these collaborations through the co-design and co-delivery of research and innovations that contribute to meeting the Sustainable Development Goals (SDGs).
Given the indispensable role that partners play in CGIAR's work, in 2022, we developed our first Engagement Framework for Partnerships and Advocacy, drawing from the insights and expertise of staff and partners, and the report by the independent High-level Advisory Panel (HLAP). This critical framework establishes a set of principles, systems and approaches to strengthen the way CGIAR works with others – from national agricultural research and extension systems, to UN agencies (for example, FAO, IFAD and WFP), universities, research institutions, civil society organizations, and small, medium and large enterprises, among others.
In the preparation of its inaugural Portfolio of 31 Initiatives and Impact Platforms, CGIAR engaged with hundreds of partners to inform the design, delivery and expected impact outcomes of these research-for-development efforts. In the first year of implementation, Initiatives reported working, on average, with 182 partners (Figure 1), with an average of 19 different types of partners, namely research organizations, universities, government agencies, non-governmental organizations, farmer organizations, financial institutions, or foundations at sub-national, national, regional and/or global levels (Figure 2).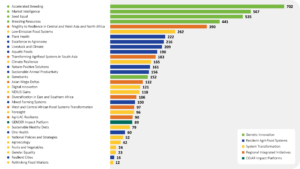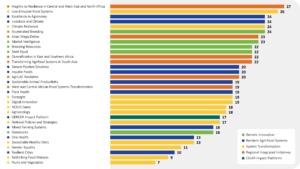 Approximately 60% of the Portfolio's partners are national universities, private companies, national agricultural research and extension systems (NARES), and government agencies (Figure 3).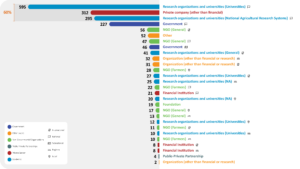 On average, 60% of partners within CGIAR's Portfolio are "innovation" partners, with whom CGIAR co-invests and collaborates to develop tailored innovative solutions and improve innovation readiness to contribute to impact at scale on upstream science, applied research, and context-specific innovation testing, adaptation, and validation.
Approximately 11% are "demand" partners, who have explicit or implicit demands or needs to resolve specific developmental challenges or capitalize on opportunities. CGIAR offers these partners scientific and technical support, including policy and investment guidance. These partners possess deep context-specific and subject-matter knowledge and collaborate with CGIAR to frame interventions.
Approximately, 11% are "scaling" partners, with whom CGIAR collaborates to advance uptake and use of innovations at scale (technologies, methodologies, practices, policies), including advocacy by private and public sector actors to influence policies and business practices (Figure 4).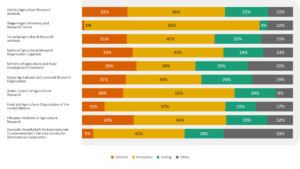 In terms of knowledge products, which primarily include journal articles, book chapters, working papers, videos and briefs, among others, Initiatives reported that 56% of these have been developed with partners in 2022 (Figure 5). The primary partners in the production of knowledge products were national universities and NARES. Equally important, Initiatives reported that 93% of innovations are being developed with partners (Figure 6).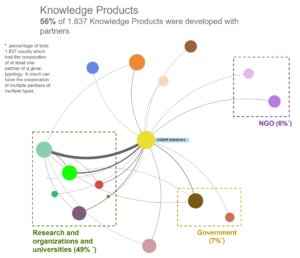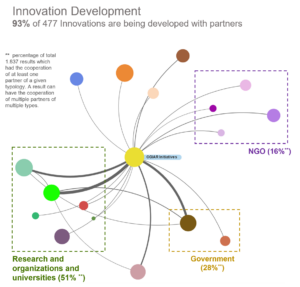 Beyond the work carried out with partners in the context of the Portfolio, CGIAR has sought to strengthen its engagement with partners around the world. Noteworthy was the signing of an agreement (Abidjan II) between the African Development Bank, the African Union Commission, the Forum for Agricultural Research in Africa, and CGIAR, to strengthen Africa's Food Systems.
In addition, acknowledging the value and need to deepen its engagement with partners from the Global South, the CGIAR System Board appointed an independent High-Level Advisory Panel (HLAP) to guide CGIAR in improving its strategic engagement with partners during its transition to One CGIAR. The Panel, constituted by 12 internationally renowned experts, was tasked to "advise on fostering ownership of reforms and mechanisms for joint learning and engagement…" with partners across the regions in which CGIAR works. The HLAP delivered its recommendations on 11 January 2023 through its report, On Improving One CGIAR's Strategic Engagement with Partners, calling for wide-ranging reform of CGIAR's approach to engagement and partnerships.
Furthermore, CGIAR initiated the development of a new "Capacity Sharing for Development" (CapSha) function in 2022, a next-generation capacity development space that embraces mutual learning, co-development, sharing and exchange of evidence, innovations and technologies with partners, versus the traditional unidirectional transfer of knowledge and skills. CapSha's overarching objective is to enhance research, innovation, and scaling capacities at the individual, institutional, and system level, for both partners and CGIAR, through tailor-made country- and regional-level interventions. CapSha is currently designing a soon-to-be-launched new modality of research engagement between Initiatives and NARES partners in the Global South, the latter of which will lead research efforts that deliver on jointly defined impact outcomes.
Finally, CGIAR is soon to begin the design phase of its 2025-2027 research Portfolio. With 18 months of lead-time, CGIAR is planning a coordinated and consistent approach to engagement with partners to ensure the co-creation of a research agenda that is meaningful to partners and aligned to national priorities.
Header photo: Researcher Dr. Kajodmal Choudhary with farmer Rajmani in a zero-tillage wheat field in Nalanda, Bihar, India. Photo by A. Momin/TAFSSA