Gender deep dive
CGIAR's research on gender equality aims to contribute to Sustainable Development Goal (SDG) 5 (gender equality) and to the global goal as per CGIAR's 2030 Research and Innovation Strategy to close the gender gap in rights to economic resources, access to ownership, and control over land and natural resources for the over 500 million women who work in food, land, and water systems. This section of the Portfolio Narrative presents the progress made by Initiatives and the GENDER Impact Platform in 2022 towards reaching these goals.
Overall analysis of the data on the CGIAR Results Dashboard shows a positive trend. Of the 3,364 results reported in 2022, 35% were identified by Initiatives as contributing in a significant way to gender equality or having gender equality as a principal outcome. This demonstrates that Initiatives wanted to, and indeed did, see themselves as contributing to gender equality. It is also important to note that while the remaining 65% of results were not tagged as having significant or principal gender objectives, this does not mean that they did not necessarily contribute to the Portfolio with gender data or an understanding of gender dynamics – the contribution may have just been more indirect.
Knowledge products
The top five Initiatives within the Resilient Agrifood Systems (RAFS) Action Area with knowledge products tagged with significant or principal gender objectives portray an interesting story (Figure 1). The CGIAR Initiative on Sustainable Animal Productivity had the highest number of gender-relevant outputs (63), followed by 57 outputs reported by the CGIAR Initiative on Livestock and Climate, and the CGIAR Initiative on Aquatic Foods, with 43 outputs – this is indicative of the large investments in the past on gender in these areas of work. The other two Initiatives making up the top five were the CGIAR Initiative on Mixed Farming Systems and the CGIAR Initiative on Excellence in Agronomy – both of which are areas of importance for gender. The latter Initiative has a strong bio-physical focus, and is embracing gender-related work to ensure the right agronomic practices get into the hands of women through its case studies.
The RAFS's portfolio has a vital role to play in directly and positively impacting the livelihoods of women, and thus contributing to CGIAR's gender equality Impact Area. It aims to place innovations and technologies into the hands of men and women – providing the tools and opportunities for women's empowerment.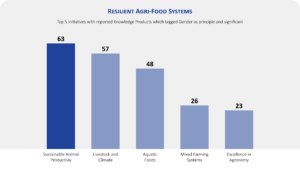 The top five Systems Transformation (ST) Action Area Initiatives contributing to the gender agenda through knowledge products provides a varied story (Figure 2) –  with the CGIAR Initiative on Climate Resilience reporting 68 knowledge products, the CGIAR Initiative on Gender Equality reporting 19, the CGIAR Initiative on Digital Innovation reporting 19, the CGIAR Initiative on Agroecology reporting 14, and the CGIAR Initiative on Low-Emission Food Systems reporting 12. Each of these Initiatives showed good progress in areas of importance for gender, such as developing cutting edge research in gender equality, and understanding the importance of gender in digital innovations. As ST Initiatives, they have potential to contribute significantly to creating the right policy and enabling environments to transform systems to be more gender equitable.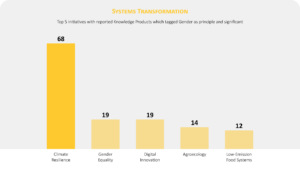 The Genetic Innovation Action Area Initiatives provide an interesting picture, with the CGIAR Initiative on Accelerated Breeding reporting 127 knowledge products tagged with significant or principal gender objectives (Figure 3); however, an analysis of these outputs suggests that greater capacity strengthening on gender tagging may provide for more accurate results.
The second Initiative in the top five is the CGIAR Initiative on Market Intelligence with 26 outputs, which is promising as this is where we understand what the requests of women are with respect to breeding. The other Initiatives making up the top five are the CGIAR Initiative on Genebanks, with ten gender-related knowledge products; the CGIAR Initiative on Seed Equal with eight; and the CGIAR Initiative on Breeding Resources, with one gender-related knowledge product.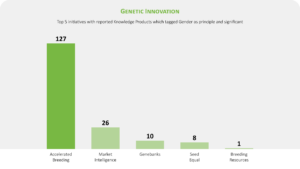 CGIAR regions
Regionally, East and Southern Africa dominates with regard to gender-related results, with 190 out of 880 results tagged as gender significant. This is followed by West and Central Africa with 100 gender-significant results, and South Asia with 90 gender-significant results. This is similar to findings from the GENDER Impact Platform's evidence gap map, where the majority of CGIAR journal articles came from these regions, but it is also reflective of the CGIAR Results Dashboard, where limited results came from Central and West Asia and North Africa – with 79 results coming from this region. Most of CGIAR's Regional integrated Initiatives are performing well with producing gender-related outputs, with East and Southern Africa leading with 17 results, and the others reporting between 14 and 11.
Result snapshot
Further analysis of results shows that CGIAR is cognizant of getting women into arenas of decision-making, as illustrated by the many outputs on community-led work, such as community-led breeding, and community-led water governance, and tagging them as significant with relation to gender. This is a positive sign, as it can ensure women are given decision-making opportunities.
Another highlight is the quality of outputs with a gender-principal tag, where innovative work is being produced. Building this portfolio of principal results on gender will support CGIAR in having an impact on gender equality in agrifood systems.
Analysis of capacity development results tagged principal or significant for gender reveals mixed results. Some exciting activities were reported, such as the "Financial Literacy for Sheep Fattening for Youth and Women Group", which had 150 participants, and the "Gender-Responsive Breeding Training for the International Institute of Tropical Agriculture and national agricultural research extension system breeders in Nigeria", with 50 participants.
Out of the 477 innovations reported by CGIAR Initiatives, 305 innovations expect to contribute to SDG 5, and 245 innovations were reported as having a significant (205 innovations) or principal (40 innovations) gender focus.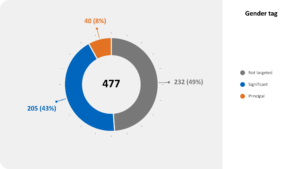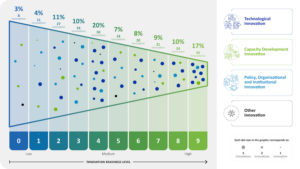 The innovation portfolio has a focus on innovations that are at a medium innovation readiness level (levels 4-5 – testing and validation of innovations in fully controlled conditions) and a very high innovation readiness level (levels 8-9 – testing and validation of innovations in uncontrolled conditions). It is important that sufficient investment is made in gender innovations at early readiness levels (levels 0-1 – ideation and basic research) to ensure discovery and basic research on gender equality and social inclusivity.
For the 40 innovations reported to have a principal gender tag in 2022, these are spread across the innovation types – technological (e.g. new varieties/breeds), capacity development (e.g. gender training) and policy/institutional innovations.
Examples include:
Innovations with a principal gender tag in 2022 were mainly incremental in nature. This means that they are improvements of existing products, services or tools. Increasing investment in radical and disruptive innovations is needed to close gender gaps and make faster and more tangible contributions to gender and social inclusivity related to the SDGs.
As this was the first year of implementation of the new CGIAR Portfolio, and the first year of reporting, a few lessons have been learned – most important is the need to re-iterate that these are self-defined tags by Initiatives. Upon further analysis of the actual results, the GENDER Impact Platform and the gender community will need to provide better guidance as to what can be tagged as gender-principal and gender-significant. Linked to this is the need to redefine tagging to establish a better understanding of the breadth and depth of work being done by CGIAR on gender – for example, there is a need establish a reporting mechanism that can capture the fact that even when a result is not tagged gender-relevant, this does not necessarily mean that it does not contribute in some way to gender objectives.
However, 2022 results are promising in their display of the variety of work being done on gender and can guide the Portfolio in reaching the goals set out in CGIAR's Impact Area on gender equality.
Header photo: PhD Student Israa Alwan checking plant growth. Photo by ICARDA