Building a strong and diverse CGIAR innovation portfolio
CGIAR uses Innovation Portfolio Management as a crucial component of its Performance and Results Management Framework. Innovation Portfolio Management refers to the systems, processes, and mechanisms to intentionally manage innovation investments and decisions within an organization to advance its vision and strategy. This approach to managing and optimizing innovation and scaling investments is rarely used by public, non-profit organizations.
CGIAR has embarked on a journey to make effective use of its innovation data in support strategic decision-making, risk management, resource mobilization and engagement with demand partners. Effective Innovation Portfolio Management will enable CGIAR to safeguard innovation portfolio health, communicate its Portfolio, and enhance transparency and accountability.
CGIAR acknowledges that innovation and scaling are multi-partner processes, and that achieving impact at scale depends on our ability to nurture and work in partnership with governments, and public and private sector players. In the CGIAR Portfolio, the 477 CGIAR innovations that were reported in 2022 are being developed with 833 unique partners, ranging from government, the private sector, and development organizations. The 58 innovation use cases that were reported in 2022 were implemented with 119 unique partners.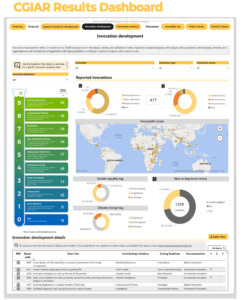 Key results from the 2022 innovation portfolio
CGIAR Innovation Portfolio Management is powered by the Scaling Readiness approach, which is an adaptation of NASA's Technology Readiness. In 2022, CGIAR adopted and redesigned Scaling Readiness with a view to scale it across its innovation portfolio, branding the redesigned approach Innovation Packages and Scaling Readiness (IPSR). IPSR offers a structured, systematic way to track innovation development and use by CGIAR and partners, targeting impact linked to, for example, the Sustainable Development Goals (SDGs). In 2022, CGIAR and its partners reported 477 innovations, surpassing the aggregate targets it set itself for the entire 2022-2024 business cycle in the Initiative proposals.
Key metrics for the innovation portfolio in 2022
The average number of innovations per Initiative is 15 (lowest = 2; highest = 52).
There is ongoing innovation development in 64 countries, with the top innovation countries being Ethiopia (54), Kenya (48), and Bangladesh (42).
Technological innovations accounted for 58% of the innovation portfolio (of which 28% were new or improved varieties or breeds), such as maize, beans, pigeon peas and soybean biofortification and diversification to enhance nutritional value of produce.
Twenty-eight (28) disruptive innovations are in the pipeline, such as an Artificial Intelligence-based audio analytics tool for identifying farmers' needs and targeting digital extension services (more information here).
There were 841 unique partnerships in innovation development. Top innovation development partners include the National Agricultural Research Systems (NARS) of Kenya, Zambia, Ethiopia and Tanzania, and Wageningen University, the Netherlands.
Fifty-nine (59) innovation use cases were reported, which reached just over 4 million innovation users (1.7 million females and 2.3 million males).
Innovation development and use targeted four key SDGs:

SDG2 – Zero Hunger: 66%
SDG1 – No Poverty: 59%
SDG13 – Climate Action: 57%
SDG5 – Gender Equality: 51%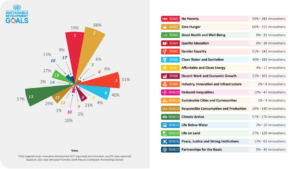 An example of a CGIAR innovation: Shamba Shape Up
Shamba Shape Up is an example of a CGIAR innovation that was reported and profiled in 2022. Shamba Shape Up is a digital channel that delivers bundled agriculture, climate, and financial information services to farmers. The innovation is being developed in Kenya and Zambia (under the name Munda Makeover) by the CGIAR Initiative on Diversification in East and Southern Africa, the CGIAR Initiative on Climate Resilience, and with government, development and private sector partners. Shamba Shape Up/Munda Makeover has an innovation readiness level of nine in Kenya (proven innovation) and an innovation readiness level of six in Zambia (testing under semi-controlled conditions).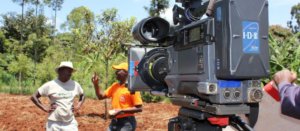 Based on demand by Initiatives, innovation profiles are created that contain all basic data for innovations, and can be used for strategic communication.
Towards a healthy and diverse CGIAR innovation portfolio
To ensure a healthy and diverse innovation portfolio, CGIAR follows a unified framework for reporting innovation development and use. The innovation readiness levels, ranging from zero (idea) to nine (proven innovation), help monitor the maturity and progress of each innovation. The metadata associated with innovations enables comprehensive filtering, facilitating comparisons based on Initiatives, countries, innovation types, SDGs, and more.
This standardized innovation portfolio overview assists in strategic decision-making, enabling CGIAR to prioritize innovations that have the highest potential for contributing to the SDGs. Factors considered in maintaining a healthy innovation portfolio include diversity in innovation readiness levels, SDG targets, geographical focus (see Figure 3), and innovation types and risk profiles. This allows CGIAR to combine various filters at the innovation portfolio level, which makes it easy to compare, for example, (groups of) Initiatives, countries and innovation types, and SDGs.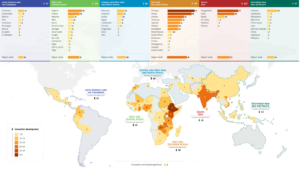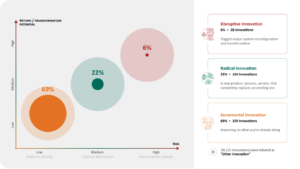 Innovation and scaling culture and capacity growth
Innovation and scaling culture growth is an important element of Innovation Portfolio Management. It promotes more realistic thinking about innovation and scaling trajectories, and tries to debunk some innovation and scaling myths. In collaboration with ILRI's Impact at Scale Program, the CGIAR Initiative on Diversification in East and Southern Africa, and the GIZ Taskforce on Scaling, a "week of scaling" was organized in Nairobi in November 2022. The event brought together 34 scaling experts from across CGIAR, representing eight CGIAR Centers, 22 Initiatives and 57 countries where CGIAR is active, and was the first of its kind in bringing together scaling experts from across the CGIAR system to support networking, learning and collaboration.
Another crucial aspect is to strengthen capacity among CGIAR colleagues, partners and funders on what Innovation Portfolio Management is (and is not), and why it matters. CGIAR developed an e-learning course, with a dedicated module on Innovation Portfolio Management, which is available in French, English and Spanish and has more than 2,000 students enrolled. In addition, both online and in-person training sessions on Scaling Readiness have been organized to further increase understanding and quality of the CGIAR Innovation Portfolio Management approach.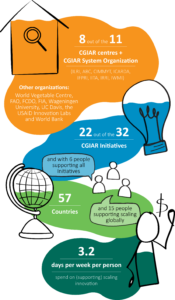 Next steps
Innovation Portfolio Management in CGIAR is still in its early stages and the following steps include:
Dynamic data – Innovations reported in 2022 will be updated, and 2023 data added to allow for more dynamic CGIAR innovation portfolio analysis (e.g. seeing whether innovations increase in readiness over time).
New features – Specifying USD investment per innovation, and anticipated innovation user (e.g. female farmers). We will also start capturing efforts made to diversify innovation teams as proxy for responsible and inclusive innovations.
End-to-end innovation management – Developing a set of innovation portfolio decision-making criteria that can guide innovation portfolio decision-making and prioritization.
Innovation use/packaging – Increased focus on co-designing context-specific innovation packages and scaling strategies for scaling-ready innovations.
As CGIAR continues to advance its Innovation Portfolio Management, these efforts will contribute to effective and sustainable results and impacts, supporting delivery of the CGIAR 2030 Research and Innovation Strategy.
Header photo: Fish for sale at a weekly market in Dintor, Flores, Indonesia. Photo by CGIAR