Managed aquifer recharge shows promise in the Ganges Basin
From

CGIAR Initiative on NEXUS Gains

Published on

08.08.23

Impact Area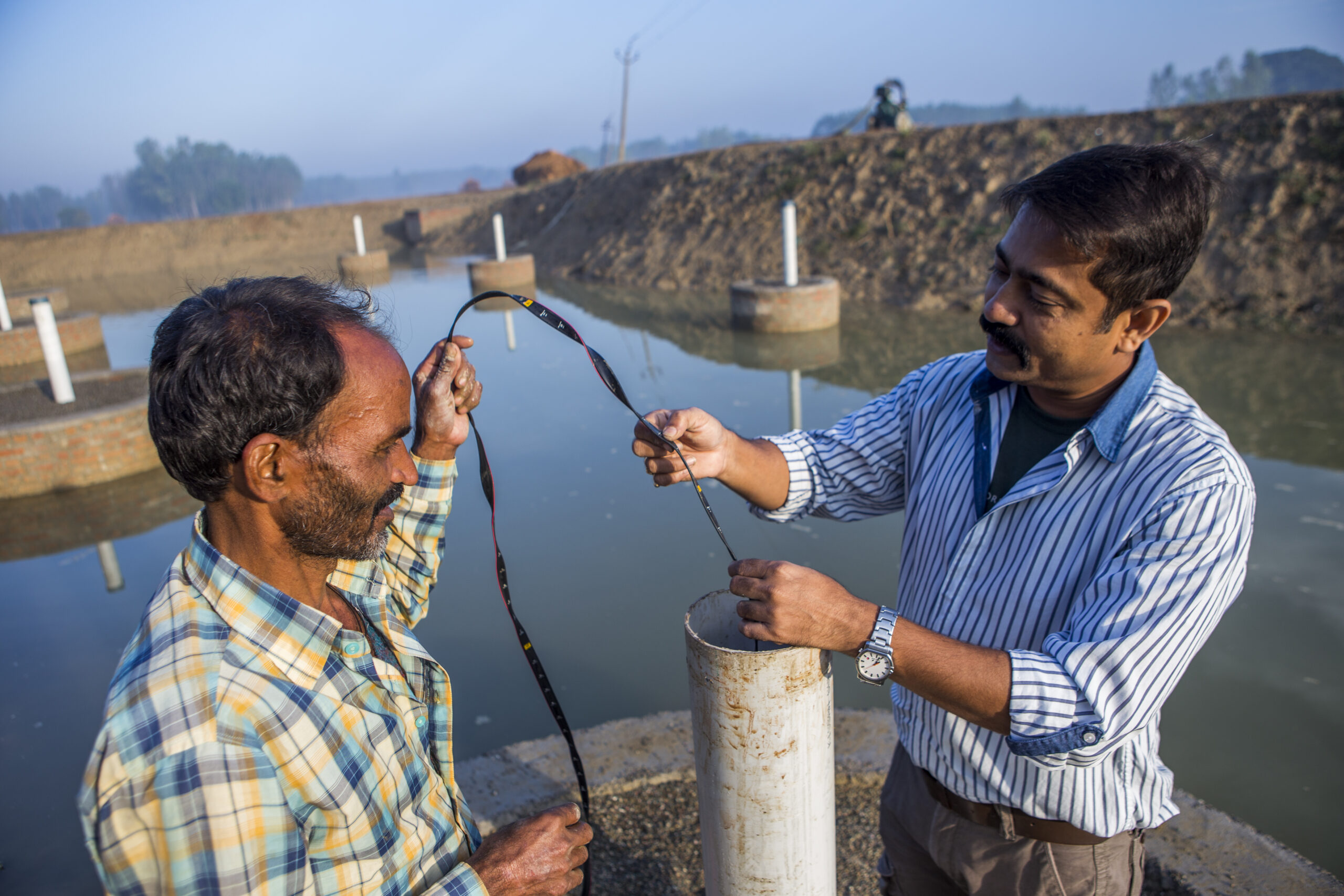 "Groundwater is the hidden water resource," says Dr Andrew Ross, an honorary research fellow at the Australian National University's Fenner School of Environment and Society. "It accounts for more than 99 percent of liquid freshwater on Earth, half of all drinking water and a quarter of the water used for irrigation, serving 38 percent of the world's irrigated land."
Dr Ross was speaking at the CGIAR Initiative on NEXUS Gains' latest webinar, Managed Aquifer Recharge in the Ganges Basin: Examining Barriers to Wider Implementation. Held on Thursday, July 27, the webinar explored the potential of underground transfer of floods for irrigation (UTFI), an innovative new form of managed aquifer recharge, to offset aquifer depletion and reduce the severity of both floods and droughts.
Harnessing flood waters
A comprehensive introduction to UTFI was given by Dr Paul Pavelic, a senior researcher in hydrogeology at the International Water Management Institute (IWMI). "Regardless of how you choose to measure water security, all the trends are worsening," he said. "That's why we need pragmatic and effective solutions to improve water storage at the community level."
UTFI is a way of channeling and storing excess flow during wet seasons into aquifers, so that it remains accessible during dry periods. A global analysis of hydrogeological conditions and flood and drought hazards, co-led by Dr Pavelic, showed that UTFI has enormous potential to prevent water scarcity around the world. "The results were quite striking," he noted. "Areas with very high potential for UTFI cover roughly 40 percent of the world's cropped areas across every inhabited continent, accounting for around half of the world's population."
UTFI in the Ramganga Basin
The webinar also focused on a pilot UTFI project in one particularly promising area: the Ramganga Basin of Uttar Pradesh, India, one of the major tributaries of the Ganges. Models for the basin suggest that capturing just 20 percent of the basin's excess flow with UTFI could help reverse the region's groundwater depletion, reduce flood inundation, and provide positive internal rates of return.
Dr Navneet Sharma, a consultant at IWMI India, explained the steps taken to select the pilot areas from the basin's thousands of ponds and other storage structures. These began with stakeholder engagement at the district, block, and village level, and were followed by field visits to more than 100 ponds. Potential sites were then assessed according to a broad range of criteria, including pond size, pollution levels, and interest from the local community. The potential for convergence of UTFI projects with existing government schemes for infrastructure, rural employment and groundwater was also considered.
Promising results
At the village of Jiwai Jadid, one of the sites selected by this process, an unused pond was retrofitted with 10 gravity recharge wells and monitored using staff gauges, piezometers, and infiltration tests. "We put a lot of effort into quantifying the recharge from this single pond," commented Faiz Alam, a regional researcher at IWMI India. "We wanted to know how this compared to the groundwater used by the village."
The results were encouraging: from 2017 to 2019, the retrofitted pond recharged 35,000–72,000 cubic meters of water each year. This represents as much as 14 times the capacity of the pond and was enough to irrigate roughly 15 hectares of farmland. Alam and his colleagues are now working with local communities to quantify the potential of 15 other ponds in the Ramganga Basin for UTFI retrofitting.
Urban opportunities
Following these discussions at the UTFI webinar, audience members then heard from Gayathri Angou, an MSc candidate at the Amsterdam Institute for Advanced Metropolitan Studies. Angou's research focuses on sustainable urban development, including a focus on the planning and policy needed for sustainable groundwater management in rural, urban, and peri-urban areas. "I am trying to think about groundwater sustainability more holistically and explore how rural and urban water use affect each other," she explained.
Angou's work in and around Moradabad, a small city in Uttar Pradesh not far from Jiwai Jadid, uncovered a disconnect between urban populations and groundwater issues when contrasted with from downstream villages. "Your perception of the problem depends on your day-to-day interaction with water resources," she observed. "If you don't feel the problems, you don't necessarily see the need for a solution." Despite this, Angou argues that cities like Moradabad have promising sites for groundwater recharge, such as parks, peri-urban flood plains, and government-owned land.
Time to upscale
The webinar inspired a lively Q&A session between the audience and the speakers, with topics ranging from water quality and siltation risks to the challenge of equitable benefit sharing. In response to significant audience interest in the global potential for UTFI, Dr Pavelic stressed the need for feasibility studies and thorough stakeholder engagement before making significant investments, especially in areas with limited experience of managed aquifer recharge, such as the Sahel.
In his concluding remarks, Dr Ross noted that "UTFI has the potential to make an important contribution to achieving water sustainability goals, healthy ecosystems, and climate resilience. Now it's time to expand UTFI to larger scales, to peri-urban areas, and possibly to other parts of the world."
Didn't catch the webinar? You can watch it here.
You can also find all 12 previous NEXUS Gains webinars in this YouTube playlist.
Header image: A scientist measures the water collected from a pond created by underground transfer of floods for irrigation (UTFI). Photo by Prashanth Vishwanathan/IWMI.