La Junta del Sistema de CGIAR nombra a la Dra. Claudia Sadoff como jefa del equipo multidisciplinario de gestión ejecutiva
From
Published on

27.07.22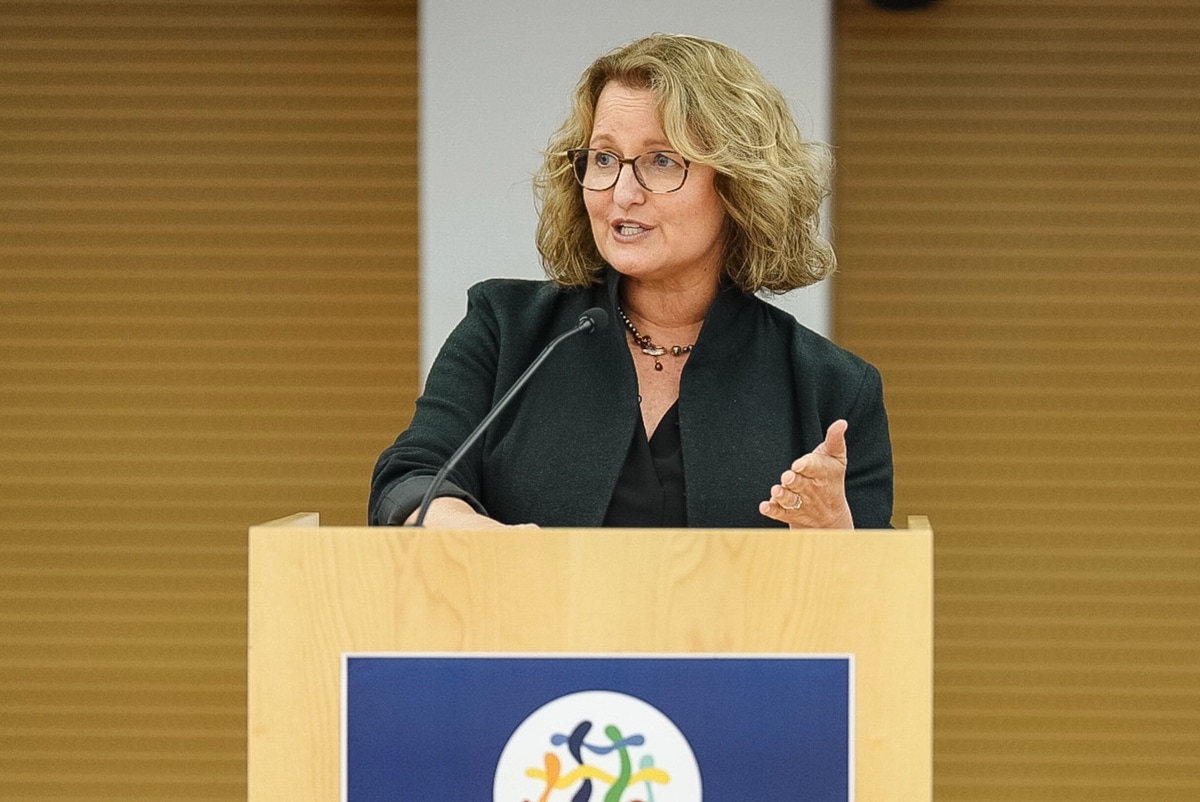 Los cambios pretenden mejorar el impacto de CGIAR con un enfoque en la ciencia y la innovación, la colaboración y los principales llamados basados ​​en evidencia para la transformación de los sistemas de alimentos, tierra y agua.
27 de Julio de 2022 –La Junta del Sistema de CGIAR ha nombrado a la Dra. Claudia Sadoff, coordinadora actual del Equipo inaugural de Gestión Ejecutiva (EMT) de CGIAR establecido por un período de dos años en agosto de 2020, y Directora General de Entrega e Impacto de la Investigación, como la única directora general de CGIAR.
En el rol de Directora General Ejecutiva (EMD) de CGIAR, la Dra. Sadoff liderará un EMT multidisciplinario, que comprende seis informes directos de Director General, como parte del Equipo de Liderazgo Sénior (SLT) más amplio de CGIAR, con el SLT manteniendo su papel fundamental como administradores y líderes de un personal disperso a nivel mundial y con mandato local.
La Dra. Sadoff reportará directamente a la Junta del Sistema por un período de un año. Su sucesor se identificará a través de un proceso de búsqueda global y competitivo dirigido por la Junta del sistema, que se lanzará en septiembre de 2022. La transición, de un EMT con varios Directores Gerentes a una estructura de vértice, fue decidida por la Junta del Sistema después de un proceso de revisión y consulta en profundidad que incluyó las opiniones de los miembros del SLT.
"El modelo de Director General Ejecutivo único es la evolución natural de la estructura de gestión ejecutiva inaugural con un plazo limitado de dos años, programada para concluir en agosto de 2022, de una manera que responde a la necesidad crítica de CGIAR de conectar la ciencia global con socios regionales y locales en una manera efectiva e innovadora", dijo Marco Ferroni, Presidente de la Junta del Sistema de CGIAR.
"La experiencia y las habilidades de liderazgo comprobadas y ejemplares de Claudia, la forman como la persona adecuada para completar las reformas que posicionan al CGIAR para una nueva era de investigación interconectada e impulsada por esquemas de asociación", agregó Ferroni.
Los seis puestos de Director General que reportan directamente a la Dra. Sadoff son los tres líderes científicos globales de CGIAR: Directora General, Innovación Genética (Sonja Vermeulen), Director General, Sistemas Agroalimentarios Resilientes (Martin Kropff), Director General, Transformación de Sistemas (Johan Swinnen); junto con el Director General de Estrategia y Sistemas Institucionales (Elwyn Grainger-Jones), un nuevo Director General, Regiones y Asociaciones (Harold Roy-Macauley) y Directora General de Comunicaciones y Divulgación (Lotte Pang).
El profesor Garba Hamidu Sharubutu, Secretario Ejecutivo del Consejo de Investigación Agrícola de Nigeria, representante de la circunscripción de África Subsahariana en el Consejo del Sistema CGIAR y Copresidente de la 16ª reunión del Consejo del Sistema, celebrada el 20 de julio, acogió con satisfacción los cambios.
Él dijo "Ya estamos viendo cómo la transición a 'Un CGIAR' está posicionando a la organización para brindar una respuesta más eficaz, coordinada y sistémica a múltiples impactos en nuestros sistemas alimentarios globales. Doy la bienvenida a la evolución de la estructura de liderazgo a una que apoya la toma de decisiones, pone a CGIAR en línea con otras organizaciones internacionales importantes y continúa el trabajo crítico que se realiza en todo CGIAR".
Según la Dra. Sadoff, "Aprovechar todo el potencial de CGIAR es vital en nuestro contexto actual de crisis alimentaria mundial, la aceleración del cambio climático y la pandemia de COVID-19. Trabajando como 'Un CGIAR', podemos ofrecer la ciencia y la innovación que permiten a los agricultores y sus comunidades en todo el mundo enfrentar estos desafíos. Es un privilegio liderar esta extraordinaria organización con una misión tan fundamental y trabajar junto a tantos colegas increíbles en todo el mundo".
Equipo de Liderazgo Sénior
Aly Abousabaa
Regional Director, Central and West Asia and North Africa, and Director General, ICARDA

Jean Balié
Regional Director, South-East Asia and Pacific, and Director General, IRRI

Marion Barriskell
Global Director, Business Operations and Finance

Karmen Bennett
Global Director, Governance and Assurance (a.i.)

Fiona Bourdin-Farrell
Global Director, People and Culture

Bram Govaerts
Director General (a.i.), CIMMYT

Elwyn Grainger-Jones
Managing Director, Institutional Strategy and Systems

Martin Kropff
Managing Director, Resilient Agri-Food Systems

Temina Lalani-Shariff
Regional Director, South Asia

Joaquin Lozano
Regional Director, Latin America and the Caribbean

Essam Yassin Mohammed
Senior Director, Aquatic Food Systems, and Director General (a.i.), WorldFish

Khuloud Odeh
Global Director, Digital and Data, and Executive Director (a.i.), CGIAR System Organization

Oscar Ortiz
Director General (a.i.), CIP

Lotte Pang
Managing Director, Communications and Outreach

Juan Lucas Restrepo
Global Director, Partnerships and Advocacy, and Director General, The Alliance of Bioversity International and CIAT

Harold Roy-Macauley
Managing Director, Regions and Partnership, Regional Director, East and Southern Africa, and Director General, AfricaRice

Claudia Sadoff
CGIAR Executive Managing Director

Nteranya Sanginga
Regional Director, West and Central Africa, and Director General, IITA

Jimmy Smith
Senior Director, Livestock-Based Systems, and Director General, ILRI

Mark Smith
Senior Director, Water Systems, and Director General, IWMI

Johan Swinnen
Managing Director, Systems Transformation, and Director General, IFPRI

Sonja Vermeulen
Managing Director, Genetic Innovation (a.i.)

André Zandstra
Global Director, Innovative Finance and Resource Mobilization
Dra. Claudia Sadoff es una líder reconocida a nivel mundial en la gestión de recursos hídricos para el desarrollo internacional. Ha trabajado desde agosto de 2020 como Directora General de CGIAR, Entrega e Impacto de Investigación, y coordinadora del EMT inaugural de CGIAR. Antes de esos cargos, trabajó como Directora General del International Water Management Institute (IWMI), un Centro de CGIAR con sede en Sri Lanka que trabaja a nivel mundial para encontrar soluciones de agua para un desarrollo sostenible y resiliente a los cambios del clima. También actuó como miembro de la Junta del Sistema CGIAR, desempeñando la función de Campeona de Género de CGIAR.
Antes de unirse a IWMI, pasó más de 20 años en el Banco Mundial, donde trabajó en África, Medio Oriente y África del Norte, Asia Meridional y el Sudeste Asiático, ocupando múltiples puestos, incluyendo sus cargos como Economista Principal y Líder Global para Seguridad Hídrica y Gestión Integrada de Recursos Hídricos. Se desempeñó como miembro del Grupo Científico de la Cumbre de Sistemas Alimentarios de las Naciones Unidas de 2021 y recientemente fue nombrada Miembro Honorario de la Asociación Internacional de Recursos Hídricos. Ha recibido nombramientos de una amplia variedad de otras organizaciones, entre ellas: Académica Visitante Distinguida en la Universidad de Oxford; Presidente del grupo de trabajo sobre seguridad hídrica y crecimiento sostenible de la Asociación Mundial del Agua/Organización para la Cooperación y el Desarrollo Económicos (OCDE); Asesora Económica de la Unión Internacional para la Conservación de la Naturaleza (UICN); Miembro del Consejo de la Agenda Global sobre Seguridad Hídrica del Foro Económico Mundial; Miembro del Comité Técnico de la Asociación Mundial del Agua; y académica de Fulbright. Tiene un doctorado en Economía.