Inspired by "enemy of world hunger" Dr. Sanjaya Rajaram, national and global institutions and research centers strengthen their commitment to food security
From
Published on

03.05.22

Impact Area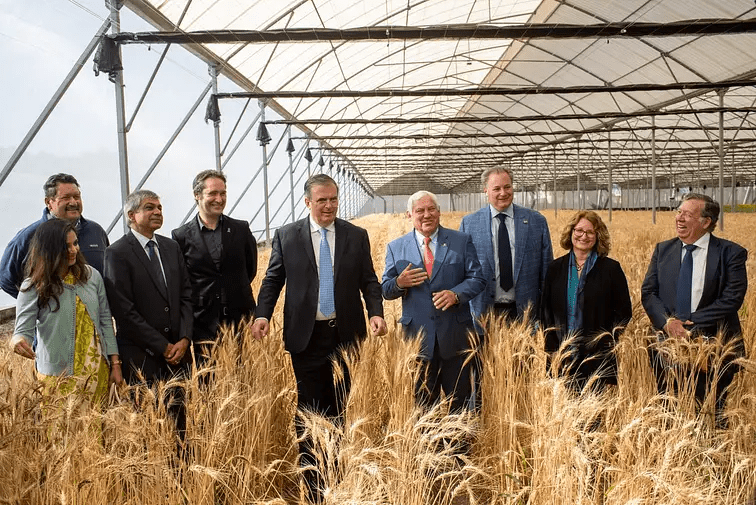 Collaboration between food security institutions and research organizations has contributed to improvements in global grain production that have benefitted millions of farmers around the world – and must continue today. This message was highlighted during a ceremony hosted by the International Maize and Wheat Improvement Center (CIMMYT) to recognize the legacy of World Food Laureate and former CIMMYT Wheat Program Director Sanjaya Rajaram.
The ceremony, held at the CIMMYT Experimental Station in Toluca, State of Mexico, officially dedicated the Station in honor of Sanjaya Rajaram, honoring his memory as an "enemy of world hunger" and one of the scientists who has most contributed to global food security.
The Indian-born naturalized Mexican researcher, who was the third person from CIMMYT to receive the World Food Prize, was recognized for having developed more than 480 high-yielding and adaptable wheat varieties that have been planted on approximately 58 million hectares around the world.
"For this impressive achievement, which seems easy to summarize in one sentence, Raj became a giant of the 'right to food' and one of the fiercest enemies of hunger in the world," said CIMMYT Director General Bram Govaerts.
"Building on the work of Dr. Norman Borlaug, Dr. Sanjaya Rajaram was a driving force in making CIMMYT into the extraordinary institution that it is today," said Claudia Sadoff, Managing Director, Research Delivery and Impact of CGIAR, a global research partnership of which CIMMYT is a member.
"The challenges of today compel us to redouble our efforts to breed more resilient and more nutritious crops, as Dr. Sanjaya Rajaram did, Sadoff added. "This ceremony reminds us that Dr Rajaram's legacy and the ongoing efforts of CIMMYT and CGIAR scientists must answer that."
Awards for international cooperation in food security
At the event, CIMMYT presented awards to the Secretary of Foreign Affairs of Mexico, Marcelo Ebrard Casaubón, and of Secretary of Agriculture and Rural Development (SADER), Víctor Villalobos Arámbula, for their promotion of food security and social inclusion in Mexico and Latin America.
The Secretary of Foreign Affairs of Mexico expressed his gratitude for the Norman E. Borlaug and reaffirmed his commitment to "work in the international arena as we have done, but now we will have to work harder, with greater intensity."

The Secretary of Agriculture and Rural Development of Mexico, Víctor Villalobos Arámbula, emphasized that Mexico, Latin America and CIMMYT play an important role in the struggle to improve the conditions of small-scale farmers and the resilience of agri-food systems, noting that more than 300,000 farmers grow maize, wheat and associated crops on over one million hectares in Mexico using sustainable technologies from the CIMMYT-led MasAgro project, now called Crops for Mexico.
"Throughout this administration," he said, "we have designed, implemented and refined, through collaboration between SADER and CIMMYT, sustainable development strategies with a systemic approach that facilitates the participation of producers in more integrated and efficient value chains both in Mexico and in other countries."
India's Ambassador to Mexico, Pankaj Sharma, highlighted that his nation owes a large part of its Green Revolution to the "Sonora" wheat variety, which was developed in Mexico, a country that is considered one of the cradles of agriculture at a global level, with arable land accounting for 15 percent of the total land dedicated to agriculture in the world.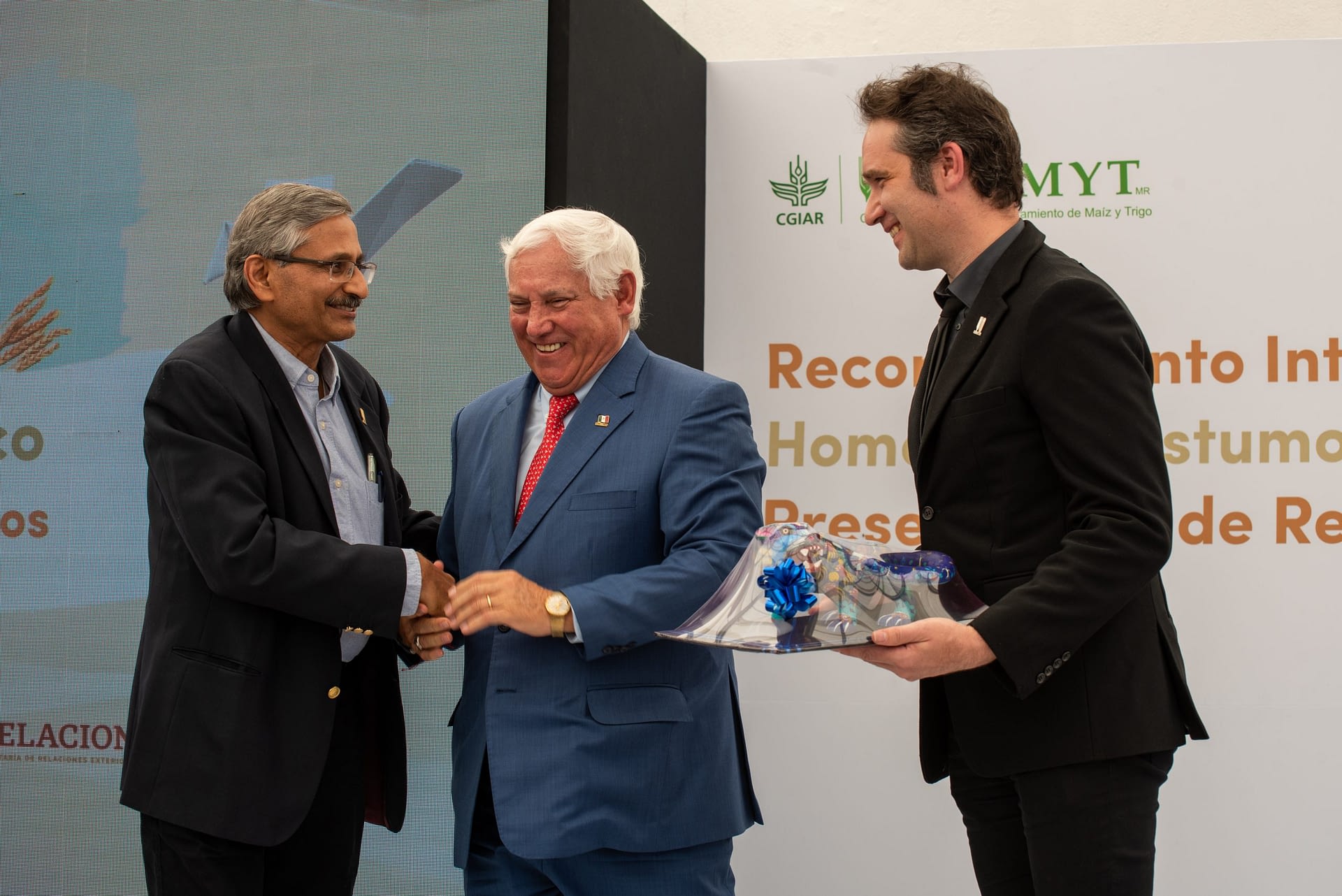 Report on the results of the Crops for Mexico initiative
CIMMYT's Wheat Germplasm Bank Curator and Genotyping Specialist Carolina Sansaloni presented highlighted impacts from Crops for Mexico, the main cooperative project between the Government of Mexico — through the Secretary of Agriculture and Rural Development — and CIMMYT, and a flagship initiative in the application of technologies in sustainable agriculture.
The project has been in operation for more than a decade in 28 states in Mexico, with the collaboration of more than 100 national and international partners and private and public sector agencies in 12 regions, offering research infrastructure and training development for sustainable agronomic practices, she explained.
She reported that the results of 40 platforms, 500 demonstration modules and two thousand extension areas have an impact on more than one million hectares and benefit 300,000 maize, wheat and bean producers, with the use of high-yield varieties.
Rosalinda Muñoz Tafolla, a maize farmer in Amacuzac, in the Mexican state of Morelos, explained that her drive to produce healthy food led her to participate in Crops for Mexico, where CIMMYT's support and advice has enabled her to dramatically increase her farm's productivity while protecting the soil and conserving natural resources.
She explained that with the conservation agriculture system she learned to improve soil conditions, planted a new maize variety, and was supported in marketing her harvest at a good price and selling 2,000 maize ears (mostly weighing 200 grams each).