CGIAR Wins International Recognition for Progress in Gender Equity, Diversity and Inclusion
From
Published on

15.12.22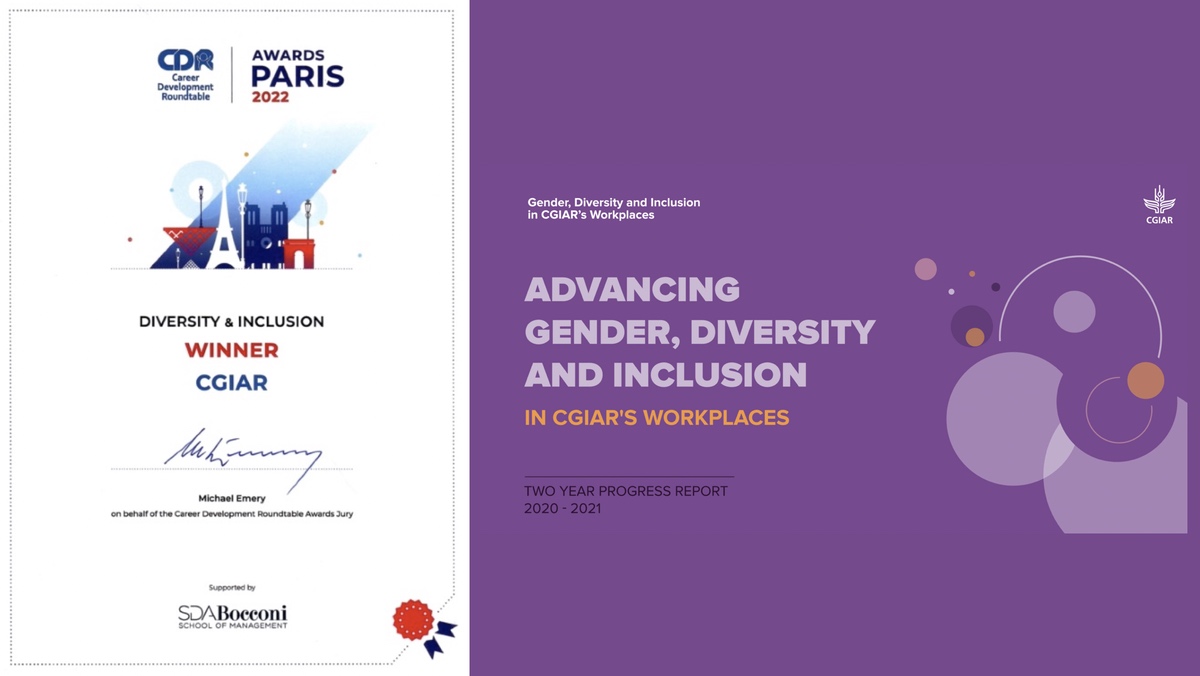 Paris, France, December 15, 2022 – CGIAR took top prize in the "Diversity and Inclusion" category at the 2022 Career Development Roundtable (CDR) Awards. The prestigious award is given by one of the leading professional communities of senior HR specialists in the global multi-lateral sector.
After being shortlisted from among 11 strong submissions for am application encapsulating our journey to advance gender equity, diversity and inclusion in CGIAR's workplaces, CGIAR saw off tough competition from the other two finalists, FAO (the Food and Agriculture Association of the United Nations) and EPSO (European Personnel Selection Office), capturing over 50% of the votes from CDR members at the awards ceremony on December 12, 2022.
Fiona Bourdin-Farrell, Global Director of People and Culture at CGIAR, focused on Innovation, Scalability and Impact in her winning pitch. "In late 2019, we tackled gender equity, diversity and inclusion, or GDI, exactly the same way we would any scientific challenge," she said. "We looked at evidence-based research, we spoke to experts and a broad range of stakeholders, and we concluded that to make a real difference we couldn't be traditional and focus on a few select areas. We had to innovate – to take a holistic approach – to set targets across all elements of the employee life cycle."

In terms of scalability, CGIAR built capacity through events, training, toolkits and materials created for easy adaptation to local contexts. A GDI Network was established; members completed an 8-month long bespoke training program and continuously advocated and cascaded ideas and feedback on what worked and what didn't. CGIAR established a GDI Knowledge Hub offering e-Learning, guidance notes, and a wealth of other resources to staff.
Regarding impact, CGIAR made progress on 101 of 108 targets set forth in its GDI Action Plan, making more progress towards gender parity in the two-year period (2020-2021) covered by the Plan than in the whole decade prior.
"Thanks to outstanding engagement, advocacy and hard work from committed GDI Champions across CGIAR, we have a really strong base to build on, but the journey is by no means over," said Ms. Bourdin-Farrell. "In GDI we talk about delivery and ongoing work simultaneously; we need to consolidate progress while looking to the future."
Claudia Sadoff, CGIAR's Executive Managing Director, said "While changing corporate culture can be challenging, our People and Culture team and GDI champions around the world have shown that with perseverance and professionalism it is possible for ways of working to evolve and for mindsets to shift. We are very proud of their work and of this award, which recognizes the tremendous progress we have made towards creating a workplace that is diverse, inclusive, respectful and full of opportunity for all our people."
To learn more about CGIAR's progress on GDI, please refer to 'Advancing Gender, Diversity and Inclusion in CGIAR's Workplace Two-year Progress Report (2020-2021)'. 
____________________________
About CDR
The International Organizations Career Development Roundtable (CDR) brings together senior Human Resources experts from International Organizations across the multi-lateral sector, including the United Nations System, the European Union, International Financial Institutions, as well as the national public sector, academia and private institutions. The annual CDR Conference is a reference HR event on the global multi-lateral calendar.
About CGIAR
CGIAR is a global research partnership for a food-secure future. CGIAR science is dedicated to transforming food, land, and water systems in a climate crisis. Its research is carried out by 13 CGIAR Centers/Alliances in close collaboration with hundreds of partners, including national and regional research institutes, civil society organizations, academia, development organizations and the private sector. www.cgiar.org
We would like to thank all Funders who support this research through their contributions to the CGIAR Trust Fund.