Assessment of the resilience in SEPLS (Socio-Ecological Production Landscapes and Seascapes) in Yanuo Village, Xishuangbanna, Southwest China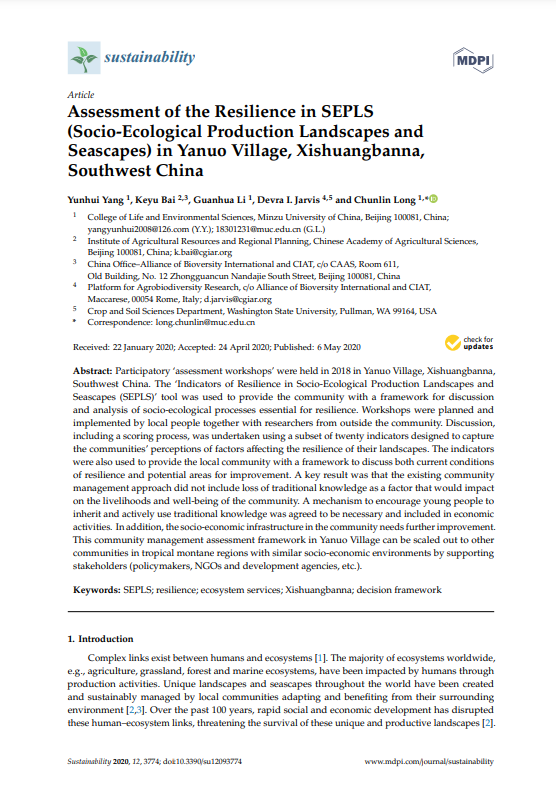 From
Published on

07.05.20

Challenges
Download

Participatory 'assessment workshops' were held in 2018 in Yanuo Village, Xishuangbanna, Southwest China. The 'Indicators of Resilience in Socio-Ecological Production Landscapes and Seascapes (SEPLS)' tool was used to provide the community with a framework for discussion and analysis of socio-ecological processes essential for resilience. Workshops were planned and implemented by local people together with researchers from outside the community.
Discussion, including a scoring process, was undertaken using a subset of twenty indicators designed to capture the communities' perceptions of factors affecting the resilience of their landscapes. The indicators were also used to provide the local community with a framework to discuss both current conditions of resilience and potential areas for improvement. A key result was that the existing community management approach did not include loss of traditional knowledge as a factor that would impact on the livelihoods and well-being of the community.
A mechanism to encourage young people to inherit and actively use traditional knowledge was agreed to be necessary and included in economic activities. In addition, the socio-economic infrastructure in the community needs further improvement. This community management assessment framework in Yanuo Village can be scaled out to other communities in tropical montane regions with similar socio-economic environments by supporting stakeholders (policymakers, NGOs and development agencies, etc.).
Yang, Y.; Bai, K.; Li, G.; Jarvis, D.I.; Long, C.