Nutritional, organoleptic, and physical properties of biscuits made with cassava flour: effects of eggs substitution with kidney bean milk (Phaseolus vulgaris L.)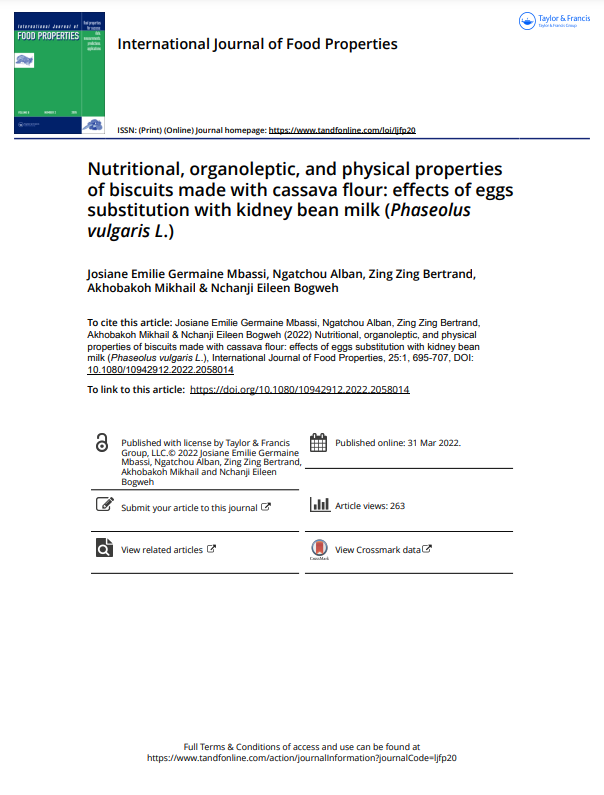 From
Published on

01.01.22

Challenges
Download
Common bean forms a significant part of the diet in Africa and hence plays a critical role in human nutrition. In order to promote it, this study was designed to investigate the effects of fully substituting eggs with bean milk on the physical, nutritional and organoleptic properties of biscuits made with cassava flour. Replacement of egg by bean milk increased the biscuits' fat, carbohydrates, crude protein, and energy content.
On the other hand, there were no significant differences in mineral contents between the cassava biscuits with eggs which served as the control and cassava biscuits with bean milk following substitution by bean milk. There was no significant difference (p < .05) in the Saponin and Phytate contents regarding antinutrients contents between bean milk and cassava bean milk biscuits.
In contrast, Tannin contents were significantly higher in biscuits than in bean milk. Biscuit made with eggs, was rated as "very good," while the test biscuits were rated as "good." Substitution of egg by bean milk in cassava biscuits increased the biscuits' protein, the fat, and carbohydrates contents with an appreciable taste. These biscuits made with bean milk can be used as a food supplement to help fight protein malnutrition in vulnerable groups.
Mbassi, Josiane Emilie Germaine; Ngatchou, Alban; Zing Zing, Bertrand; Akhobakoh, Mikhail; Nchanji, Eileen Bogweh.