Negligible levels of mycotoxin contamination in durum wheat and groundnuts from non-intensive rainfed production systems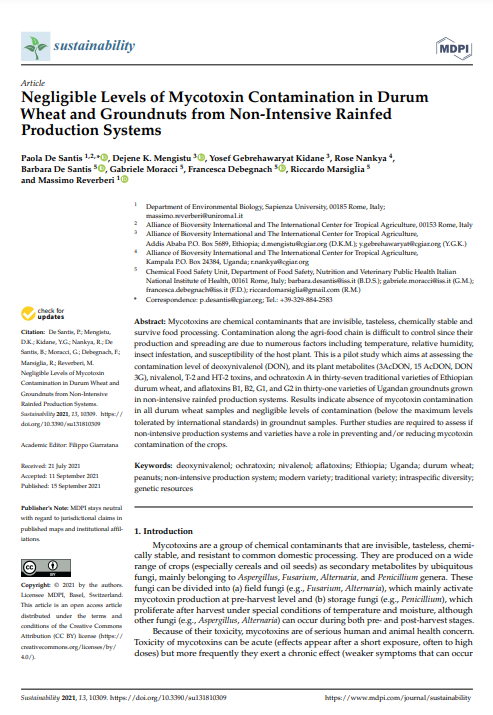 From
Published on

15.09.21

Challenges
Download
Mycotoxins are chemical contaminants that are invisible, tasteless, chemically stable and survive food processing. Contamination along the agri-food chain is difficult to control since their production and spreading are due to numerous factors including temperature, relative humidity, insect infestation, and susceptibility of the host plant. This is a pilot study which aims at assessing the contamination level of deoxynivalenol (DON), and its plant metabolites (3AcDON, 15 AcDON, DON 3G), nivalenol, T-2 and HT-2 toxins, and ochratoxin A in thirty-seven traditional varieties of Ethiopian durum wheat, and aflatoxins B1, B2, G1, and G2 in thirty-one varieties of Ugandan groundnuts grown in non-intensive rainfed production systems.
Results indicate absence of mycotoxin contamination in all durum wheat samples and negligible levels of contamination (below the maximum levels tolerated by international standards) in groundnut samples. Further studies are required to assess if non-intensive production systems and varieties have a role in preventing and/or reducing mycotoxin contamination of the crops.

De Santis, Paola; Mengistu, Dejene K.; Kidane, Yosef Gebrehawaryat; Nankya, Rose; De Santis, Barbara; Moracci, Gabriele; Debegnach, Francesca; Marsiglia, Riccardo; Reverberi, Massimo.