First report of banana bunchy top disease caused by Banana bunchy top virus in Uganda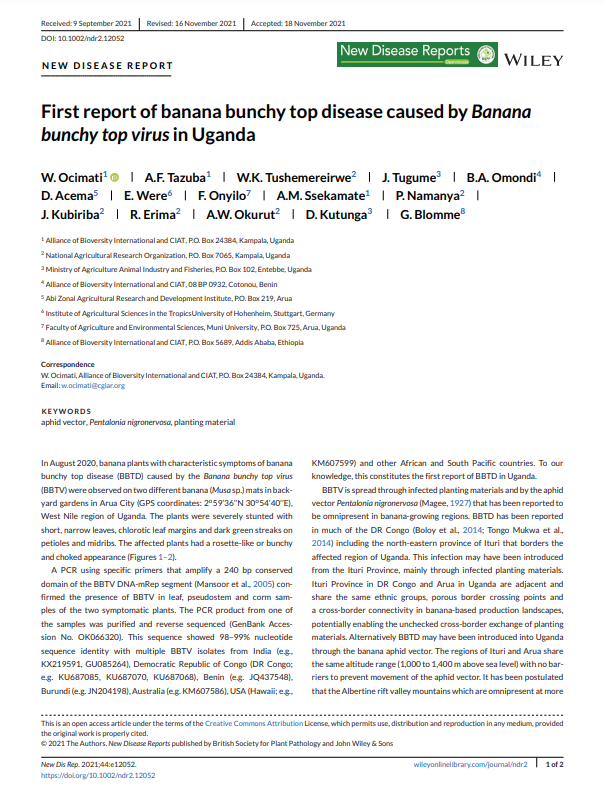 From
Published on

01.12.21

Challenges
Download
Banana bunchy top virus (BBTV) that causes banana bunchy top disease (BBTD) is ranked among the top 100 invasive species in the world. Despite being omnipresent in the Democratic Republic of Congo (DR Congo) and South-Western Rwanda for over 2 decades, BBTV had not been reported in neighbouring Uganda.
However, in 2020, banana plants with BBTD characteristic symptoms were observed in Arua City located in the North Western part of Uganda, bordering DR Congo. BBTV in these plants was confirmed using PCR and the comparison of the genomic DNA nucleotide sequence with nucleotide sequences in NCBI data base (https://www.ncbi.nlm.nih.gov/). The gDNA nucleotide sequence had 98-99% similarity with BBTV isolates form different countries in Africa, Asia, South Pacific and the USA.
These results constitute the first confirmation of BBTD in Uganda. This infection is anticipated to have been introduced from DR Congo, mainly through infected planting materials. Once established, BBTD is very difficult to control on small-scale farms. It is therefore crucial to urgently understand the current spread of the virus, determine its risk to banana production in Uganda and devise proactive measures for its management.
Ocimati, Walter; Tazuba, Anthony Fredrick; Tushemereirwe, K. Wilberforce; Tugume, Joab; Omondi Aman Bonaventure; Acema, Dan; Were, Evans; Onyilo, Francis; Ssekamate, M. Allan; Namanya, Priver; Kubiriba, Jerome; Erima, Rockefeller; Okurut, A. Wilson; Kutunga, David; Blomme, Guy.