Who defines fine chocolate? The construction of global cocoa quality standards from Latin America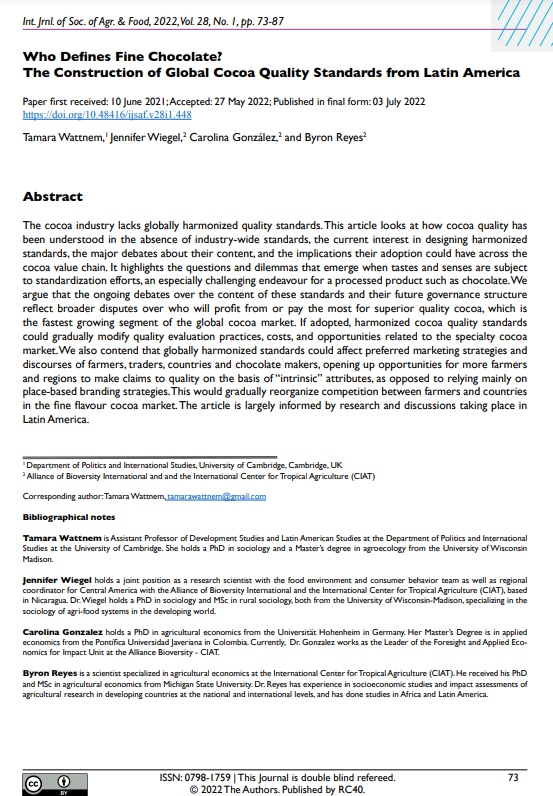 From
Published on

01.07.22

Challenges
Download
The cocoa industry lacks globally harmonized quality standards. This article looks at how cocoa quality has been understood in the absence of industry-wide standards, the current interest in designing harmonized standards, the major debates about their content, and the implications their adoption could have across the cocoa value chain.
It highlights the questions and dilemmas that emerge when tastes and senses are subject to standardization efforts, an especially challenging endeavour for a processed product such as chocolate. We argue that the ongoing debates over the content of these standards and their future governance structure reflect broader disputes over who will profit from or pay the most for superior quality cocoa, which is the fastest growing segment of the global cocoa market. If adopted, harmonized cocoa quality standards could gradually modify quality evaluation practices, costs, and opportunities related to the specialty cocoa market. We also contend that globally harmonized standards could affect preferred marketing strategies and discourses of farmers, traders, countries and chocolate makers, opening up opportunities for more farmers and regions to make claims to quality on the basis of "intrinsic" attributes, as opposed to relying mainly on place-based branding strategies. This would gradually reorganize competition between farmers and countries in the fine flavour cocoa market. The article is largely informed by research and discussions taking place in Latin America.
Wattnem, Tamara; Wiegel, Jennifer; Gonzalez, Carolina; Reyes, Byron.