Enhancement of the aroma compound 2-Acetyl-1-pyrroline in Thai Jasmine Rice (Oryza sativa) by rhizobacteria under salt stress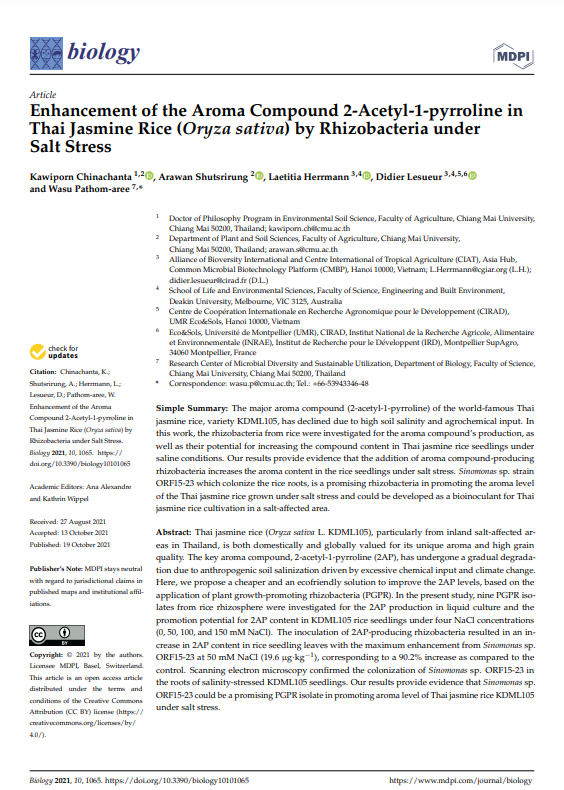 From
Published on

19.10.21

Challenges
Download
Thai jasmine rice (Oryza sativa L. KDML105), particularly from inland salt-affected ar eas in Thailand, is both domestically and globally valued for its unique aroma and high grain quality. The key aroma compound, 2-acetyl-1-pyrroline (2AP), has undergone a gradual degrada tion due to anthropogenic soil salinization driven by excessive chemical input and climate change.
Here, we propose a cheaper and an ecofriendly solution to improve the 2AP levels, based on the application of plant growth-promoting rhizobacteria (PGPR). In the present study, nine PGPR iso lates from rice rhizosphere were investigated for the 2AP production in liquid culture and the promotion potential for 2AP content in KDML105 rice seedlings under four NaCl concentrations (0, 50, 100, and 150 mM NaCl). The inoculation of 2AP-producing rhizobacteria resulted in an in crease in 2AP content in rice seedling leaves with the maximum enhancement from Sinomonas sp. ORF15-23 at 50 mM NaCl (19.6 µg·kg−1), corresponding to a 90.2% increase as compared to the control. Scanning electron microscopy confirmed the colonization of Sinomonas sp. ORF15-23 in the roots of salinity-stressed KDML105 seedlings. Our results provide evidence that Sinomonas sp. ORF15-23 could be a promising PGPR isolate in promoting aroma level of Thai jasmine rice KDML105 under salt stress.
Chinachanta, Kawiporn; Shutsrirung, Arawan; Herrmann, Laetitia; Lesueur, Didier; Pathom-aree, Wasu.