Capacity building program to improve stakeholder resilience and adaptation to climate change in Jamaica (CBCA)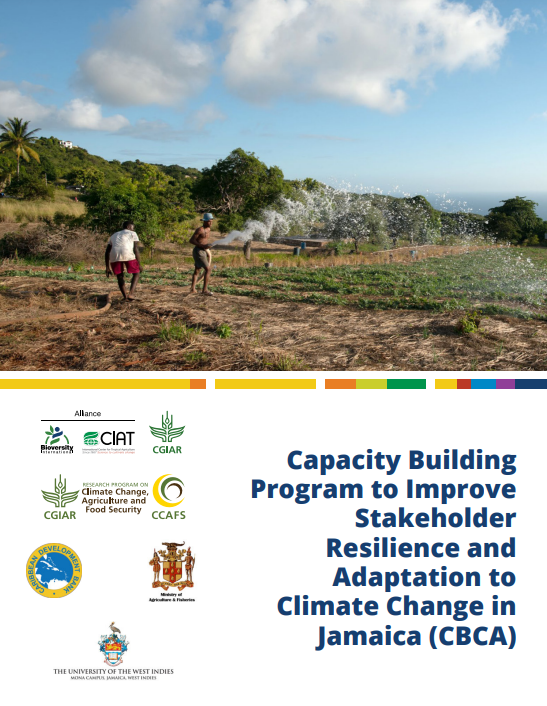 From
Published on

01.01.22

Challenges
Download
Jamaica will face future climate trends marked by increases in the intensity and frequency of climate extremes, escalating rainfall variability, and increased droughts and floods; combined with fragile ecosystems and sensitive coastal zones, the result is that Jamaica has a relatively high vulnerability to climate change. Climate-Smart Agriculture (CSA), which incorporates adaptation/resilience and mitigation measures while ensuring sustainable productivity, has the potential to build synergies and limit trade-offs in agriculture under present climate uncertainties, reduce existing knowledge gaps, and facilitate alignment between sectors and policies.
The Evidence-Based, Gender-Equitable Framework for Prioritizing Climate-Smart Agriculture Interventions has been adapted from different tools and research methods to overcome the challenge of identifying context-specific technologies and better understanding the trade-offs and co-benefits of different combinations of portfolios could deliver for different stakeholders.
Findings from spatial a water-balance model show low water yield, simulations of future climate characteristics using the crop model AquaCrop show that irrigated systems to balance the crops water demand are crucial to achieving higher yields, a multi-criteria analysis with stakeholders identified CSA practices for each key-value chain (crop), and Climate-Smart Agriculture (CSA) training manuals and programs were co-created with extension workers and farmers.
Eitzinger, Anton; Campbell, Donovan; Lizarazo, Miguel; Tomlinson, Jhannel; Rodríguez, Jefferson; Valencia, Jefferson; Sandoval, Danny Fernando; Feil, Christian; Ramirez-Villegas, Julian; Prager, Stephen; Rhiney, Kevon.