Access to and utilization of wild species for food and nutrition security in Teso and Acholi Sub-regions of Uganda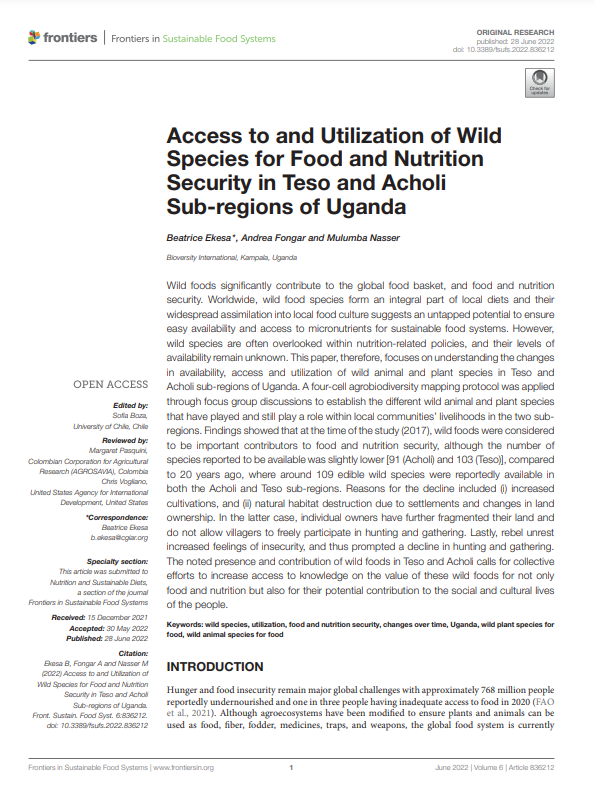 From
Published on

28.06.22

Challenges
Download
Wild foods significantly contribute to the global food basket, and food and nutrition security. Worldwide, wild food species form an integral part of local diets and their widespread assimilation into local food culture suggests an untapped potential to ensure easy availability and access to micronutrients for sustainable food systems.
However, wild species are often overlooked within nutrition-related policies, and their levels of availability remain unknown. This paper, therefore, focuses on understanding the changes in availability, access and utilization of wild animal and plant species in Teso and Acholi sub-regions of Uganda. A four-cell agrobiodiversity mapping protocol was applied through focus group discussions to establish the different wild animal and plant species that have played and still play a role within local communities' livelihoods in the two sub-regions. Findings showed that at the time of the study (2017), wild foods were considered to be important contributors to food and nutrition security, although the number of species reported to be available was slightly lower [91 (Acholi) and 103 (Teso)], compared to 20 years ago, where around 109 edible wild species were reportedly available in both the Acholi and Teso sub-regions.
Reasons for the decline included (i) increased cultivations, and (ii) natural habitat destruction due to settlements and changes in land ownership. In the latter case, individual owners have further fragmented their land and do not allow villagers to freely participate in hunting and gathering. Lastly, rebel unrest increased feelings of insecurity, and thus prompted a decline in hunting and gathering. The noted presence and contribution of wild foods in Teso and Acholi calls for collective efforts to increase access to knowledge on the value of these wild foods for not only food and nutrition but also for their potential contribution to the social and cultural lives of the people.
Ekesa, B; Fongar, A; Nasser, M