How CGIAR Will Help 30 Million Smallholder Farmers Adapt to Climate Change by 2030
From
Published on

29.10.21

Impact Area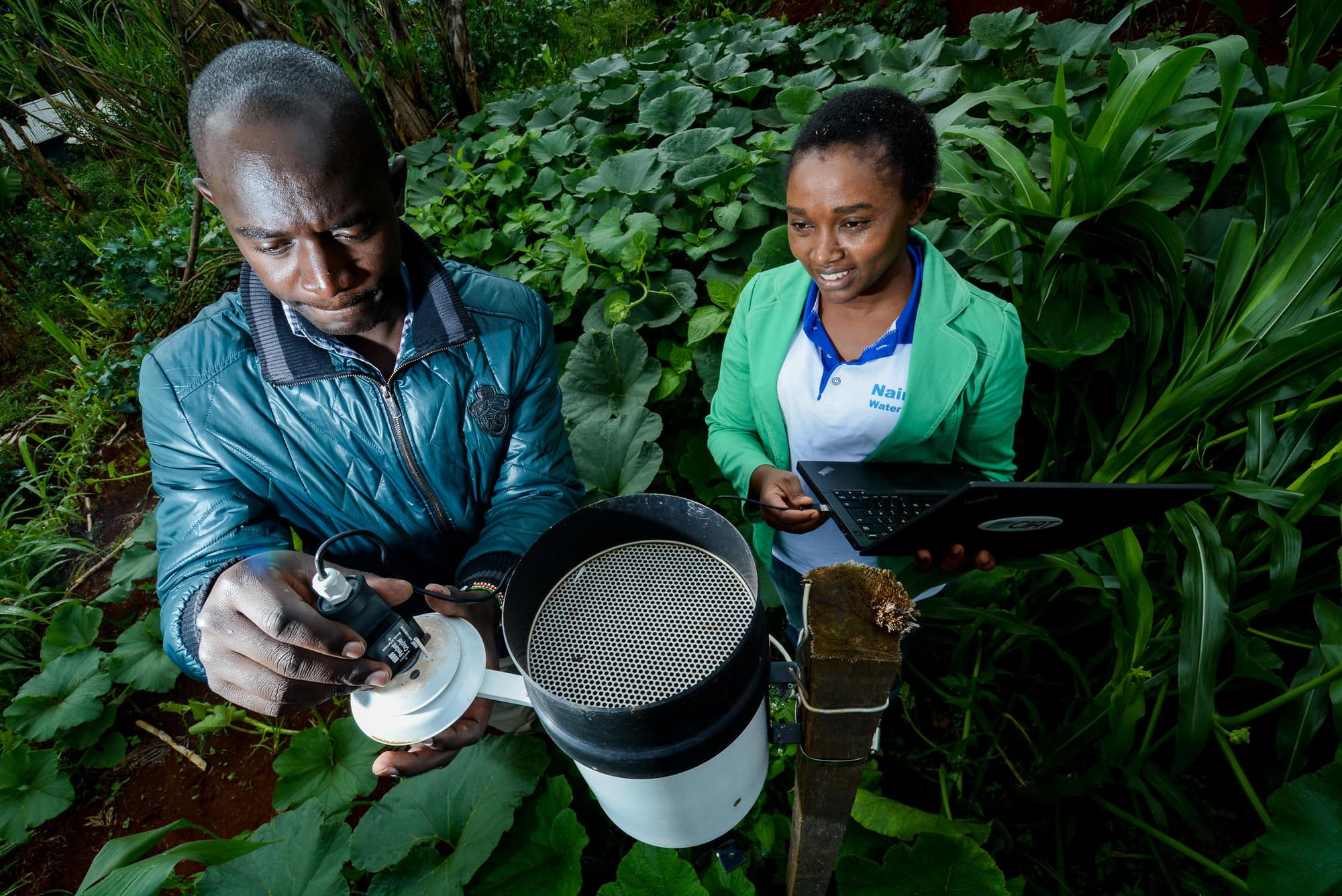 As researchers for development in agriculture, one of our greatest challenges is enabling change at scale. Our job, primarily, is to do groundbreaking science in close collaboration with beneficiaries. Sometimes this works astoundingly, as 50 years of CGIAR innovations show. In other cases, however, interventions provide benefits at smaller scales. There is nothing wrong with that. But today's climate, nutrition and food security demands, require us to think big – and differently – about how to spark large-scale, lasting and positive change.
CGIAR is uniquely positioned to do this, as the journal Nature underscored in a 2020 editorial on how collaborating with smallholder farmers is essential to end hunger. Our research system, which is largely based in the Global South, can reach small-scale farmers with enviable efficiency. CGIAR centers are household names in the cities and communities where we work.
This is because while building one of the world's greatest repositories of agriculture research in the Global South, CGIAR has forged strong bonds with farmers, cooperatives, local research organizations and governments. Businesses, philanthropists, multilateral donors and NGOs increasingly support our work. These networks are critical to our vision for helping millions of smallholder farmers face their biggest-ever challenge: the climate crisis.
Our new initiative, Building Systemic Resilience Against Climate Variability and Extremes (ClimBeR) builds on years of CGIAR climate research and proposes clear pathways to improving the lives of 30 million smallholder farmers in six countries by 2030. Under our conservative estimates, by the end of the decade, ClimBeR will reach 5 million women, improve 20 million hectares of productive land, and permanently raise the farm-derived income of a vast majority of beneficiaries.
At least two main aspects of ClimBeR make it different. First, it focuses on adaptive transformation – which is tackling the root causes of vulnerability – instead of the immediate causes of vulnerability. For example, in Senegal, ClimBeR plans to bundle climate information services and climate-resilient practices within a framework of supportive, socially-inclusive policies and institutions. This integrated approach diverges from piecemeal or technology-focused innovations that are often deployed without realistic pathways toward lasting impact.
ClimBeR will go beyond just technology and "solutions." It will allow researchers and food system stakeholders to integrate three domains that are key to long-term success: social equity, environmental quality and protection, and technical aspects.
ClimBeR by the numbers

300,000 smallholder beneficiaries by 2024

30 million smallholder beneficiaries by 2030

At least 5 million women beneficiaries by 2030

22 million hectares of degraded land brought into sustainable management by 2030

6 countries: Guatemala, Kenya, Morocco, Philippines, Senegal, Zambia

68% increase in permanent income for beneficiary smallholders by 2030

USD 45 million implementation budget, over the project's lifetime
The right climate
One key to ClimBeR is that the climate for large-scale interventions to improve the lives of farmers has never been better. All six selected countries are taking food security under climate change seriously through policies and investments. The project includes commitments from more than 20 key stakeholders, including the World Food Programme. The six countries have strong commitments to smallholder farmers, a proven record of CGIAR collaboration, and all formally expressed interest in supporting ClimBeR.
Many of these partnerships were forged under the CGIAR Research Program on Climate Change, Agriculture and Food Security (CCAFS), a 10-year initiative that concludes at the end of 2021. ClimBeR builds on many of CCAFS' climate-smart agriculture (CSA) innovations, including those related to implemented policies for climate adaptation
Additionally, climate financiers, development banks and international donors are increasingly investing in climate adaptation. They understand that without a massive transformation of the globe's food, land and water systems, many rural people face a dismal future. There is also a growing recognition that improving the lot of poor farmers has major geopolitical implications, such as contributing to peacebuilding and stemming outflows of climate refugees.
In line with broader policy thinking on the need for transformative change for sustainably living on the planet and "leaving no one behind," ClimBeR's transformative adaptation focuses on an intertwined social–ecological–technological systems approach. It tackles unevenly distributed power relations and networks of control and influence that can cause and perpetuate vulnerability. ClimBeR's transformative adaptation approach includes a strong focus on gender and social equity.
How ClimBeR works
ClimBeR is built around the fact that future warming is already baked into the system, even if major planet-warming targets are quickly enacted. The 1.5 C temperature increase envisioned by the Paris Agreement may very well be breached by 2030. Without quick mitigation action, millions of smallholder farmers will be unprepared for the consequences of increased temperature, drought, flooding and other havoc wrought by climate extremes.
ClimBeR has four areas of work.
The first, DE-RISK, aims to reduce risk to farming systems at scale through digital agro-climate services, implementation of climate-resilient practices, and the diversification of production systems to reduce negative climate and nutritional impacts on farmers.
The second will build production-system resilience through studying the relationships between climate, agriculture, security and peace. Donors recognize that climate is a "threat multiplier" as it can exacerbate problems such as conflict. This work will enhance climate-resilience peace by, among other things, designing evidence-based environmental, political and gender-equitable solutions through participatory, bottom-up community actions.
Work area 3 will focus on developing adaptation instruments for policy and investment. The work will build on existing CGIAR projects and has a strong focus on the inclusion of women, youth and other marginalized groups.
The focus of the fourth  area is building the capacity of local governance to implement transformative adaptation. This is not a one-size-fits-all approach: local communities will be critical partners in organizing, learning and implementing ClimBeR activities, with an emphasis on how these align with – or can be adapted to – cultural norms.
The hard questions
Strengthening the climate resilience of farmers in the Global South is a CGIAR priority. Growth in agriculture is needed to meet nutrition and food security demands both today and in the future. The climate crisis is one of the primary obstacles to meeting these needs.
ClimBeR is not business-as-usual for CGIAR. While it contains a strong foundation in answering complex research questions – for example, how can trade and nutrition data, inclusive stakeholder engagement, socio-economic analysis, and crop-climate modeling be combined to inform policies and investments? – it is focused on bridging the gaps between research and implementation at scale.
To do this, we need to address the root causes of vulnerability – discrimination, policy failures, lack of investment, and climate-resilient agriculture practices that are not context-specific, among others. More than the climate is changing: while there will still be hundreds of millions of smallholder farmers decades from now, their numbers are likely to gradually decline. In addition to improving their productivity and resilience, we must recognize that agriculture is only one of several pathways leading to improved livelihoods.
Authored by: Ana María Loboguerrero, Research Director of Climate Action, Alliance of Bioversity International and CIAT; and Jon Hellin, Sustainable Impact through Rice-based Systems Platform Leader, International Rice Research Institute (IRRI).
Header photo: Jane Gicheha and Joshua Mutua collecting rainwater data on a farm in the Tana River watershed, Kenya. Photo by G. Smith/CIAT.