Haryana State Maize Day observed by TAFSSA
From

Nur-A-Mahajabin Khan

Published on

31.10.23

Impact Area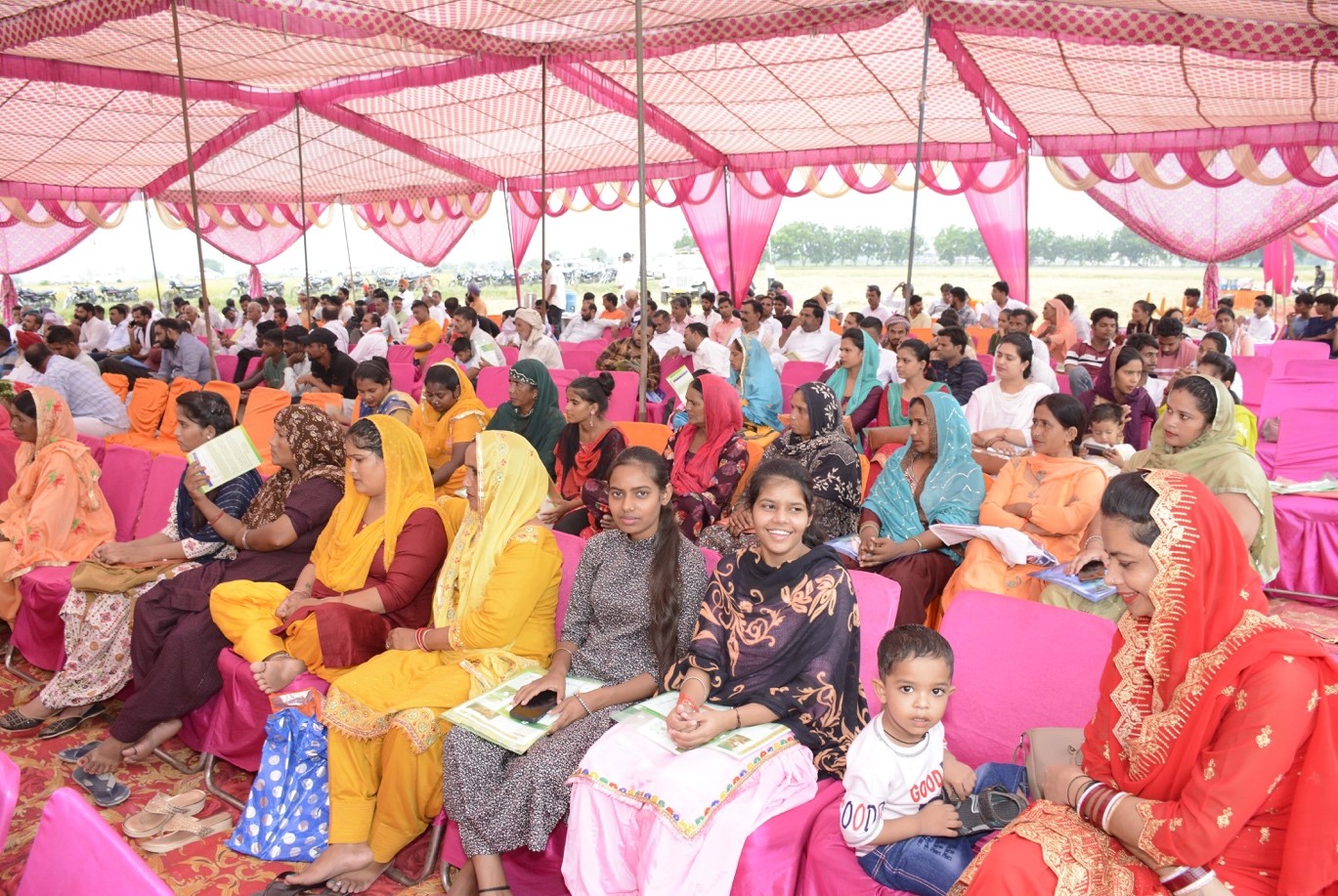 Photo: Farming community members and other agricultural stakeholders attending the state-level maize day programme at Nadana village, Karnal district, Haryana, India. September 24, 2023. Photo credit: Sunil Kumar/ CIMMYT
Maize: the changing face of agriculture
Agriculture – always the backbone of the Indian economy – is constantly changing to meet the changing demands of a growing population and a changing global landscape. A transformative event took place on September 24, 2023, in the heart of Haryana, India. In collaboration with its esteemed partners, the CGIAR initiative Transforming Agrifood Systems in South Asia (TAFSSA) organized the Haryana State Maize Day in the village of Nadana. This event brought together key agricultural industry players to discuss the potential of maize to transform agriculture.
Leaders in the field. Haryana State Maize Day saw a spectacular coming together of agricultural pioneers, from research, government and farming backgrounds. Partners including ICAR-Indian Institute of Maize Research (IIMR) Ludhiana, ICAR-Central Soil Salinity Research Institute (CSSRI) Karnal, Chaudhary Charan Singh Haryana Agricultural University (CCSAU) Hisar, the Haryana State Department of Agriculture & Farmers Welfare, and the Haryana Krishi Vigyan Kendras worked together to make this event a huge success. This transformative event drew over 400 farmers, both men and women, as well as stakeholders from government and private institutions.
The Chief Guest was Dr. D.K. Yadava, Assistant Director General (Seed) at ICAR, New Delhi. Dr. Yadava's vision for maize is compelling. He emphasized its importance in conserving valuable natural resources and increasing farm profitability, and explained that maize, in his opinion, is more than just a crop: it constitutes a path to nutritional security and soil health. Dr. Yadava urged farmers to adopt the maize–mustard–mungbean cropping system to improve their livelihoods.
Dr. H. S. Jat, Director of ICAR-IIMR Ludhiana, acknowledged farmers' current challenges arising from the lack of guaranteed purchase of maize, but also expressed optimism about policy interventions and the rising market demand for ethanol, which can be produced from maize. Dr. Jat also discussed cultivation of different types of maize, including baby corn, sweet corn, popcorn, and silage corn. These, he explained, provide new opportunities for smallholder farmers while also providing valuable fodder for livestock.
Dr. R.K. Yadava, Director of ICAR-CSSRI Karnal, expressed concern about the North-West Indo-Gangetic Plains' soil health, which is deteriorating as a result of monotonous rice–wheat cropping systems. He presented results from long-term experiments that demonstrated the sustainability and resilience of maize-based systems while requiring significantly less irrigation water.
Dr. Mahesh Gathala, Senior Agronomist at CIMMYT, addressed critical issues in the region, including groundwater exploitation, deteriorating soil health, and flawed agricultural practices. As solutions, he emphasized the potential for conservation agriculture-based sustainable intensification and appropriate crop diversification.
Platform for farmers to voice their concerns. Farmers who attended the event spoke about their experiences. While they were impressed by technological advances in maize cultivation, their main challenge remains the lack of a consistent maize market. They emphasized the importance of a comprehensive ecosystem that supports landscape-scale maize cultivation.
Workshops led by experts and professionals provided insights into best maize cultivation practices and mechanization. These sessions were an excellent opportunity for knowledge exchange.
Towards a profitable and long-term future. With maize demand for ethanol production expected to exceed 14 million tons by 2025–26, the Haryana State Maize Day provided the impetus required to meet the 20% ethanol blending target in gasoline. While the government's decision to allow maize-based ethanol production is a positive step, more maize production is required to meet rising demand.
Haryana State Maize Day was not a simply a one-day event, but a significant step towards transforming agriculture in the region. It brought together experts, farmers, and stakeholders to investigate maize's potential as a crop diversification solution. The event lay the groundwork for Haryana's agriculture to have a more sustainable, profitable, and environmentally friendly future, with the discussions and insights the day provided serving as a reminder that collaboration, innovation, and sustainable practices are critical to addressing modern agriculture's challenges. "Maize is not just a crop: it's a pathway to a brighter future for agriculture," said Dr. D. K. Yadava.
TAFSSA (Transforming Agrifood Systems in South Asia) is a CGIAR Regional Integrated Initiative to support actions that improve equitable access to sustainable healthy diets, improve farmers' livelihoods and resilience, and conserve land, air, and water resources in South Asia.