Evaluating diverse solar irrigation systems for their scalability in India
From
Published on

29.10.18

Impact Area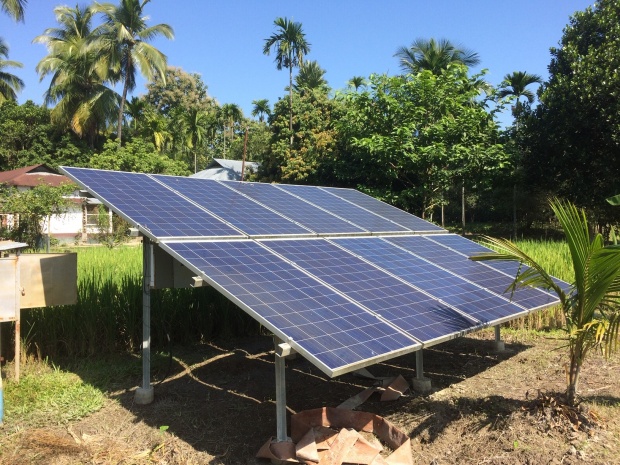 We have rolled out the solar farming scheme. Farmers can now earn money from farming and at the same time earn by selling the extra solar power generated at their farms."

Shri Narendra Modi, Prime Minister of India
During his Independence Day speech this year, Shri Narendra Modi, the Prime Minister of India, presented the nation's expansive plans for farm solarization, among other schemes and objective. Irrigation is set to acquire a 'sunny side' with the distribution of 2.75 million solar pumps to farmers who will be helped by the installation of 10 gigawatt (GW) of solar power plants. Apart from extending cultivation, regularizing power supply and lowering emissions, the scheme known as the Kisan Urja Suraksha evam Utthaan Mahaabhiyan (KUSUM), also envisages extra income generation for the farmers through the sale of excess power back to the grid.
The launch of the multi-billion dollar KUSUM scheme is testimony to India's major push towards growth in the agriculture sector, powered by renewables. The scheme's target is 100 GW of solar capacity by 2022, and in fact, it has already achieved a cumulative capacity of 20 GW.
Identifying the gaps
Solar irrigation, a major component of the scheme, has the potential to enhance agricultural growth while lowering the sector's ecological footprint. However, as India's diverse agro-ecological and energy landscapes rule out the possibility of having a single model for solar irrigation, it is a challenging component. With multiple solar irrigation models operating in different locations across the nation, further assessment of the scalability of different models could help to guide decisions for KUSUM.
Compounding the challenge of scaling solar energy-led ground water pumping are other operational challenges. These include the possibility of unsustainable practices fostered by uncontrolled withdrawal of ground water, non-point source pollution due to input intensification, and crop uptake of fluoride, arsenic, and heavy metal pollutants in ground water causing serious health hazards, among others.
Currently, there is a knowledge gap regarding the potential of solar energy interventions to contribute to sustainable resource use in the context of climate change. There is an urgent need for further research and consensus on solar irrigation systems that facilitate large scale adaptation and mitigation. The most suitable solar irrigation models for different local contexts need to be identified.
The power of partnerships
The CGIAR Research Program on Climate Change, Agriculture and Food Security (CCAFS) has been piloting and evaluating different models of solar pumps across South Asia in collaboration with partners such as the International Water Management Institute (IWMI), farmers' cooperatives, and the private sector. The most recent partnership was established with Deutsche Gesellschaft für Internationale Zusammenarbeit GmbH (GIZ). With a strong commitment towards sustainable green energy initiatives, GIZ has also been experimenting with various solar irrigation systems in India and elsewhere. In pursuance of common goals, CCAFS and GIZ have come together for a project titled Evaluating Diverse Solar Irrigation Systems for their Scalability in India.
Project aim and objectives
"Despite several pilots and models of solar irrigation systems having been rolled out in India, a comprehensive synthesis of such pilots leading to identification of factors of successes and barriers of adoption is lacking. It is therefore crucial, to access and evaluate the existing service delivery and business models which have the potential for replication and upscaling under specific conditions", says Nilanjan Ghose, Senior Advisor at GIZ.
The project thus aims to classify and conduct a scientific assessment of piloted solar irrigation systems in India, in order to identify the opportunities for and barriers to adoption. Its specific objectives are:
Develop a compendium of major solar irrigation pilot projects in India.
Carry out a systematic review of existing piloted models for scalability.
Promote suitable solar irrigation models through awareness-raising campaigns.
The lessons learnt from this study can be used by different stakeholders and also inform policy. The synthesized findings can help guide decision making regarding scaling solar irrigation systems with improved financial resource planning, and can also ensure agricultural sustainability. It is also hoped that such an initiative will contribute to India's new growth story, emphasizing foresight, inclusivity and environmental consciousness.