CGIAR's "GDI Oscars" celebrate the stars behind advancing Gender, Diversity and Inclusion in our workplaces
From
Published on

19.09.22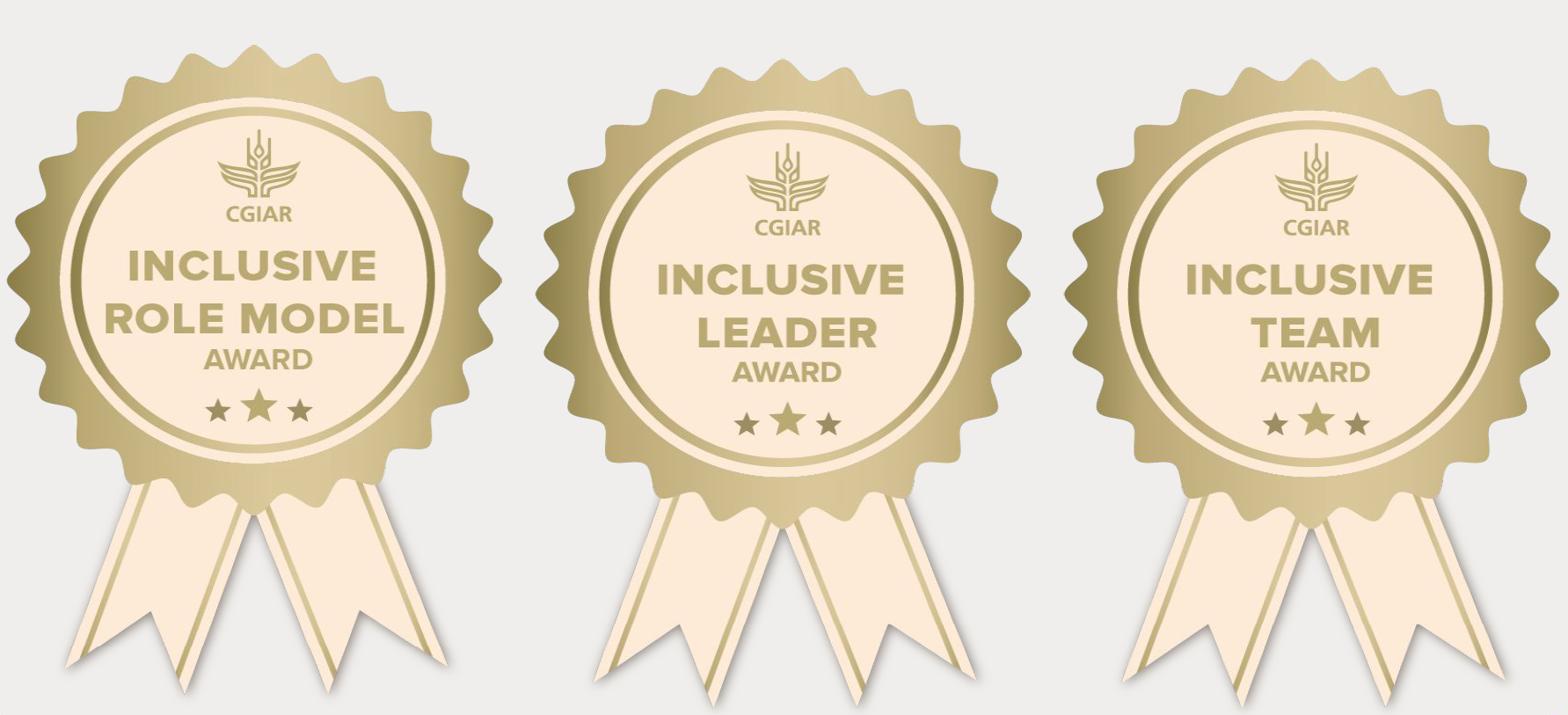 Over 200 staff came together to celebrate the winners of CGIAR's first-ever Inclusive Workplace Awards on September 15th at a special online ceremony that rolled out the red carpet from Peru to Penang. 
In early June, a call for nominations went out across CGIAR for the Inclusive Role Model, Inclusive Leader, and Inclusive Team Awards, each with clearly stated selection criteria. 
When the nomination period closed in early July, over 150 staff had submitted nominations – indicating the value of CGIAR's collective work towards creating even more inclusive workplaces.
"It's our very own GDI Oscars," said co-host Fiona Bourdin-Farrell, CGIAR's Global Director of People and Culture, setting the celebratory tone in the first few minutes of the event.  
"The Inclusive Workplace Awards allow us to recognize the stars among us who have demonstrated in words and deed their personal commitment to advancing gender, equity and inclusion in our workplaces."
Watch the event with simultaneous interpretation in French here and Spanish here
INCLUSIVE ROLE MODEL AWARD
The Inclusive Role Model Award, which recognizes staff who have proactively role modelled inclusive and respectful behaviors in their workplace, went to Arwen Bailey, Knowledge Sharing Specialist at the Alliance of Bioversity International and the International Center for Tropical Agriculture (CIAT). 
Speaking from Peru, event co-host Joaquim Lozano, CGIAR's Regional Director for Latin America and the Caribbean, said that colleagues who nominated Arwyn noted that she consistently role modelled inclusive behaviours, is steadfast in advocating for underrepresented voices, and is involved in mentoring young or new women entering the Alliance.
"CGIAR is such a stimulating environment with so much diversity on its staff – it's fantastic today to be in the company of great diversity champions like my fellow nominees," Arwen said. 
 "We need multiple and different thinking in the field and in our organizations," she added. "And knowing that no one has all the answers, we have to make an effort to involve people beyond 'the usual suspects'. We cannot afford to miss out on voices just because they are quiet or lower down the hierarchy." 
The two short-listed finalists for the Inclusive Role Model Award were Narayan Prasad Khanal, Business Development Manager at CIMMYT, and Inga Jacobs-Mata, IWMI's Country Representative for South Africa.
INCLUSIVE LEADER AWARD  
Florine Lim, Interim Global Communications Lead at WorldFish took home the inaugural Inclusive Leader Award, which recognizes the impact and influence of a senior leader who proactively advocates and role-models GDI behaviors in their Center or system-wide.
"Florine's colleagues shared just how much they appreciate that she's a highly approachable role model," said Fiona. "She was also described as being very respectful and unbiased, and a leader who consciously seeks to bring out the talent in every person." 
For Florine, the award speaks to the important role GDI plays in making CGIAR a better place to work for everyone.  
"To me, this award is a testimony to the significant role inclusive leaders play in the future of CGIAR," Florine said. "They empower all of us in making inclusion an everyday reality as we work together to build One CGIAR."
Stefan Burkart, Senior Scientist Bioversity-CIAT, and Jelle Van Loon, Lead for the Latin American Innovation for Development team and Mechanization Specialist in the Sustainable Agrifood Systems (SAS) Program at CIMMYT were also finalists for the award. 
INCLUSIVE TEAM AWARD
The final award of the day, the Inclusive Team Award, went to the CIMMYT Women in Crop Science Team for proactively adopting better ways of working to create an inclusive and respectful team culture. 
Accepting the award on behalf of the team, Alison Bently, Director of CIMMYT's Global Wheat Program, said that the Women in Crop Science Team grew out of the significant underrepresentation of women in crop science. 
"We established the group to identify and try to collectively address some of the causes of underrepresentation," she said. "And importantly," she added "to develop tangible actions broadly covering operational equality, recruitment and retention, and raising awareness and visibility." 
Winding up her acceptance remarks, Alison said: "I think it's important to say that there's much work that remains to be done. But the CIMMYT Women in Crop Science Team is committed to working with and supporting colleagues here at CIMMYT, across the CG[IAR],  and in the international community to build a more inclusive and diverse community." 
  The ILRI Staff Council and the ICARDA Monitoring Evaluation & Learning Team were also finalists for the award. 
GDI AND THE FUTURE OF CGIAR
Wrapping up the event, CGIAR's Managing Director, Institutional Strategy and Systems Elwyn Grainger-Jones celebrated the remarkable achievements of all award finalists, while noting there's still much ground to cover on CGIAR's GDI journey. 
"It's still an area where we need to do so much more work," he said. "Gender equity, diversity, inclusion is essential to our being a success – not just in how we work with each other, and how we work with others, with our clients, the quality of our work, the quality of our thinking."
The GDI Function's recent two-year progress report details key achievements in advancing gender equity, diversity, and inclusion in CGIAR's global workplaces from 2020 – 2021, and also identifies areas that can be further improved. 
Support for GDI continues to grow across CGIAR, Elwyn noted. Focus groups are already informing a new multi-year GDI Action Plan, a new inclusive leadership training program is about to launch, and an exciting new mentorship program led by the Women in Research and Science (WIRES) Employee Resource Group is about to get under way.    
"It's well understood that GDI is not only the right thing to do, it's the smart thing to do," said Elwyn. "It makes us far more attractive as an employer, and really helps us retain the best talent," he concluded. 
"The Inclusive Workplace Awards allow us to recognize the stars among us who have demonstrated in words and deed their personal commitment to advancing gender, equity and inclusion in our workplaces."