Gender Diversity and Inclusion in CGIAR's workplace: Celebrating two years of progress
From
Published on

31.08.22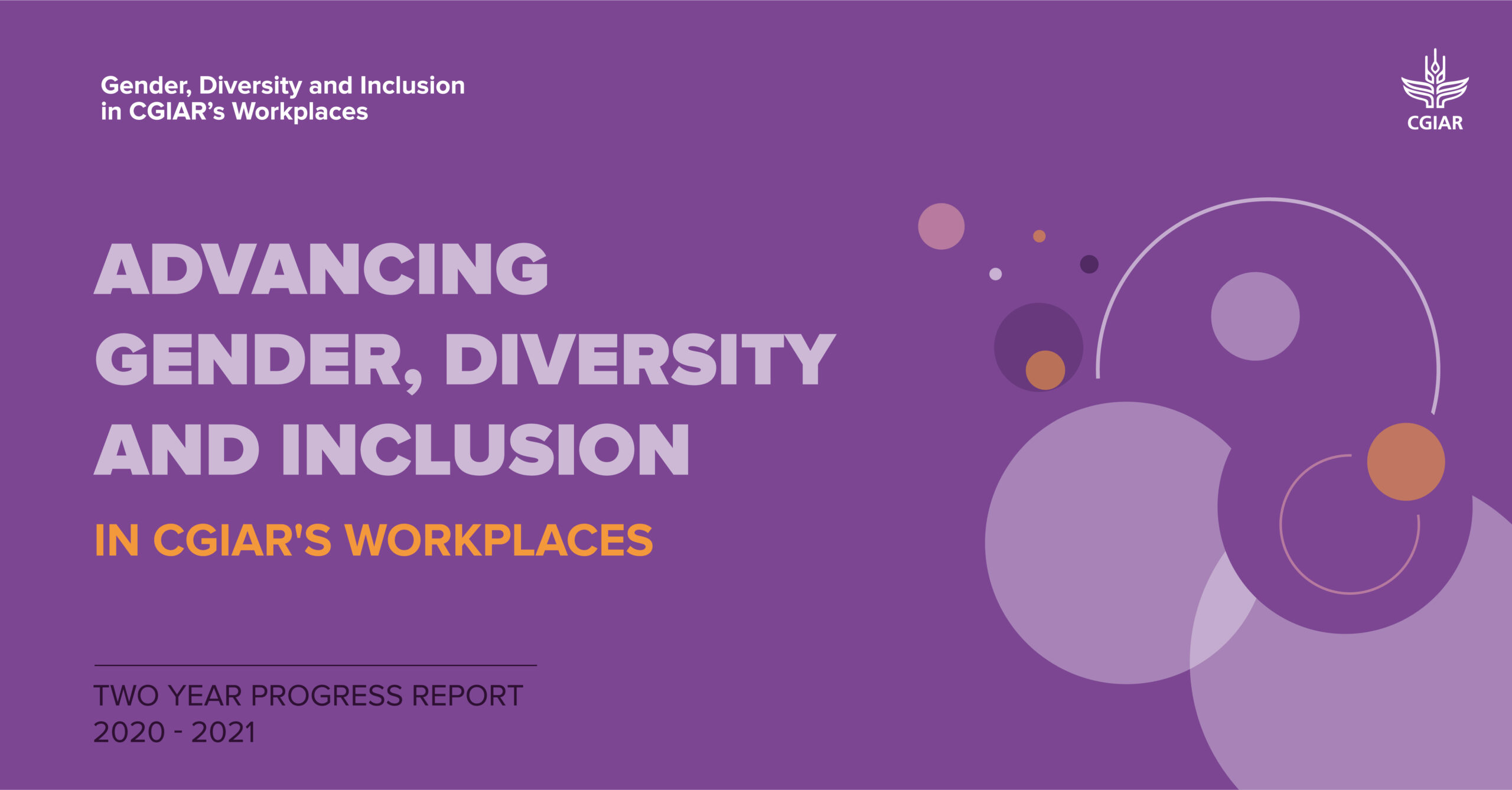 CGIAR is marking two years of progress on Gender, Diversity, and Inclusion (GDI) in its workplaces with a new report that celebrates progress made from 2020 to the end of 2021. 
The 'Advancing Gender, Diversity and Inclusion in CGIAR's Workplace Two-year Progress Report (2020-2021)' outlines how the GDI Function delivered against a highly ambitious action plan, while also pivoting to adapt to the unexpected challenges brought by the global COVID-19 pandemic, the opportunity to begin focused work on anti-racism, and the emerging needs brought by an internal  transition to a new operating structure. 
It details key achievements in advancing gender equity, diversity, and inclusion in CGIAR's global workplaces.
"We recognize the compelling case for advancing gender, diversity, and inclusion as a prerequisite for growth, innovation, and consequently for the sustainability and well-being of societies and our planet," shared Claudia Sadoff, CGIAR's Executive Managing Director and Gender Champion. 
"We also believe that creating and sustaining diverse, inclusive, and welcoming work cultures is critical to delivering on CGIAR's mission," she noted. "And we have given it focused attention over the past two years, as we work together to build One CGIAR." 
The GDI Function has its origins in the System-level business plan (2019-2021). Following months of consultation, a GDI Framework and Action Plan were developed, establishing 22 key objectives across five overarching principles, with 108 detailed targets for delivery by the end of 2021.
Working alongside a remarkable network of committed internal partners, the GDI Function achieved significant progress over two years.
"We delivered on 101 of 108 targets and made significant strides in advancing gender, diversity and inclusion in our global workplaces, exceeding our target of 40 percent women in professional roles by the end of 2021," noted CGIAR's Global Director of People and Culture, Fiona Bourdin-Farrell. 

"This is truly a collective success, built on the efforts of staff and leadership around the world who tirelessly champion diversity and inclusion in our workplaces." 
Working together, CGIAR teams across the globe advance GDI 
Dedicated GDI Focal Points from across CGIAR, working alongside other People and Culture leaders and committed volunteers from Employee Resource Groups, have achieved a lot in two years with the support of their workplace communities and leaders.
For the first time, there is cross-CGIAR visibility of the workforce, with dashboards providing valuable transparency and guidance to management decisions. 
There is also greater accountability, with a GDI Matrix that provides clarity on status against best practices and enables data-driven planning. 
Advancing GDI requires all CGIAR colleagues to be aware that we each have an important role in building a more inclusive and welcoming workplace. The GDI function has made available a wide range of training for staff and management, including eLearning, toolkits, and practical guides, all supported by a globally accessible  Knowledge Management Hub. 
Key Highlights for 2020- 21 include:
New multi-year action plan
"These last two years have reinforced our views on the absolute necessity of diversity and inclusion in our global workplaces," stated Claudia Sadoff. "Our GDI Function has established a strong base for further progress and work is well underway to develop an even more ambitious multi-year GDI Action Plan for 2022-24. We look forward to the Function's continued success."