Inclusive Workplace Awards: honoring CGIAR staff commitments to Gender, Diversity and Inclusion
From
Published on

01.06.22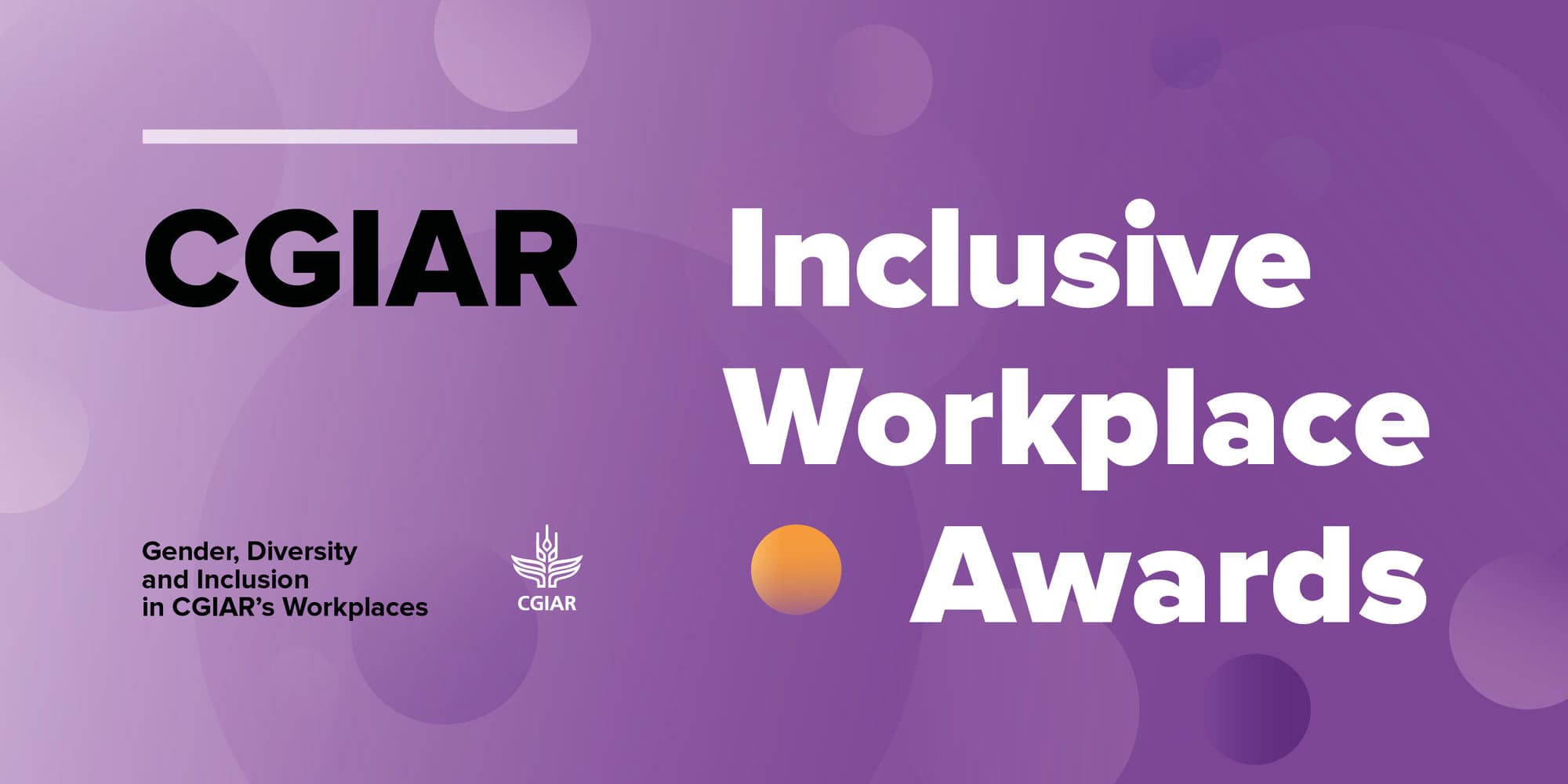 CGIAR's first-ever Inclusive Workplace Awards program is now accepting nominations! All nominations can be made through the online Inclusive Workplace Award Nomination Form by July 6th, 2022. See below for more information on the awards and how you can nominate yourself or others. 
The Inclusive Workplace Awards recognize individuals and teams who have actively demonstrated inclusive behaviors in their everyday work lives, and have significantly contributed to the enhancement of Gender, Diversity and Inclusion (GDI) in CGIAR's workplaces. 
The three award categories include 
Inclusive Role Model Award:

recognizes staff who have proactively role modeled inclusive and respectful behaviors in their workplace 

Inclusive Team Award:

recognizes formal or informal teams who have proactively adopted better ways of working to create an inclusive and respectful team culture

Inclusive Leader Award:

recognizes the impact and influence of a senior leader who proactively advocates and role-models GDI behaviors in their center or system-wide. 
All CGIAR staff are eligible to nominate themselves and/or their coworkers, teams, and leaders for the Inclusive Workplace Awards. Multiple nominations are also accepted. 
"Our diversity is our strength. It drives our science and innovation," said Claudia Sadoff, CGIAR's Executive Management Team Convener and Managing Director, Research Delivery and Impact
"The Inclusive Workplace Awards celebrate the many champions across CGIAR that are making our workplaces more inclusive and respectful – never has it been more important to recognize their contributions," she added.  
Fiona Farrell, CGIAR's Global Director of People Culture, noted that it's usually organizations that are recognized for supporting GDI, not individuals or teams: 
"There are a lot of awards that recognize an organization's commitment to GDI, and relatively few that celebrate the individuals and teams that work every day to make their workplace more inclusive," she said. 
"It is thanks to the many people working tirelessly across CGIAR that we are able to reach our Gender, Diversity and Inclusion targets and build the kind of workplace that we all aspire to work in."  
Inclusive Workplace  Awards nomination process and criteria
Nominations are made through the Inclusive Workplace Awards Nomination Form no later than July 6th, 2022.
All nominators must provide 2 – 3 examples that explain why an individual or team should receive an Inclusive Workplace Award. For example, nominations might include examples such as
Inclusive Role Model Award:

actively refers candidates from underrepresented groups into vacant roles; frequently addresses non-inclusive behavior in others; is an active member of an ERG (Employee Resource Group); intentionally spends time getting to know people who are different from them; works hard to ensure everyone feels heard and is included in team meetings.

Inclusive Team Award:

embraces flexible working; organizes inclusive bonding activities; introduces team ways of working that make sure everyone's voice is heard.

Inclusive Leader Award:

frequently talks about GDI at internal and external events; adopts a debiased approach to recruitment; encourages their staff to attend GDI training.
Who is eligible?
Inclusive Role Model Award:

all CGIAR staff members. A staff member can self nominate. 

Inclusive Team Award:

a formal or informal team in CGIAR. A team consists of more than 3 staff members. A team member can nominate their own team.

Inclusive Leader Award:

a senior leader can be nominated for the award. A senior leader can self-nominate. 
Awards timeline
1 June 2022 – Applications Open
6 July 2022 – Applications Close
15 September 2022 – Awards Ceremony and Winner Announcement
How are submissions evaluated? 
The GDI Function will review all award applications against the stated criteria 

Top applications for each award will be reviewed and evaluated by a diverse panel that will include the People & Culture Director, an EMT/Senior Leader, and an external GDI specialist consultant

Winners for each award will be announced during a virtual award ceremony held on September

15th,

2022 at 1:00 PM CEST. 
FAQ
Can I nominate myself or my team for an award?
Yes, self nomination is permitted for all awards.
Can I apply for more than one award? 
Yes, you can. There is no limit to the number of individuals or teams you nominate. A separate form must be submitted for each nominee. 
How will the panel evaluate the award? 
The selection panel will ONLY draw on the evidence presented in the nomination form when making their decision, so please ensure a strong case is presented for submission.
Is there a word limit to the award explanation? 
There is a strict 300-word limit for each text section.
Can I submit an application through other platforms? 
No, only applications submitted through the online form will be considered and reviewed. 
I have questions. Is there anyone I can contact?  
Yes. Please contact Michelle Fotsy at m.fotsy@cgiar.org and Edwin Seah at edwin.seah@includeconsulting.com for more information.