Can we still end hunger by 2030? CGIAR and The Economist discuss what it will take
From
Published on

13.12.22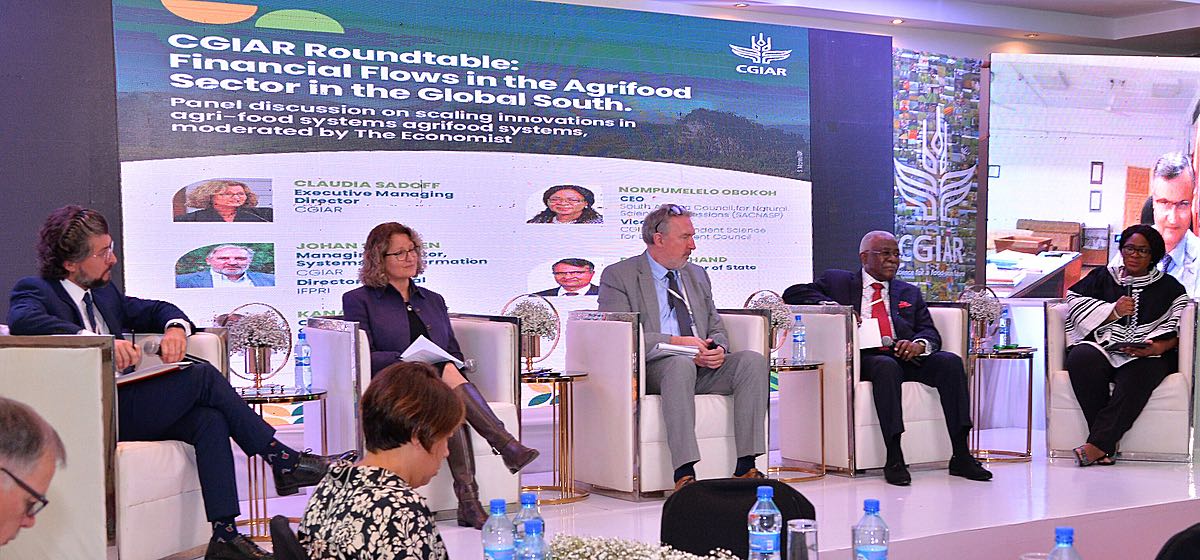 The United Nations Sustainable Development Goal (SDG) 2, to end hunger by 2030, has become increasingly out of reach as COVID-19 and the escalating climate crisis pushed an additional 150 million people into hunger in 2021. Despite this ambitious goal, agricultural research and innovation funding has been declining globally. An additional $14 billion will need to be provided by international donors, a doubling of the current amount.
With this dilemma in mind, CGIAR and the Economist co-hosted a panel discussion, Scaling innovations in agrifood systems on December 6, 2022, in Nairobi, Kenya, which outlined a clear and compelling call to action: additional investment in the agrifood sector is urgently needed.
In his opening remarks, Sardar Karim, a researcher at Economist Impact and panel moderator, posed the question: what can governments, the international community, the private sector and the scientific community do today to innovate and scale agrifood solutions that benefit all? Panelists examined the question through the lens of agrifood innovations to improve food, land and water systems, the importance of scaling those innovations, and the need for greater financial flows into agrifood systems.
The role of research and innovation to transform agrifood systems
Research and innovation are essential to transform agrifood systems. Claudia Sadoff, CGIAR Executive Managing Director, explained how research and innovation act as both guide and toolkit. Research can show what is happening, what is expected to happen and can help weigh unintended consequences and tradeoffs of decisions. Research can also provide the right incentives and help to 'bend the arc' of the current trajectory towards effectively and intentionally transform agrifood systems.
Innovations have been at the heart of transforming the lives of smallholder farmers and the rural poor, acting as an empowering agent. Kanayo Nwanze, Chairman and Chief Executive of FAYODE, emphasized the need for thinking outside of the box when creating solutions. He referenced the creation of an insect-resistant millet variety that cost $20 million to create and disseminate, but saved the lives of 20 million farmers.
Nompumelelo Obokoh, Chairperson, Board of the National Research Foundation (NRF) and CEO, South African Council for Natural Scientific Professions (SACNASP), spoke to the importance of not only creating innovations but working in partnership to 'give our farmers the choices' to effectively use the technology. She emphasized the need for strong public-private partnerships to allow farmers to gain access to innovations.
To effectively harness research and innovation, governments must provide enabling research environments. Ramesh Chand, Union Minister of State, NITI Aayog, noted that although India's per capita food production has been rising by two percent each year, there are still too many hungry people. What is needed is for governments to focus on practical priorities, including such practices as focusing on nutrition and health-sensitive agriculture, and ensuring the income of smallholder farmers is increasing at an equal pace as the rest of society.
Johan Swinnen, CGIAR Managing Director, Systems Transformation, and Director General, International Food Policy Research Institute (IFPRI), talked about using an integrative framework of bundling and a systems approach to ensure higher returns on innovation and research. The framework must work both horizontally, by using innovations in research, policy, and implementation, and vertically, by ensuring all actors on the value chain are included.
Financing research and innovation
Despite the strong case made for the importance of research and innovation in agrifood systems, Sadoff described a 'yawning gap' that exists between current funding and what is needed. Despite growing demand for investment, there has been a 10 percent decline in the past decade. This trend is exacerbated by the effects of climate change on agriculture. Although 20 to 30 percent of total emissions are caused by agriculture, only four percent of climate change funding is going to the sector.
So why aren't funders like governments giving more? Chand said scientists needed to show funders the importance of agriculture to solving society's grand challenges. He noted that agriculture is linked to 11 of the 17 SDGs.
Nwanze argued for additional levers and approached direct funding. He pointed out that while making significant advances in the sector, researchers are not strong advocates for their work and tend to use language other people don't understand. There needs to be a more concerted effort to show the commercial value of research and innovation by communicating to donors and the general public about the impact of every dollar invested.   
Scaling research and innovation
With increased funding in the sector, scaling research and innovation is possible through collaborative environments. Nwanze reflected on his experience of scaling NERICA rice, a high-yielding cross-bred rice variety, at AfricaRice. He emphasized the importance of partnerships when scaling new innovations and commended the CGIAR Center for its strong network of partners across member countries that test and implement innovations.
In addition to collaboration and partnerships, the co-creation of solutions is an additional method of scaling-up innovations, and is one being employed by CGIAR. Sadoff emphasized the importance of co-creation at all stages – from effective identification and designing, to scaling by working with extension offices and small- and medium-sized enterprises. Engaging partners is necessary to ensure appropriate and feasible solutions. She also noted the importance of ensuring co-creation includes the voice of women.
The discussion ended on a hopeful note. Panelists echoed the exciting advances youth are making in the field but also noted the challenges they face. Obokoh noted that the 'future is in the hands of the youth' but emphasized the need to plan and ensure that what is handed to the next generation is sustainable.
Finally, Sadoff admitted she was worried about the future of our food systems but also, paradoxically, hopeful: there is, she said, an increasing level of recognition of the challenge. With that recognition comes hope.
Watch the recording of the event.
You can read more on the day's events, including The Economist Roundtable Discussion, here.
Read the Economist Report on Ending hunger by 2030: are we investing enough? – Economist Impact
Written by Madison Spinelli, ILRI
Header photo by CGIAR.