Launching workshop of new research initiative to address challenges facing Mali's small ruminant value chain
From
Published on

09.06.22

Impact Area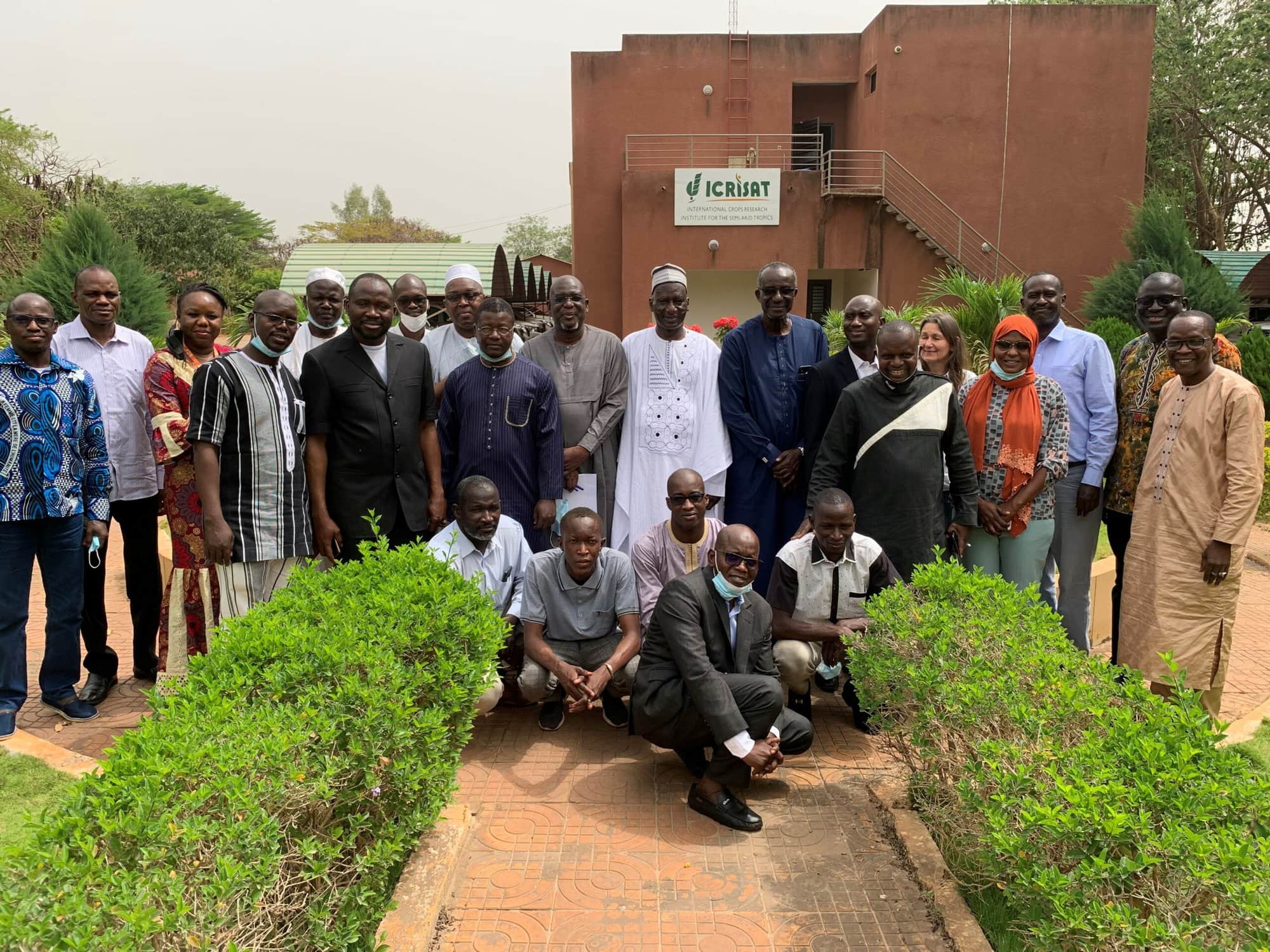 Livestock farming is practiced by at least 80% of the rural population and plays a key role in Mali's economy. It contributes about 12% to the country's GDP. Approximately 85% of Malians own small ruminants, especially women. Unfortunately, low productivity and marketing constraints limit the ability of ruminant livestock to provide a secure livelihood. Over 30 million sheep and goats provide livelihoods for nearly 5 million Malians and food for millions of Senegalese, Guinean and Ivorian neighbours. Catalyzing the expansion of small ruminant livestock value chains in Mali will increase livelihoods, food security and nutrition for millions of Malians, especially women and youth.
As part of the One CGIAR 2030 research and Innovation Strategy, 'Sustainable Animal Productivity for Livelihoods, Nutrition, and Gender Inclusion' (SAPLING) is among 32 initiatives funded by One CGIAR designed to achieve a world with sustainable and resilient food, land and water systems to deliver more diverse, healthy, safe, sufficient and affordable diets, and to ensure improved livelihoods and greater social equality within planetary and regional environmental boundaries.
The SAPLING project in Mali was launched during an inception meeting on 19–20 March 2022 on the ICRISAT Campus in Samanko, Bamako. This event brought together more than 35 participants from the public and private sector representations, including farmers' organizations and government agencies such as the Institut d'Economie Rurale and Laboratoire Central Vétérinaire, amongst others.
In Mali, SAPLING aims to extend the small ruminant value chain in alignment with the national livestock sector development policy and the national poverty reduction strategy. The small ruminant value chain is a priority for governments and donors to advance their agenda of poverty and malnutrition reduction, inclusion of vulnerable groups, and adaptation to climate change. This value chain offers important opportunities for partnership actions with different organizations leading to the creation of synergies and the necessary conditions for co-construction and scaling up of innovation packages. The value chain was prioritized during a consultation workshop that brought together several stakeholders in the livestock sector on 10 September 2021.
The two-day meeting was chaired by the Director General of the Institut d'Economie Rurale of Mali, Dr Modibo Sylla, who in his opening speech welcomed the initiative and described it as consistent with the national strategies and policies for the development of the livestock sector in Mali.
In his welcoming remarks, Dr Abdou Fall, ILRI's regional representative in west Africa, who also leads the SAPLING Mali research initiative, acknowledged the ongoing and increasingly good collaboration between CGIAR and the government of Mali, research institutions, NGOs, financial institutions and farmers' organizations. He then recalled the challenges and expectations of the project.
The meeting served as a platform to begin co-designing a theory of change (ToC) for the prioritized value chain: small ruminants. The process involved dividing the 25 participants into three working groups and engaging them in a series of iterative discussions. The groups discussed problems regarding the small ruminant value chain and developed a problem statement, vision, outcomes, innovation packages and assumptions. Furthermore, the groups identified actors and their roles, and conducted a site selection exercise for the Mali's project ToC. The regions of Mopti, Koutiala and Sikasso were selected as potential pilot sites for the project. Interventions could be extended to other regions in the course of implementation. The outputs of these groupworks will guide monitoring, evaluation and learning (MEL) across the interventions in the small ruminant value chain.

The stakeholders identified several major problems in the value chain including low productivity of small ruminants, weak structuring of actors and the market, inadequate and poor-quality equipment and services, inadequate qualified personnel and poor technical capacity, insufficient funding for research, poor valorization of products and by-products, poor access to markets and inputs, and poor vaccine coverage.
Therefore, the participants envisioned to have a more efficient, inclusive, equitable small ruminant value chain that sustainably improves the income, food and nutritional needs of women and men by 2030. The identified long-term outcomes towards this vision included: (1) men and women who raise small ruminants have improved their knowledge and adopted the innovations promoted, (2) stakeholders (producers, input suppliers and public and private service providers) in the value chain have strengthened their technical, financial, institutional and managerial capacities, (3) private and public actors have increased their investments in the value chain, and (4) public authorities are using the results of the project to strengthen small ruminant livestock policies. Short-term outcomes and innovation packages to begin to address these aims were also proposed.
On site selection, Dr Fall made a presentation on the potential sites and the criteria for site selection. The stakeholders met in their initial working groups to make site proposals. Several agro-pastoral regions were proposed during this exercise, including the Mopti, Koutiala and Sikasso regions
These outputs will inform the next step of engagement with the stakeholders in the small ruminant value chain in Mali.
Written by Assoumane Maiga, ILRI-Mali.
For more information on the SAPLING research initiative in Mali, please contact Abdou Fall (a.fall@cgiar.org).
The SAPLING initiative is led by ILRI's Isabelle Baltenweck (i.baltenweck@cgiar.org), with deputy lead ICARDA's Rekik Mourad (m.rekik@cgiar.org).
SAPLING is among 32 initiatives funded by One CGIAR designed to achieve a world with sustainable and resilient food, land and water systems to deliver more diverse, healthy, safe, sufficient and affordable diets, and ensure improved livelihoods and greater social equality, within planetary and regional environmental boundaries. SAPLING aims to enable one million livestock producers (half of them women) of cattle, chickens, small ruminants and pigs to engage in inclusive value chains and achieve sustainable productivity gains of 30–50% by 2024. Vietnam is one of seven focus countries for the initiative including Ethiopia, Kenya, Mali, Nepal, Tanzania and Uganda. In Vietnam, the initiative is coordinated by the International Livestock Research Institute (ILRI) and the Alliance of Bioversity and CIAT (ABC).