New partners introduced to EiA tools
From
Published on

08.10.23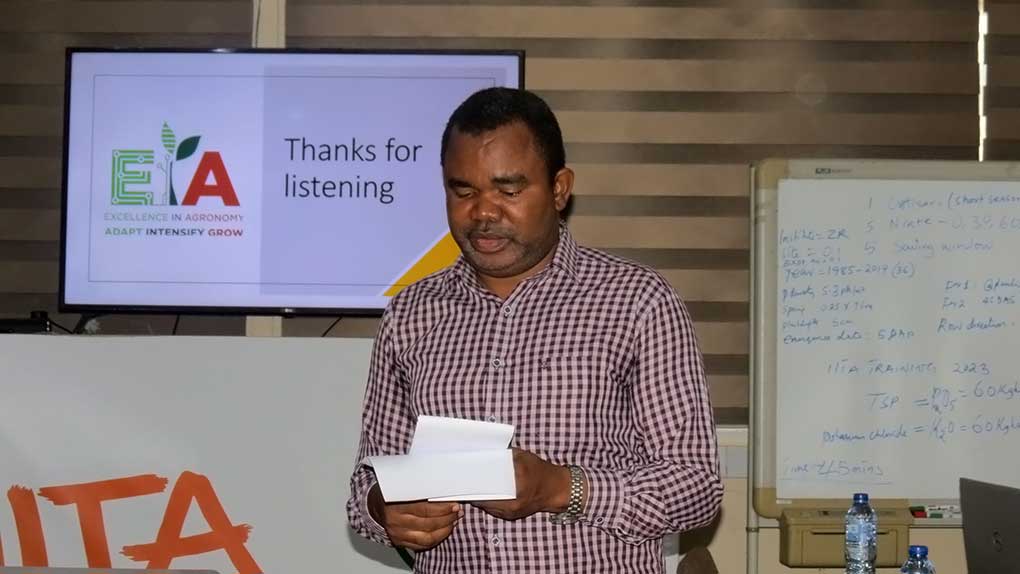 On 21 August, the IITA–CGIAR Excellence in Agronomy (EiA) team hosted a partner's interactive meeting on EiA tools. The purpose of the meeting was to introduce new partners to EiA tools, ensuring understanding and engagement while establishing data collection arrangements for insights and progress tracking through collaborative efforts.
Excellence in Agronomy, one of the CGIAR initiatives is designed to meet the needs of millions of farmers' if the Good Agronomic Practices (GAP) are implemented. Twenty participants attended the meeting, including existing partners from various sectors (KADA, OCP, GIZ, Smart Agribus, Babangona, INDORAMA, Notore, Kano ADP, Kano Innovation platform, and others).
In his welcome remarks, Savannah Systems Agronomist and IITA Kano Station Head Alpha Y. Kamara emphasized the need and importance of partnership, as research alone cannot solve the problems of many farmers in Nigeria facing food insecurity. He mentioned that partnership is crucial as it will help pull resources and expertise and expand the reach of programs. Kamara also noted that working with partners, state extension agents (EAs), input dealers, and agro-dealers will help to deliver agronomic solutions at scale.