New paper unveils pathways for sustainable Egyptian aquaculture
From
Published on

19.10.23

Impact Area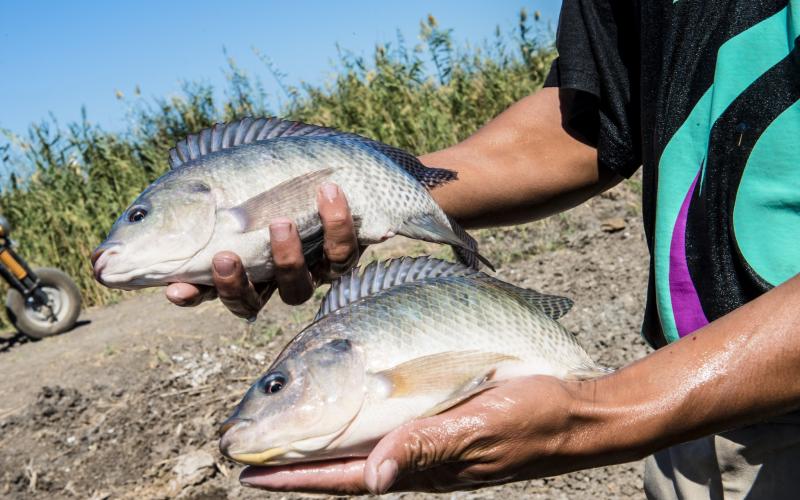 A lack of information on characteristics, performance and trade-offs in aquaculture production systems threatens the sustainability of Egypt's rapidly growing aquaculture industry.

A new paper, co-authored by WorldFish researchers, has characterized the nature and sustainability of Egypt's tilapia production.

The paper reveals potentially significant trade-offs between management practices and environmental impacts and suggests ways to support the sustainable development of Egyptian aquaculture.
The Nile tilapia (Oreochromis niloticus) was so important to the ancient Egyptians that it had its very own hieroglyph. Today the freshwater fish is once again valuable in Egypt thanks to the country's rapidly growing aquaculture sector. Over the past 25 years, Egypt's aquacultural production has increased 12-fold, becoming a crucial avenue for job creation, income generation and economic growth in the country. Egypt is now the aquaculture powerhouse of Africa, producing 71 percent of the entire continent's farmed fish.
However, the industry's rapid expansion has prompted concerns about its long-term sustainability. The efficiency and profitability of Egyptian aquaculture has dropped in recent years as it struggles with the effects of climate change, disease outbreaks, shifting market demands and technological changes. These challenges are compounded by a lack of comprehensive information on the characteristics, performance and trade-offs of aquatic food systems. Without these insights, the transition to sustainable, equitable, inclusive and resilient aquaculture in Egypt will be little more than guesswork.
A new paper co-authored by WorldFish researchers, with authors from the Department of Veterinary Sciences at the University of Pisa, the Institute for Future Initiatives at the University of Tokyo, Skretting and the Stockholm Resilience Centre, is opening doors to evidence-based sustainable aquaculture in Egypt.
New insights into Egyptian aquaculture
In a first, the paper published in the Aquaculture journal, Tilapia aquaculture systems in Egypt: Characteristics, sustainability outcomes and entry points for sustainable aquatic food systems, characterizes the nature and sustainability of Egypt's tilapia aquaculture production and identifies trade-offs between food security, economic, and environmental outcomes.
The authors of the paper researched over 400 aquaculture producers from Egypt's northern Kafr El Sheikh Governate (the most important fish farming governorate) as part of the CGIAR Research Initiative on Aquatic Foods.
"We assessed and analysed the characteristics and practices of different tilapia production systems and identified which of these features impact the economic and environmental sustainability and food security," explained Dr Cristiano Rossignoli, the Monitoring, Evaluation and Learning (MEL) Lead at WorldFish and the paper's lead author. "Impacts on sustainability outcomes and food security were measured by assessing different production parameters, such as the farm's gross margins, freshwater use, food consumption and feed conversion score, a measure of the efficiency of the feed used.".
Benefits and trade-offs
The analysis revealed that tilapia monocultures, despite making up less than one-fifth of tilapia aquaculture in the region, enjoyed significantly higher yields than mixed-species systems. The analysis also showed that farms stocking small fingerlings and adopting high stocking rates were more profitable than those stocking larger fingerlings at lower stocking rates. Contrary to previous results, the researchers found no correlation between farm size and productivity, suggesting that small-scale producers can compete with the productivity rates of bigger businesses.
However, the authors also noted several important trade-offs between management practices and economic, social and environmental outcomes. For example, stocking fingerlings at higher densities, despite boosting yield, also increases freshwater consumption—an important consideration in water-scarce Egypt. Lower stocking densities, on the other hand, require producers to use more feed per fish. This implies financial impacts for fish farms and environmental impacts through increased fish feed production.
Policies for sustainable growth
The paper's findings have important implications not just for individual fish farms in Kafr El Sheikh, but food and nutrition security throughout Egypt. The paper's authors acknowledge that aquaculture industry in Egypt face difficult choices as they try to balance aquaculture's continued growth with the need for environmental sustainability.
Despite these challenges, the researchers suggest several policies to support the sustainable growth of Egyptian aquaculture. In particular, initiatives to reduce the cost of feed, together with policies that promote improved feed management practices, offer promising ways to increase efficiency while reducing environmental impacts.
The paper's authors also call on other researchers to conduct similar analyses to strengthen evidence-based aquaculture management practices in Egypt and across the Global South. Such studies will help ensure that the Nile tilapia, a species that has enjoyed a central place in the Egyptian diet for millennia, has an equally resilient future.
Read the paper: Tilapia aquaculture systems in Egypt: Characteristics, sustainability outcomes and entry points for sustainable aquatic food systems.
This story first appeared on the WorldFish website.