In the Philippines' rice-producing regions, ClimBeR's bundled climate services are helping farmers become climate-resilient 
From

CGIAR Initiative on Climate Resilience

Published on

20.10.23

Impact Area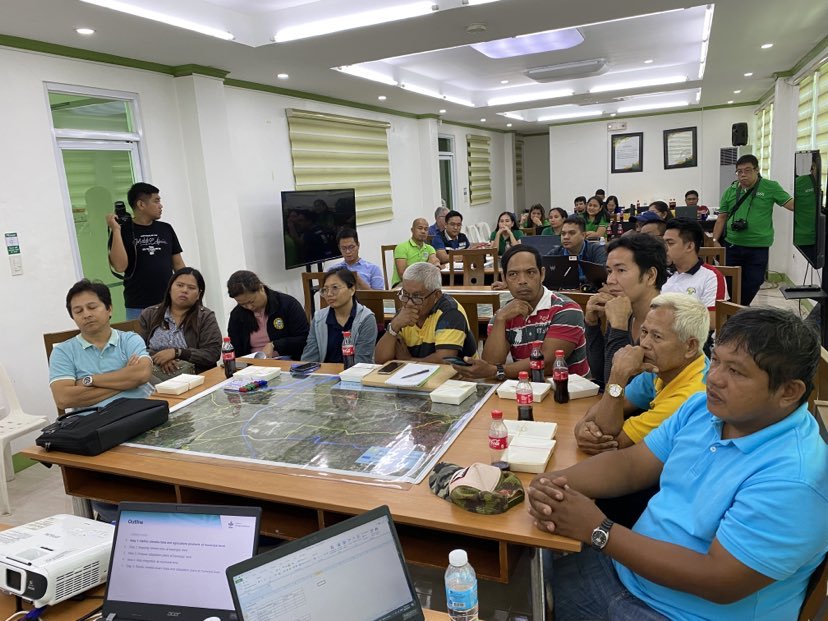 While the Philippine government has set an ambitious goal of 97.4% rice self-sufficiency by 2028, the impact of climate change, among many other factors, stands in the way of that goal. In 2022, super typhoon Noru (locally named Karding) hit the country around this year, which set back the country's production forecast of 12.41 million metric tons of milled rice to 11.98 million. 
Local Climate Reality leader and University of the Philippines lecturer Roxanne Omega Doron, in a thoughtpiece which came out on the Manila Bulletin, noted:  
"Climate change is posing a significant threat to rice production across the country. Rising temperatures and changes in precipitation patterns will reduce crop yield and diminish food quality. Increased frequency of extreme weather events like typhoons, floods, and droughts due to climate change can lead to crop losses and agriculture-related infrastructure damage.  
"It is now timely and urgent to develop climate-resilient food systems that can adapt to the various impacts of changing weather patterns with the crucial participation of affected communities. The promotion of sustainable agriculture practices and agroforestry, as well as alternative food sources which are more resilient to the impacts of climate change, is critical now more than ever."  
In addition to the direct impacts on crop production, climate change also indirectly impacts rice farmers, leading to increased pest and disease outbreaks and higher input costs for farmers, such as the cost of seeds and fertilizers.  
To strengthen the resilience of smallholder farmers in major rice-producing regions, the CGIAR Research Initiative on Climate Resilience (ClimBeR), through the Alliance of Bioversity International & CIAT (the Alliance) and the International Rice Research Institute (IRRI), organized a three-day climate-smart adaptation capacity workshop last August 1-3 among regional field officers in Pili, Camarines Sur in the Philippines' Bicol region. The workshop aimed to assist smallholder production systems in the context of escalating climate change effects such as drought, floods, and rising temperatures.  

The team met with at least 30 local government officers and the country's Department of Agriculture (DA) central office and its affiliated regional field office in Bicol, as well as the Philippine Rice Research Institute (PhilRice) in Bicol and another rice-producing province in Central Luzon, Nueva Ecija. During the workshop, discussions focused on entry points for improved collaboration to bolster farmers' adaptive capacities against climate risks and reduce the risk to producers' livelihoods and related value chains.  
On the second day, local farmers and government officers from two municipalities in Camarines Sur joined workshop attendees and participated in the session on Climate Smart Mapping and Adaptation Planning. The participants identified climate-related risks that negatively impact their agricultural livelihoods, delineated the boundary of risk levels by drawing lines on the map to show the extent of the exposed area based on their local knowledge, and proposed corresponding adaptation plans.  
The ClimBeR team also provided a space to discuss the synergies between the two digital platforms, Rice Crop Manager Advisory Service (RCMAS) and Agro-Climatic Advisory Portal (ACAP) Bicol, which the DA currently manages separately. The links between these two platforms are expected to contribute to ClimBeR's expected outcomes on the reach and delivery of bundled climate services, which includes village-level weather and climate information advisories through ACAP and mid-season nutrient management adjustments through RCMAS. IRRI developed RCMAS in partnership with PhilRice. ACAP-Bicol is co-developed by the Alliance, University of the Philippines Los Baños Foundation Inc., and DA-Regional Field Office (RFO) Bicol. Prior to the workshop, the in-country ClimBeR team conducted a field visit to one of the saline-, drought-, and flood-prone barangays (villages) in the province. The village of San Francisco, in the municipality of Canaman in Camarines Sur, is a 100% rainfed area where rice is the most planted crop.  Farmers of the local group Bawa Farmers' Organization (BAFO) use watermelon as an alternative crop during periods of drought and increased salinity from sea level rise owing to the increased incidence of typhoons — two of the factors that affect rice production.  
ClimBeR aims to transform the climate adaptation capacity of food, land, and water systems and ultimately increase the resilience of smallholder production systems to withstand severe climate change effects. It envisions empowering 300,000 vulnerable farmers to better adapt to climate extremes in six low- and middle-income countries, including the Philippines, with bundled climate services by 2024.

Photo credits: IRRI