Hybrid seed production and marketing advances
From
Published on

18.06.21

Impact Area
Funders

United States of America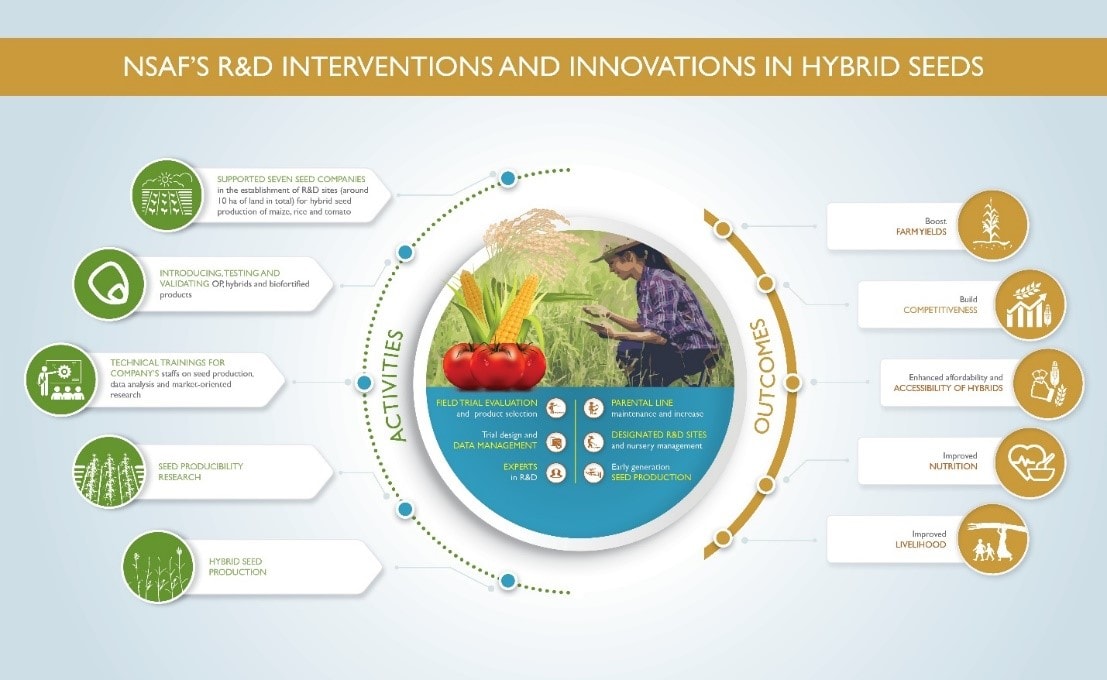 "My goal is to produce and sell 200 metric tons of hybrid maize by 2025," says Subash Raj Upadhyaya, chairperson of Lumbini Seed Company, based in Nepal's Rupandehi district.
Upadhyaya is one of the few seed value chain actors in the country progressing in the hybrid seed sector, which is at a budding stage in Nepal. He envisions a significant opportunity in the domestic production of hybrid maize seed varieties that not only offer a higher yield than open-pollinated varieties but will also reduce expensive imports. Leaping from one hectare to 25 hectares in hybrid maize seed production within three years, Upadhyaya is determined to expand the local seed market for hybrids.
Nepal has long been a net importer of hybrid seeds — mainly rice, maize and high-value vegetables — worth millions of dollars a year to meet the farmers' demand, which is continuously rising. Although hybrid varieties have been released in the country, organized local seed production and marketing were not in place to deliver quality seeds to farmers.
The hybrid variety development process is relatively slow due to lack of strong public-private relationships, absence of enabling policies and license requirements for the private sector to produce and sell them, lack of suitable germplasm and inadequate skilled human resources for hybrid product development and seed production. This has resulted in poor adoption of hybrid seeds, especially maize, where only 10-15% out of 950,000 hectares of Nepal's maize-growing area is estimated to be covered with hybrid seeds, leaving the balance for seeds of open pollinated varieties.
This is where experts from the International Maize and Wheat Improvement Center (CIMMYT) have stepped in to unlock the untapped potential of domestic maize production and increase on-farm productivity.