How digital tools help tackle the most ravaging banana disease in Rwanda
From
Published on

25.04.23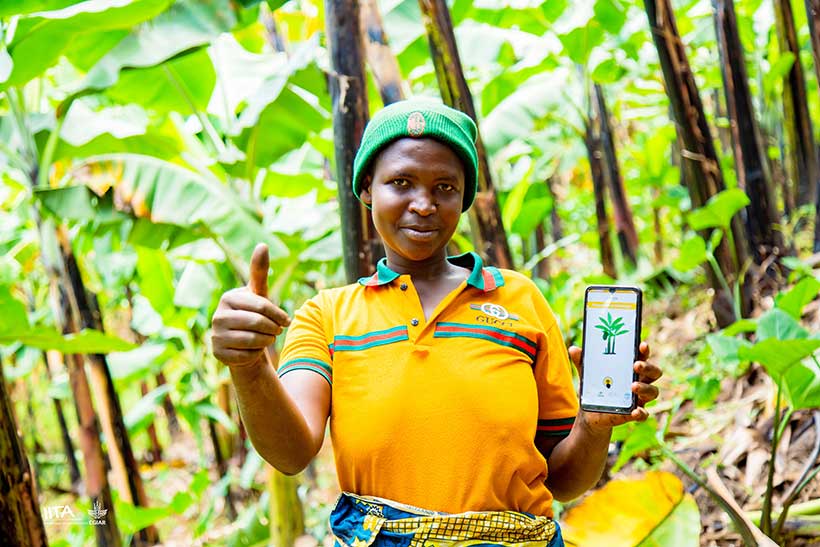 Patrice Muhimbabwenge no longer has to uproot his entire banana plantation to address the threat posed by Banana Xanthomonas Wilt (BXW), the most notorious banana disease in Rwanda. This is a major shift from his usual practice prior to the introduction of a digital tool that proffers Single Diseased Stem Removal (SDSR) technique, as an effective and proven approach.
Patrice, who resides in Rulindo District (Northern Province), in Rwanda, is one of the many farmers benefiting from digital tools that the Rwanda Agricultural and Animal Resources Development Board (RAB) and International Institute of Tropical Agriculture (IITA) have deployed to mitigate and control BXW in Rwanda.
"Thanks to agronomic advice from these tools, I have applied the Single Diseased-Stem Removal technique in my field, and it helped to eradicate the Banana Xanthomonas Wilt in my farm," Muhimbabwenge said.
"I would have lost all my banana plants, but now I can save most of them, therefore increase production, and be able to afford my family's needs including paying health insurance and school fees for my children," he said of the beneficial technique for him.